Fit for office: how leaders shape up
By Angelique Chrisafis, Ewen Macaskill, Will Woodward, Luke Harding, Rory Carroll, Kate Connolly, Justin McCurry, Jonathan Watts and Barbara McMahon
When a head of state makes more headlines for running round the block than running the country, it brings a new meaning to "fit for office."
French President Nicolas Sarkozy is seen so often pounding the pavement that satirists call him "Nike-olas".
But some voters do not appreciate the image of an energetic president in a hurry. Although running is increasingly popular in France, some see it as anathema to French culture and Western civilization, which are steeped in the more spiritual "promenade."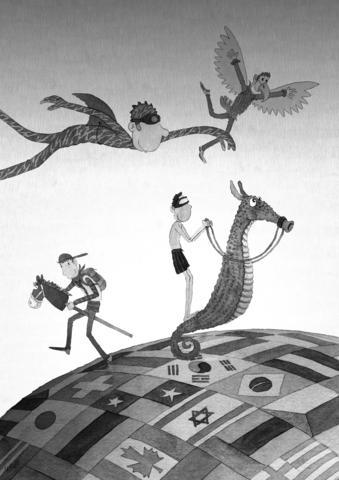 Others see it as a pastime imported from the US.
Sarkozy is not the only world leader to start the day with a bang, but most of his peers tend to opt for something more discreet, or more in keeping with the national esprit.
British Prime Minister GORDON Brown
Brown used to be an early-morning regular in the Westminster gym, but it is not known whether he has copied former prime minister Tony Blair by getting an exercise bike.
"I haven't asked him," Brown's spokesman said.
Brown was a champion tennis player in his youth and he told the BBC on Friday that he would play on holiday this summer. Contact sports were curtailed when he lost the sight in one eye during a rugby match.
"I used to play football, rugby and sometimes tennis, but now it's running or swimming -- easy things," he told the Daily Mirror last month. "I try to exercise in the mornings, but sometimes it's not so easy when you've got meetings first thing and young children. The treadmill is what you do if you can't run around the town."
US President George W. Bush
Once a heavy drinker, Bush is a reformed character. Unlike former US president Bill Clinton, who jogged occasionally, Bush is fit. He takes a break at about 4.30pm each day for a 60-minute workout. His knees began to give him trouble in 2004 so he tends to run on treadmills rather than outside. He has a bike that hooks on to a stationary trainer and also uses it aboard Air Force One. He says that being fit makes him think more clearly.
On the weekends, he often takes his mountain bike to the extensive secret service grounds at Beltsville, Maryland, where he rides with friends and White House staff, or at his ranch in Texas.
"It brings out the child in you," he said. "I think it's OK ... to still seek that youth, chase that fountain of youth."
The public tends not to be snide about his cycling gear -- shorts, tight vest, helmet, bike shoes, iPod and a US$3,400 Trek bike -- but there is more scepticism about his tendency for brush-cutting, a rugged Texas pastime for anyone with a ranch big enough.
The White House in 2001 published pictures of Bush in cowboy hat and T-shirt lugging around cut branches.
Marlboro Man it was not.
Russian President Vladimir Putin
Putin is probably the nearest thing among international leaders to an action man and his public love him for it.
For a start there is his love affair with judo, which he took up as a child to compensate for a lack of height.
By 18 he was a black belt. These days, he swims -- 1,000m a day in the presidential dacha pool -- and works out for 30 to 40 minutes. He's also a handy skier, testing the slopes to be used for the 2014 winter Olympics, awarded this week to the Russian city of Sochi.
"He's a good skier. I'm not in a position to say just how good," a spokeswoman for Russia's Federal Agency for Mountain Skiing said diplomatically on Friday.
German Chancellor Angela Merkel
Sport is not high on Angela Merkel's agenda. Opera, cooking and reading are her favored forms of relaxation. But the 52-year old leader is a keen rambler, making good use of the paths in the nature reserve where she and husband have a weekend home, north of Berlin.
"At least once a week I try to go on a long walk in the countryside so that I can take my mind off politics for a few minutes," she said.
Last summer she went to the Italian Dolomites and hiked on Monte Rite with explorer and mountaineer Reinhold Messner.
Merkel also sought to improve relations with Polish Prime Minister Jaroslaw Kaczynski by taking him and his wife for a brisk stroll along Germany's Baltic coast this year.
Australian Prime Minister John Howard
They may mock his daggy tracksuits, but Australians are full of admiration for their leader's fitness regime. At 67, Howard power-walks every day and is often seen striding out pre-dawn in Sydney or Canberra. He keeps up the same routine while abroad and has conducted interviews while running, with the media struggling to keep up.
The father of three, Howard does not smoke and drinks in moderation and has been held up as a role model for Australians of a certain age because of his discipline and consistency in his physical activity.
It is a far cry from former Australian prime minister Bob Hawke, who was well-known for his drinking and once held the world record for the speed at which he downed a yard of ale.
Bolivian President Evo Morales
Morales has been a keen soccer player since boyhood and being president has not stopped his kickabouts. He is often photographed in shorts taking aim at a ball. The president also plays squash and opponents testify to his stamina.
He has led a revolt against a decision by FIFA to ban international matches at more than 2,500m above sea level, which the soccer body says is dangerous to health. To prove his point last month the president played a 30-minute game (during which he scored) on top of a mountain called Chacaltaya -- 5,270m above sea-level.
FIFA relented by raising the limit to 3,000m, but Morales rejected the compromise.
Venezuelan President Hugo Chavez
When not hurling insults at Bush, Chavez likes to pitch fastballs to batters in midnight games of softball. The games, often spontaneously ordered by Chavez, are held at an arena beside the presidential palace, Miraflores, and often involve ministers, officials and guards. Despite the name, the ball is hard and in the tropical night players are left sweating.
The young Chavez was a champion baseball pitcher in the army and later a sports instructor at a military academy. Since becoming president, however, his weight has shot up.
Colombian President Alvaro Uribe
His politics can be inflexible, but Uribe can certainly stretch. He is South America's most famous yoga fan. It is a form of yoga nidra, a mix of exercise and meditation credited with inducing complete physical, mental and emotional relaxation while maintaining consciousness.
That hardly fits the stereotype of a tough, rightwing leader and Uribe is known for losing his temper, so the question is how much grouchier he would be without the yoga.
"He loves it. Every day at midday he disappears to do his yoga for 30 minutes," said Bernardo Moreno, secretary-general to the president. "He's very disciplined about it."
Chinese President Hu Jintao (胡錦濤)
Mao famously loved to swim, but Hu's recreational activities remain a secret, though he was spotted last weekend showing a deft touch at the table tennis table during a visit to Hong Kong.
It's an image that is unlikely to do him any harm in a country where ping pong is so popular that some workplaces have tables installed for a bit of exercise in the middle of the working day. Premier Wen Jiabao (溫家寶) is thought to be in better shape, part of the fraternity of world leaders who like to start the day with an early morning jog.
Japanese Prime Minister Shinzo Abe
Abe's only public displays of athleticism to date have been an archery demonstration on TV and the opening ceremonial pitch at last November's all-star baseball series pitting Japan against the US in Tokyo.
"The ball failed to go in the direction I had envisioned," he later wrote in his e-mail magazine.
Abe has been a keen archer since university and is president of the All Japan Archery Federation.
French President Nicolas Sarkozy
France's youngest president in years has been keen to demonstrate his vigor. During the election campaign, he posed as a cowboy herding bulls and he likes to appear on a bike -- another key French sport.
Sarkozy, whose motto is "the France that gets up early," wants to set himself apart from former president Jacques Chirac, who liked to watch sumo wrestling but barely stretched his legs.
Sarkozy shows no sign of quitting his public jogging, despite one of France's top coaches telling L'Equipe sports paper that his style was appalling.
"It's a way of showing he's a man of the people, doing what ordinary people do," said Denis Muzet, head of the Institut Mediascopie, which dissects the media strategies of politicians.
"He is trying to provide a metaphor for France as a nation of movement, energy, physical performance. It's a message that he's young and healthy," sports sociologist Patrick Mignon said. "Jogging is a sport that France picked up from the US in the 1980s, when it stood for the values of enterprise, individualism, dynamism and a drive to succeed."
Comments will be moderated. Keep comments relevant to the article. Remarks containing abusive and obscene language, personal attacks of any kind or promotion will be removed and the user banned. Final decision will be at the discretion of the Taipei Times.