The danger's in the fine print
New Yorkers participating in the city's property boom are buying houses that have not even been built, with the finished article not always meeting up to the buyer's expectations
In New York's construction boom of the last few years, many people have been buying apartments in buildings before they actually rise out of the ground. The buyers cannot see them, smell them or touch them. When they finally do, they may be in for very big surprises, some of them infuriating.
Rooms are often smaller than advertised. The Viking stove is not there, but a stove described as being of "similar quality" is. The view is not at all what the buyers imagined.
Were they deceived?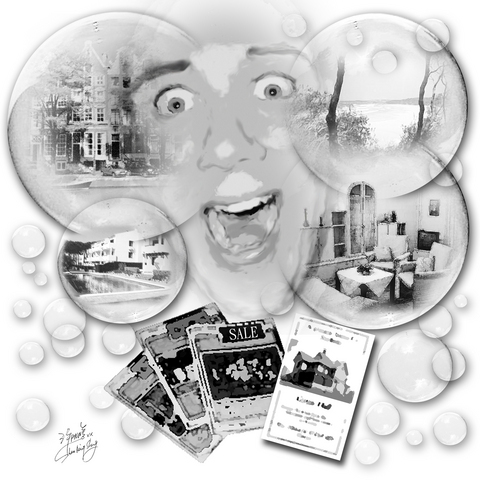 Not necessarily. In many cases, neither they nor their lawyers read the offering plan carefully. Buyers often must hand over a US$200 deposit for the thrill of getting three days to review the plan, sometimes 500 pages or more. It includes floor plans; tables with square footage, estimated taxes and common charges; and detailed descriptions of construction materials and apartment finishes. But it is also filled with technical and legal language that would be indecipherable to anyone other than a real estate lawyer.
Consider this piece of boilerplate: "The gross square footage of a unit is greater than the approximate square footage of a unit measured by using the legal definition of the unit. As is customary in New York City, these gross square footages exceed the usable floor area of each unit."
That is a long way of saying the apartments will probably be smaller than the buyers have been told. Brokers and lawyers say that virtually every new development's offering plan includes this type of disclaimer, but finding it can be a challenge.
Margery Germain said neither she nor her husband, Mark, noticed the fine print in the offering plan explaining that although their Chelsea apartment had been marketed at 1,500 square feet (140m2), it really would not be that big because the figure measured the space to the unit's exterior walls including space they could neither see nor use.
Germain walked through the building for the first time last September, she said, and was devastated when she stepped into what would be her two-bedroom apartment.
"I was horrified. I ran out and called my husband and said: `It's tiny. What are we going to do?' Compared with the floor plan we had been given, every room had lost some square footage. It wasn't what we expected," she said.
Their lawyer explained that there was nothing to be done because the offering plan had a disclaimer: Total square footage was only approximate. But in the end, the Germains were able to make the fine print work for them.
As soon as they could, they took advantage of an escape clause that allowed them to walk away from the deal and get their deposit back because the building was not ready for occupancy when it was supposed to be, by the end of last year.
The Germains, who are empty nesters looking forward to downsizing from their home in Scarsdale, New York, and moving into the city, decided that buying from a floor plan was not for them. They have since signed a contract for a loft in a converted warehouse that is not yet completed.
"But we've seen the space," she said, "and we know what we're getting this time."
Pitfalls
Their experience illustrates the potential pitfalls that home buyers face when they buy a condo before it is built. Since all they have to go on is a floor plan, artist's renderings and a model kitchen and bathroom, they cannot know for sure how much light the living room gets or how a king-size bed will fit in the bedroom. So much must be left to the imagination that expectations can easily wind up not meeting reality when the building is finished.
"It's easy to get excited about a new development and get swept up in the sense of urgency and wanting to be the first one in," said Andrew Phillips, a senior vice president at Halstead Property. "I like to tell people to hurry up and wait. Get there fast, but then take your time thinking it through."
Buyers need to have a clear sense of what is important to them, he said, "and it doesn't hurt to have somewhat of a suspicious nature."
So, for example, if high ceilings are a priority, buyers should find out if the advertised 3m ceilings run throughout the apartment or if they will be interrupted by mechanical equipment in certain rooms.
"You have to say to yourself: `What are the factors as I walk into a room that will make me happy?' and then make sure that the property will meet your requirements," Phillips said.
He and other brokers said buyers should also research the reputation of a building's developer before buying. But above all, they recommended having a lawyer experienced in reading real estate offering plans, which are often 50mm thick and dense in legalese.
"A broker works for the property owners," said Jon Phillips, a vice president at Halstead. "But attorneys are under no such constraints. Their total loyalty is to the consumer, and their job is to wade through the impenetrable jargon, tell them the rational realities and really to protect them."
Buying from a floor plan, of course, need not be a disappointing experience. Very likely, it was not for most of the 3,000 people who bought in new developments in Manhattan last year.
Jonathan Miller, an appraiser and the president of Miller Samuel, estimated that about 30 percent of the 10,000 apartments sold in Manhattan last year were in new developments. He added that thousands more are either planned or under construction.
The New York attorney general's office, which handles complaints about new construction, states on its Web site that there are certain risks when buying in a new development.
"There are frequent misunderstandings and discrepancies between what is stated in the offering plan, what is promised by salespeople and what is actually delivered," the site warns.
In some ways, disillusionment is inevitable, because buying before the building is up demands lots of imagination.
Pamela Liebman, the president of the Corcoran Group, said that years ago, brokers would market new developments from a trailer with "a couple pieces of board with a faucet, a swatch and a piece of tile."
But as buyers have become more sophisticated, she said, so has the selling environment.
"You can't even call it a sales office anymore," she said. "Now it's a sales gallery, because you're setting the tone for the development. It's very much about creating a feeling."
In addition to a scale model of the building, showrooms now typically include models of a kitchen, a master bathroom and either a second full bath or a half bath. A selling broker will often make a 35 minute to 45 minute presentation, showing floor plans and photos or renderings that depict the kind of views any given apartment will have.
"We have to paint the picture for buyers and make them imagine what they are buying," said Felicia De Chabris, a vice president at Halstead who is the sales manager for a new development at 110 Third Avenue, between 13th and 14th streets.
Scrutiny needed
Buyers should examine the model rooms with the same scrutiny they would use in an actual apartment and ask whether they will get the specific finishes or appliances shown.
Being able to imagine herself cooking comfortably in the kitchen was important to Brannon McDonald, one of the first to buy at 110 Third. Since the finishes in many new developments are similar stainless-steel appliances, stone countertops and hardwood floors, she said she was "more picky about functionability than about colors" and has "gone as far as to get in the tub to see how it feels."
She said she had ruled out a different development because the oven was so low to the floor "I almost had to sit down to open it."
Michael Souter, who recently bought a condo in a converted building on Madison Square Park, said that because he is an artist, he has an eye for "forecasting what an environment is going to look like."
He said he uses a "pencil test" in which he thinks through his daily routine while running a pencil -- a stand-in for himself -- through the floor plan.
"I'm going to bed, or I want to go to the laundry room," he said. "So I walk the pencil through, and I figure out what I'm going to pass and how I'm going to get there."
The biggest surprise for him after moving in, he said, was the quality of the apartment's finishes.
"I know I sound very pretentious saying this, but the fixtures are kind of like nice Home Depot, and they don't live up to the potential of the building," he said, adding that he planned to redo the apartment anyway.
Besides choosing a specific apartment, brokers said, buyers should always ask about other projects a developer has built. Patricia Warburg Cliff, a senior vice president of the Corcoran Group, said she bought a SoHo condo in 2001 from a small developer who was converting his first lofts, and she saw firsthand what can result from inexperience.
Each apartment had keyed elevator access, but she said that because the developer had not built an airtight box around the elevator equipment on the building's roof, there was a problem.
"When it snowed, there'd be an inch of snow in our entranceway because it permeated the elevator shaft," she said. "And on windy days, a draft that came down the shaft would blow out the candles in our apartment."
She said the apartment turned out to be a good deal because she made money when she sold it two years later.
"I really didn't mind doing a little homesteading while I was there," she added. "But my point is you should know who you're dealing with, and buying from a developer who's inexperienced is fine if the price reflects the risk factor."
Once prospective buyers have done their homework on the developer, a logical next step is to review the offering plan. A lawyer can help scour the fine print of the hefty document for potential surprises.
To help demystify the process, Steven Matz, a real estate lawyer who estimates that about 70 percent of his office's cases involve new development, said he boiled a 500-page offering plan down to a five-page digest of the highlights.
"Giving an average person an offering plan to read is like handing somebody a travel guide for another country in a different language," he said. "It needs to be broken down in lay terms."
Costs
One of the first things Matz makes clear to clients buying in a new development is how much higher their closing costs will be because they will have to pay city and state transfer taxes, costs that sellers are required to pay by law but that developers of new construction routinely foist onto buyers in the fine print of an offering plan. In a softer market, developers may be willing to negotiate who pays the taxes. For a US$1 million apartment, they total about US$19,000.
Matz also warns that closing dates are subject to construction delays, and he pores over the offering plan for construction details: whether windows can be opened and if they are double-glazed; what type of heating system will be used; whether the washer and dryer are vented; and whether the sponsor can substitute advertised materials or appliances.
"You want to help buyers avoid any surprises," he said. "But people have to keep in mind that in New York City, it's very rare for somebody to get everything they want in one great package."
McDonald said she skimmed the offering plan for the two-bedroom apartment at 110 Third that she and her fiance, Brad Demuth, are buying. Demuth, a lawyer, read the plan more carefully, but they both relied on their real estate lawyer, Arthur Arschin, to find things they might have missed. And he did.
First, he explained that their apartment had lot-line windows, which means that if the neighboring lot is developed in the future, they will not only lose their view but will also be responsible for bricking up their windows. But further digging revealed that their views are protected because the air rights for the next-door lot have already been purchased.
He also discovered that their deposit would not be held in an interest-bearing escrow account.
"That's not the norm because in most deals, buyers are happy to get a US$800 or US$900 check for the interest at their closing," Arschin said. "It helps take the sting out of all the other checks they're writing."
Demuth said he was not happy about that news, "but it wasn't a deal-breaker."
Shaun Osher, the chief executive of Core Group Marketing, said he once had a client who bought a penthouse with an enormous terrace only to discover at his walk-through that a mechanical vent for the building was on one side of the terrace.
"The thing made a noise, and he lost half of his terrace, but he had to suck it up because if he had walked away, he would have had to spend much more to get a similar space," he said.
On the plus side, the buyer had agreed to pay US$2 million for the apartment, and it was already worth US$2.5 million by the time of his closing.
"A lot of buyers are willing to accept certain flaws," Osher said. "If your investment has already appreciated by 20 or 25 percent more, you can be a lot more forgiving." 
Comments will be moderated. Keep comments relevant to the article. Remarks containing abusive and obscene language, personal attacks of any kind or promotion will be removed and the user banned. Final decision will be at the discretion of the Taipei Times.