Tracking the Starbucks phenomenon
The coffee shop giant seems to know our secret desires and trains us to speak its language. After visiting 400 outlets, one academic reveals how it's done
It is a question that has baffled economists, cultural commentators and consumer watchers: Why are people who drive a hard bargain in all other parts of their lives willing to spend US$5 (NT$165) on a shot of coffee and some hot, frothy milk in a very large cardboard cup?
The reason for the remarkable growth of one of the social markers of the past two decades -- upmarket coffee shops such as Starbucks -- could now be a little clearer thanks to a US academic who has undertaken a remarkable personal odyssey to try to get to the bottom of the conundrum. Bryant Simon spent a year visiting more than 400 Starbucks coffee shops in several countries, observing customers for around 12 to 15 hours a week.
He went to 25 outlets during four days in London, but said: "I tried to have a drink in every one, but it was too painful on my system."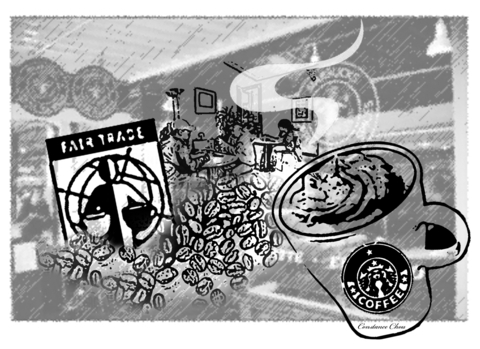 He follows in the noble footsteps of one-man obsessives including Morgan Spurlock, who ate only at McDonald's for the documentary film Super Size Me, Matthew Daimler, who flies 150,000km a year to give advice on finding the best airline seats on his Web site Seatguru.com, and Bill Drummond, who drove round the London M25 orbital highway for 25 hours "to find out where it leads."
"Starbucks didn't introduce coffee and didn't even introduce good coffee," Simon said.
Simon is writing a book on the subject, Consuming Starbucks, to be published next year.
"But it did turn coffee into an identity," he said.
The Starbucks empire is strong and getting stronger. Since the first store opened in 1971 in Seattle, it has grown worldwide to some 12,500 branches with 115,000 employees and US$8 billion revenue. There are plans to expand to 40,000 branches, which would see it overtake even McDonald's.
India, Russia, Brazil and Egypt are to be targeted this year. There are 530 branches in the UK and, with profits soaring, the company has said it aims to add 50 per year, about half of them in the south east of England.
Anyone can now calculate their Starbucks density using a locater on the company Web site. A person in Regent Street in central London, for instance, is within 8km of 166 branches.
It is proof the formula works even in a nation of tea drinkers, but Simon feels one element was lost in the move across the Atlantic.
"Starbucks is dirtier in Britain. People in the US have been taught to do part of the labor, and they clean up after themselves. In the US, part of Starbucks' appeal is its cleanliness," he said.
Its ubiquity and cross-cultural appeal has attracted the scorn of traditionalists and the curiosity of academics, who regard it as a prime case study of branding in the age of globalization.
They note how Starbucks has "trained" millions of people to order in its jargon of "grandes" and "half-caffs."
Simon, who teaches history at Philadelphia's Temple University, thinks customers are willing to pay over the odds for the coffee -- the price hike from unroasted bean to urban cappuccino has been estimated at about 7,000 percent -- because of what the brand promises.
"Starbucks shows us our desires but doesn't completely fulfil them," Simon said.
"These include our desires for status, to be socially responsible and simply to have a place to go," he said.
Starbucks' success could be seen as reinvention of the 18th-century coffee house where people gossiped, debated politics or read newspapers.
Its stated ambition is to retain the values of a small company and ensure that growth does not dilute its local culture.
Simon acknowledges its broad appeal, but contends that the prices make it anything but classless.
"It has a fairly big segment of the mainstream, but it has invisible filters to keep some people out. The poor are not going to pay that much for a cup of coffee and lots of older people can't get their head around paying that much. When you ask who doesn't go to Starbucks, the focus groups say, `The homeless, the poor or my granny,'"he said.
The chain's muscle in the market means it has a global influence on tastes and trends.
The newspaper USA Today observed: "Like Oprah Winfrey, Starbucks is emerging as a self-appointed culture guru. It's drawing folks who want a jolt of what's `in' with their java ... Starbucks manages to project itself as both hero and renegade."
This makes it all things to all people, Simon says.
There is a small but vocal opposition that runs Web sites such as I Hate Starbucks and Delocater, a list of independent coffee shops.
But Starbucks, which opens six stores a day, has been accused of buying properties so close to each other that it puts independents out of business.
Adrian Maddox, author of Classic Cafes, said: "They will do deals with landlords and pay top whack to destroy everyone else in the street, a strategy of a complete homogenization. It's a cancer that runs deep and we should be pitted against it."
Starbucks has tried to head off criticism by cutting out unhealthy fats, selling Fairtrade coffee and using some recycled materials.
But Simon points out that it has two huge advantages.
"First, it has great locations. Second, it is selling a highly addictive product. It's hard to persuade anyone to give up coffee," he said.
Not even the prices -- or the jargon -- seem likely to stop the Starbucks juggernaut.
Comments will be moderated. Keep comments relevant to the article. Remarks containing abusive and obscene language, personal attacks of any kind or promotion will be removed and the user banned. Final decision will be at the discretion of the Taipei Times.