China, Africa and the hard sell
Not since the Cold War has China expressed so much diplomatic interest in Africa, and while energy is a main motivator, strategic considerations are also sweetening deals
China's weekend summit with Africa marked a milestone in its global emergence, giving it more leverage against the West and setting it up for more oil and other trade deals, analysts said yesterday.
The turnout for the two-day summit in Beijing that ended on Sunday spoke volumes. Delegations from 48 African nations attended, including 41 heads of state or government -- an illustration of Beijing's growing clout.
"[China] gave a party and everybody came. It's a big deal," said David Zweig, an expert on Chinese foreign policy at the Hong Kong University of Science and Technology.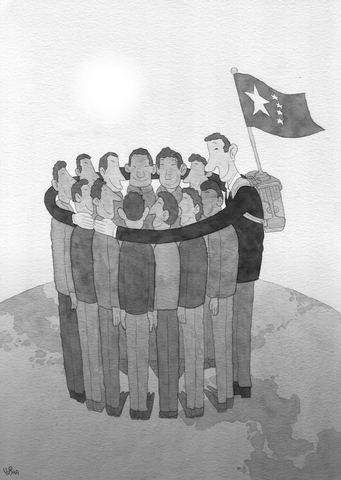 China's state press wasted no time trumpeting the summit as a "milestone."
"It consolidated the traditional friendship between Chinese and African people [and] injected new energy into China-Africa cooperation," an editorial in the People's Daily said yesterday.
China has faced accusations that it worsens repression and human rights abuses in Africa through support for countries such as Sudan and Zimbabwe in a cynical drive to increase access to African oil and other resources.
There has also been criticism that Beijing undermines the current Western policy of denying aid to countries with repressive governments.
But China shrugged off those claims during the summit and served notice it would continue to challenge the Western diplomatic and economic strategies for Africa.
Chinese Premier Wen Jiabao (溫家寶) said China intended to more than double bilateral trade with Africa -- which was miniscule just a decade ago -- to US$100 billion a year by 2010.
China also said it would double aid by 2009 and would offer US$5 billion in loans and credit to African countries.
And unlike the approach from the US and institutions such as the IMF, the offers came with no democracy or human rights strings attached, freeing up nations such as Sudan to get easy money.
"Now, some countries can get aid and investment without improving on [human rights and democracy] issues. This is another challenge to the Western countries," said Yen Chen-shen (嚴震生), a researcher at Taiwan's Institute of International Relations.
China sweetened the diplomatic deal even further with a US$1.9 billion package of trade and investment deals in Africa.
They included an aluminum production plant in Egypt worth US$938 million, a US$300 million contract for Chinese firms to upgrade a highway in Nigeria, a US$200 million copper project in Zambia, and other deals with Sudan, South Africa, Kenya, Cape Verde and Ghana.
Contrary to expectations, no major African energy deals were announced during the summit, but the goodwill engendered here will no doubt lead to greater Chinese access to African energy resources, Yen said.
"China needs energy from Africa. It needs to import a lot of oil nowadays since its economy is growing so fast, and China can get it from African countries through the summit," he said.
Turning Western criticism around, China sought to seize the moral high ground by calling in a joint communique for greater investment and aid from rich nations to help poor African countries, regardless of who governs them.
"They don't talk about it but in some way they are challenging the moral position of the IMF and the United States on conditional aid. I think this is very important for the Chinese," Zweig said.
Africa was high on China's agenda during the Cold War, when Beijing was diplomatically isolated and desperate to expand its sphere of influence.
That waned beginning in the 1980s, Zweig said, as the need for technology and capital prompted China to reach out to the West and Japan.
But with those relationships now quite solid, China sees a resumption of its traditionally strong African ties as further bolstering its international clout.
"I think it's significant. It's the biggest event in terms of China refocusing its attention on the developing world," Zweig said.
Comments will be moderated. Keep comments relevant to the article. Remarks containing abusive and obscene language, personal attacks of any kind or promotion will be removed and the user banned. Final decision will be at the discretion of the Taipei Times.