States must invest in schooling
Young people in the developing world lack information about and support for the massive health and education barriers they face
Alienated and unemployed youth are a concern everywhere. They pose a particular challenge in the developing world, where a demographic bulge equal to the great "baby boom" that occurred in the West at the end of World War II is growing. But the postwar era in the world's most developed countries was one of unprecedented prosperity for the baby boom generation, which is now nearing retirement.
Will the future be as promising for the developing world's billion-plus young people between the ages of 12 and 24?
Throughout the developing world, governments urgently need to devise the right mix of investments and policies to encourage their young people to get an education, find work, stay healthy, form families and exercise citizenship. The payoff is huge if they get it right -- accelerated development as economies reap the benefits of a burgeoning working-age population and lower dependency ratios. In East Asia, this "demographic dividend" is believed to have generated more than a quarter of the region's economic growth.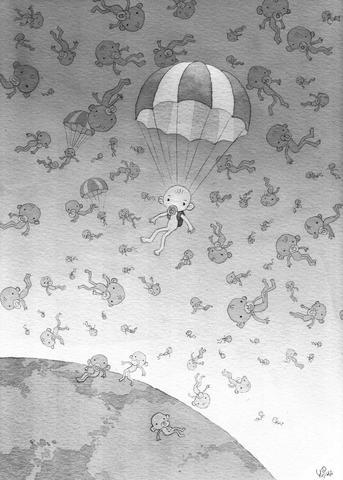 Developing countries have already invested heavily in children. Their young people are therefore better educated and healthier than previous generations. More than 80 percent of children now attend elementary school, up from 50 percent in 1970, and infant mortality has fallen from more than 10 percent to 6.5 percent over the same period. But now governments must go beyond investment in children and begin supporting the new generation of young people.
Indeed, even in countries with high elementary school completion rates, many young people do not attend high school. Young people account for half of all new HIV infections. And, in the Middle East and North Africa, about a quarter of all young people are unemployed.
These problems raise thorny questions. What prevents more young people from attending high school? Is it because they are sometimes close to being illiterate even after elementary school, or because it is unaffordable? Why don't more young people learn how to lower the risk of getting HIV/AIDS? Why do businesses in these countries complain of a lack of skilled workers when so many university students are jobless?
To build successful youth-friendly policies, governments need to focus on three policy areas -- expanding opportunities, enhancing capabilities and providing second chances for young people.
Governments must broaden opportunities for young people by improving access to, and the quality of, health and educational services. We know that the full benefit of elementary school is realized only when children go on to high school. Yet many young people are ill prepared for high school, and places are scarce.
Today's employers want highly skilled workers. More than 20 percent of all firms in countries as diverse as Algeria, Bangladesh, Brazil, China, Estonia and Zambia rate inadequate skills and education of workers as a major or severe obstacle. If young people are not to become stuck in dead-end jobs or end up without jobs at all, they need better education and skills that match those needed by employers.
Several countries now facilitate access to high schooling through "conditional cash transfer programs," which offer a stipend to poor families whose children regularly attend school. These programs have successfully increased high school enrollment in countries like Mexico, Ecuador, Bangladesh and Cambodia.
For these programs to work, however, children must be ready to enter secondary education. Yet, in Morocco, for example, more than 80 percent of schoolchildren complete elementary school, although fewer than 20 percent have mastered the material.
Second, policies should support young people as they strive to make good decisions. Governments cannot substitute for parents or for communities, but they can encourage young people and their families to invest in themselves. Armed with the right information and incentives, young people can make better decisions about their health and education.
In Cameroon, Horizon Jeunes, a reproductive health program that targets urban youth, increased young people's knowledge of reproductive health and successfully changed their behavior. Condom use among females increased from 58 percent to 76 percent in the treatment group.
Similarly, the rate at which eighth graders from the Dominican Republic entered upper secondary levels increased when they simply were told how much more those who finished high school earned -- an amount they had vastly underestimated.
Bangladesh's Female Secondary Stipend Program was successful in helping girls aged 11 to 14 delay marriage and remain in school.
Governments must also begin to offer "second chances" for young people who have fallen behind because of to difficult circumstances or poor choices. Such programs must be well designed, targeted and coordinated to give the right incentives to beneficiaries. For example, sub-Saharan Africa has thousands of young combatants -- 100,000 in Sudan alone -- who hope to reconstruct their lives in peacetime but will require skills training and jobs, as well as medical and psychological support.
Focusing political will and the efforts of young people to expand opportunities, enhance capabilities and provide second chances can help countries make the most of today's demographic advantage. Countries can either harness this growth -- and in so doing, transform their development prospects -- or face the risk of an alienated generation embittered by the unfulfilled chance of a better future.
Francois Bourguignon is senior vice president and chief economist of the World Bank.
Copyright: Project Syndicate
Comments will be moderated. Keep comments relevant to the article. Remarks containing abusive and obscene language, personal attacks of any kind or promotion will be removed and the user banned. Final decision will be at the discretion of the Taipei Times.