Small is beautiful for the Net giants
`Web 2.0' highlights how the online world is changing. Amateurs come up with the ideas, then the big boys open their wallets
At the European Technology Roundtable Exhibition held in Barcelona from Oct. 8 to 11, Skype co-founder Niklas Zennstrom announced that now, just three years after Skype started, it accounts globally for 7 percent of all international telephone calls. I couldn't help thinking that this fact about Skype is just one of many clear indications that we are entering a completely new world -- as far as technology is concerned.
Whether you call it a new world or a profound dislocation in society depends on your viewpoint. What is certain is that very few of us -- possibly none of us -- can really know what's going to happen next.
What exactly is the difference between Web 1.0 and Web 2.0? In essence, Web 1.0 was all about creating simple but effective Internet versions of real-world businesses where selling could happen on the Web, whereas Web 2.0 really uses the Internet as a completely new way to market to people. "Selling" has shifted to "buying" because the user is in control. He or she broadcasts his or her profile, tendencies and preferences in a way that is picked up by Web 2.0 technology infrastructure and marketing tools.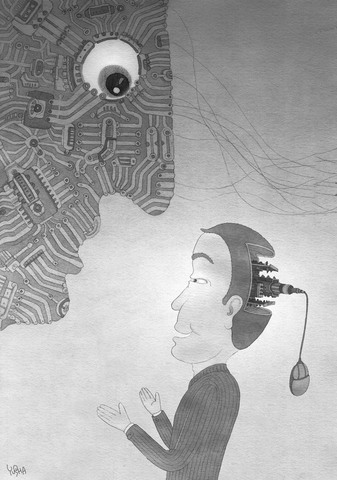 New phenomena such as YouTube and MySpace give a home to people who want to broadcast their videos, profiles and communications. This is another feature of Web 2.0.
I, as a user, don't want to be scheduled. That is, I don't want my TV to tell me when I can watch something and what I want to watch. I want to both post my own content and watch other people's content, videos and postings whenever I choose. I program the Web; it doesn't program me.
Chad Hurley, the 29-year-old, newly wealthy chief executive officer of YouTube, was quoted in Forbes last week as saying: "Amateurs can create something just as interesting."
That's the rub for large media companies. Their "content" is no longer deemed to be the gold standard. Ordinary folks with Web cams, video tools, personal Web sites and so on, can make interesting "content" too.
So where might the world be going? At Google, they are convinced that they know. I recently came back from the Google Zeitgeist event held in Silicon Valley. It was an invitation-only event for about 400 people and the speakers included Michael Dell, Colin Powell, Sir Martin Sorrell, Ed Zander of Motorola, Mark Zuckerberg of FaceBook and the Google founders themselves.
After a major dose of the latest developments in online advertising, targeted marketing tools and all sorts of other new marketing techniques, my conversations from Zeitgeist were put in context only four days later when Google acquired YouTube on Oct. 9 for US$1.65 billion.
The truth is that mergers and acquisitions is the new research and development. Major platform companies, such as News Corp, Yahoo and Google, in effect encourage ingenious start-ups to plunge into the marketplace and engineer dynamic growth and customer acquisition from an inspired idea. Once they have, their growth will be massively encouraged by the prospect of being acquired by the platform company.
Any business that has a terrific idea and can use viral marketing to win large numbers of users and gain significant market traction can look forward to a potentially enormously valuable market position.
At heart, though, a business that wants to enjoy this kind of success must be able to offer a simple but powerful customer benefit.
Friends Reunited -- founded in a house in Barnet, London, by Steve and Julie Pankhurst -- allows you to find out what people you liked from the past are doing now and gives you the chance to get in touch with them again. Skype allows you to make cheap phone calls via the Internet. YouTube lets you broadcast yourself. Google very reasonably acquired it for the huge advertising opportunities it clearly offers.
In this new Web 2.0 world, the major platform companies are, in effect, using the venture-capital-backed start-up scene to fish for clever management, applications and business models on which the platform companies can base their product development.
A big part of what is happening with Web 2.0 is that the Web itself is becoming as much of a social phenomenon as a commercial one. Most of the companies we remember from 1999 -- only seven years ago, but what a lot has happened since -- did indeed simply enable us to buy stuff online. Friends Reunited was one of the first major successes in viral marketing and became a phenomenon.
A plethora of "social networking" sites is emerging, focused on Generation X (etribes), students (Univillage) and many targeting women, gay people or other demographics.
MySpace, which News Corp acquired last year for more than US$600 million, has the raison d'etre of positioning itself as a portal into the youth market. YouTube is very clearly Google's answer to MySpace. Meanwhile, a company in my portfolio, etribes, sets out to enable you to manage your life -- photos, transactions, personal contacts and so on.
More and more of what is really happening in the business world may be taking place at a virtual level, but the old-fashioned concept of the brand is more important than ever. Above all, the new brands of Web 2.0 are mastering the lost art of advertising by becoming so familiar with their customers that they know what the customers really want and can offer precisely that to those customers in a user-friendly virtual form.
The end result? Advertising may be losing its taint as it becomes far more accurate.
There's an old expression: "Fish where the fish are." It makes abundant sense. By extension, more people than ever are online, so market to them online.
This is why organizations such as MySpace, YouTube and similar major portals are so attractive to the big platform companies. These portals represent the channels that really matter to the customers of the new world.
Julie Meyer is the chief executive of Ariadne Capital, a London-based investment and advisory firm.
Comments will be moderated. Keep comments relevant to the article. Remarks containing abusive and obscene language, personal attacks of any kind or promotion will be removed and the user banned. Final decision will be at the discretion of the Taipei Times.