'Reckless' paraplegic helps quake survivors
After being paralyzed at 15, Sarmad Tariq surmounted tremendous obstacles, including the devastating Quetta earthquake and the New York Marathon, to make Pakistan a better place for the disabled
The luxury sixth-floor flat surveying Islamabad's biggest park had barely stopped shaking from side to side when Sarmad Tariq started arguing with his wife.
"I told her, `Zehra, you run, get out, get out,'" he said with a grin and a flourish of the Benson and Hedges he holds between his gnarled fingers with a specially designed cigarette holder.
"She was going `No way, you shut up,' and cursing me and saying the kind of things only a husband and wife can say to each other," he said.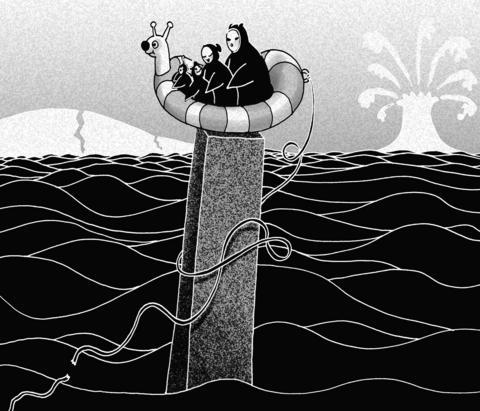 As they bickered, they could see through their window dozens of people running from a billowing cloud of beige concrete dust, where another upscale apartment block had stood only minutes earlier.
Much like the accident 15 years earlier that made Tariq a quadriplegic, the 7.6-magnitude earthquake that hit Pakistan on Oct. 8 last year came without warning and left him totally helpless.
After the giant tremor he was stuck in bed, too heavy for his wife to lift him into his wheelchair, and terrified that their building would be the next to collapse.
"Then it struck me, `Bloody fool, she can walk, it's not her fault, she can walk.' But she wouldn't leave," he said.
Just as their shouting match reached its climax, Tariq's helper Asif banged on the door, gasping after running up the stairs from his basement room.
"He told me he saw the Margalla Towers collapse and thought `Who is going to get Sarmad out?'" Tariq said. "Then he threw me into my wheelchair and we went down in the elevator, even though you're not meant to."
Wearing a baseball cap and a hooded top, the 30-year-old's wry smile gives no hint of any lingering trauma. Appropriately, he has a job as a motivational speaker, using his experiences to inspire businesspeople.
But as he talks over the muzak in an Islamabad hotel it seems clear that the quake made him ask searching questions -- about how lucky he was to have help, about conditions for disabled people in the worst-hit areas, and about what life would be like for the maimed, the amputees and the paralyzed in a country where health facilities are rudimentary at best and a third of the population lives in poverty.
The earthquake killed around 75,000 people and injured at least 130,000 people, around half of them seriously. Of those around 700 were left paralyzed and another 700 had limbs amputated, according to Pakistan's Earthquake Rehabilitation and Reconstruction Authority.
`I was a vegetable'
Tariq's own life changed in a split second in 1991, when he was a sports-mad kid of 15 from a comfortably-off army background, who dreamed of winning an Olympic Gold for swimming.
While on holiday with his cousins in the eastern city of Gujranwala, he dived into a canal, without realizing the water was less than a meter deep.
"As I stood on the edge it was the last time that I would feel the weight of my body on my feet, but I didn't know it at that time," he said animatedly, almost as if describing an adventure.
"I dived in and I felt a searing pain. At first I thought I had broken my shoulder or arm but then I felt I couldn't move, I had to be dragged out. I broke my neck in two places and hence crushed my spinal cord. I was instantly left paralyzed, although I didn't know it then," he said.
Doctors at first were uncertain he would survive and kept the bad news from him, saying that he had only broken his ribs. Even when they did tell him what had happened, Tariq said he remained in denial for months until the truth sank in.
"I was a vegetable," he said. "My mum used to come and put her hand in front of my nose to check if I was breathing. That is when I realized that I was not going to walk again," said Tariq, who did not suffer any brain damage in the accident.
He endured two years of grueling medical treatment in Pakistani hospitals. His doctors drilled into his head and clamped on more than 13kg of weights to bring his neck into position. He had multiple operations, developed pressure sores, bladder infections and his weight plummeted.
Fearing for his health, his parents raised the money to send him to the renowned Stoke Mandeville Hospital in the UK.
He got a wheelchair for the first time and, crucially, received treatment that restored some strength to his shoulders and gave him partial movement in his hands.
Friends said his life would be easier in the UK, but Tariq returned to Pakistan after four months determined to rebuild his shattered life.
"I had been a burden on my parents financially and emotionally, so I decided to make myself financially independent. That thought kept me going," he said.
Six Pakistani colleges in a row rejected him because they said they didn't cater for the disabled, but eventually he was accepted by one in Rawalpindi. He later graduated from university with a Masters in Business Administration.
He also learned to drive a specially adapted automatic car, then got a job with a software firm by the age of 23, and soon afterwards he married Zehra, his childhood neighbor when they lived in the southwestern city of Quetta.
"We fell in love after the accident," Tariq said, adding that his wife had no reservations about coping with his disability and his daily needs, which include attaching a urine bag.
"But two years down the road, life started getting boring," Tariq recalled. "One day in 2002 I just left my job. I couldn't find any purpose. At first it was just to get out of bed; then to get a job; then to get married. Since I had done it all I missed the spark."
The couple went on holiday to South Africa to give him time for reflection, and he decided he wanted to "pave the way for other people who are wheelchair bound." That "way" involved extreme endurance tests that horrified doctors.
First Tariq drove himself and two friends from the Khyber Pass on Pakistan's northwest frontier with Afghanistan to the southern city of Karachi, a distance of 1,850km, along some of the world's most deadly roads.
The journey in March 2004, in his modified Honda Civic, took him 33 hours.
"Being in a car is one of the only places I am totally independent, except getting in and out," he said.
Tariq took nearly a year to prepare for his next and far more serious challenge in January last year -- the Lahore Marathon, Pakistan's first ever international marathon.
The race took him seven and a half exhausting hours to complete.
`I started spitting blood'
"On the 30th kilometer I started spitting blood. When I reached the Qaddafi Stadium there were just my family and friends, all the race officials had gone home and there was no one to record my time," he said.
Despite the physical effects he then decided to take part in the New York Marathon in Nov. 6 last year.
Then, a month before the race, the earthquake struck, killing 73,000 people.
Shocked, Tariq was about to cancel his trip and donate his sponsorship money to the victims. His friends and family talked him into going, saying he could raise awareness of the disaster abroad.
Once in the US he nearly didn't make it to the marathon. A week before he fell over in his hotel in New York and ruptured a muscle so badly he said he could see it sticking out of his hip.
He refused to see a US doctor, thinking that he would be disqualified from the race on health grounds, so he asked the father of one of his wife's friends who is a doctor in Pakistan.
"He said, `I would suggest you don't do it.' So I got quite a lot of painkillers and Deep Heat," Tariq said.
His finishing time was the same as the Lahore race, seven and a half hours, but this time, people were waiting.
"When I finished I cried. People were shouting `Sarmad, Sarmad,' like I was some massive celebrity. It was amazing," he said.
The race took a massive toll on his body, however.
"Afterwards I was in pain for more than a month, my brain swelled up. The doctors I talked to all advised me not to do anything like it again," Tariq said.
Since returning from New York, Tariq has battled more health problems but is opening a Pakistani chapter of the Achilles Track Club, a worldwide organization that helps people with disabilities take part in athletics.
He and Zehra have also found a new flat -- this time on the ground floor.
While his marathon exploits have helped remind the world of the long-term effects of the earthquake, he has also been visiting a hospital for spinal cord injuries along with his father.
"I just go there to meet them. It's only been a few months and if you go to the affectees now and say `It's going to be OK, life with a wheelchair can be good,' they will kill you, they will literally kill you," he said.
Pakistan has, with international help, set up five centers to treat and rehabilitate paraplegics and quadriplegics, and has trained 250 specialists to help them. Before the quake it had none.
Tariq said his main focus is on the helpers who -- like Asif who helped him from his flat after the earthquake -- are so vital to people with disabilities in Pakistan.
The earthquake could cause a sea change in the way Pakistan deals with the mobility impaired, he believes.
"We haven't had a Vietnam or World War. The UK changed because they had to do many disabled at one time from the World Wars," he said.
Tariq, however, laughs at any suggestion he is a role model.
"I am dangerously reckless. I am lucky to have Zehra as a wife because she is able to bear with me," he said. "In every aspect in my life I am in total chaos. I'm not an example to anyone."
Comments will be moderated. Keep comments relevant to the article. Remarks containing abusive and obscene language, personal attacks of any kind or promotion will be removed and the user banned. Final decision will be at the discretion of the Taipei Times.