Gulf Coast struggles with Katrina aftermath
Uncertain future ahead for residents of the region as the full scale of the destruction begins to emerge
A red shoe was all that Suzanne Rodgers managed to salvage. Her apartment complex in Biloxi, Mississippi, was a mass of flattened rubble when she returned on Tuesday. It looked as though a steamroller had hit it.
"I can't believe it," she said, her voice choked with tears. "It was such a huge building, and now its gone."
Rodgers was lucky. At least 30 of her neighbors are thought to have died when Hurricane Katrina tore the building from its foundation.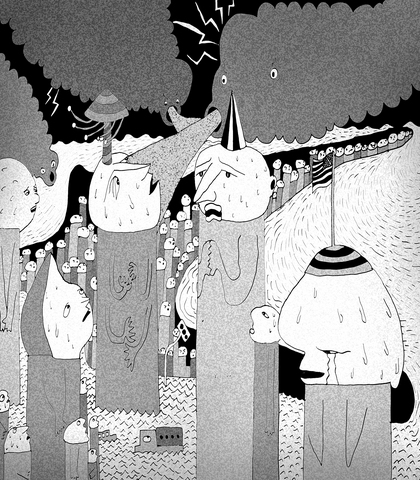 ILLUSTRATION: MOUNTAIN PEOPLE
A day after Katrina battered the southeast, those left in its wake were hardly wasting thoughts about whether it was the most devastating hurricane in US history. For them, the destruction was simply unbelievable.
Hundreds of kilometers of land were under water, with people stranded on roofs. Desperate cries for help rang out from attics, and streets were strewn with so much rubble that it seemed as if powerful bombs had gone off. Katrina had left behind a wake of destruction.
"This is our tsunami," Mississippi Governor Haley Barbour said.
The hurricane played an especially cruel game with New Orleans, "pearl of Louisiana" and famous for its jazz and Mardi Gras. Katrina appeared to show it some mercy: The levees protecting the city, much of which is below sea level and surrounded by water, initially seemed to hold.
Dozens of people who had stayed to ride out the storm ventured onto the streets of the French Quarter, which was littered with chunks of plaster and shards of glass. There were even some smiles of relief.
A bar owner, clambering over the debris, brought a tray filled with drinks and appetizers to a group of tourists stuck in a hotel -- a display of the joie de vivre that makes New Orleans so charming.
But then the alarm was sounded: There had been a breach -- the size of two city blocks -- in a levee holding water back from Lake Pontchartrain. Water poured into the city, and it kept rising, up to two storeys high, reaching rooftops in some places.
"Eighty percent of the city is under water," said New Orleans Mayor Ray Nagin, his voice barely audible.
He knew it would take weeks, perhaps months, until most of the approximately 800,000 people who had fled could return. Many of the city's pumps had failed, the city water was unsafe to drink, and Nagin predicted it would take weeks until even electricity would be restored.
"We prayed, we sang, we read the Bible, and God protected us," said Jo Hardeman, a tourist from Nashville.
He was sheltered in a hotel, one side of which had been ripped away, exposing the view of a skyscraper. Hundreds of the skyscraper's windows were broken, and stared out like hollow eyes.
But still, that was nothing compared to the nearby district of St. Bernard. Pictures shot from a helicopter showed water as far as the eye could see.
An estimated 40,000 houses were submerged there, some partially, some completely. The area is largely populated by poor people without cars who had been unable to flee the hurricane.
They climbed onto roofs with their children and babies and begged for help. Helicopter rescue teams, lowering lifelines, plucked as many of them to safety as they could. Others were taken aboard boats.
But when darkness fell, the rescue work became too dangerous to continue. Many power lines were submerged in the water, posing a potentially lethal risk.
People shouting for help in their homes would have to hold out until morning. "We're so sorry. It breaks our hearts," said a member of the National Guard.
A reporter for the US TV network CNN was hardly able to hold back her tears as she described the scene.
Skies were blue over Biloxi on Tuesday, and the sunshine almost seemed like a sneer as it brightly illuminated the extent of the devastation.
Rescue teams combed through the rubble of the flattened apartment building, hoping to finding survivors. Casinos were under water or destroyed.
Almost the entire downtown area of Gulfport, Mississippi, was flooded. It was still too early on Tuesday to tell how many houses in Mississippi alone had been destroyed or made uninhabitable. The figure is expected to run into tens of thousands.
Experience has shown that most hurricane casualties occur in the aftermath.
"People return to their unsafe homes and are killed by falling rubble. They underestimate the amount of water and drown," Louisiana Governor, Kathleen Blanco said."They die by electrocution."
"Stay where you are," she implored her state's residents.
Governors from neighboring states that had been declared disaster areas concurred, mindful of what lay ahead.
There will be the threat of disease from contaminated water, and the prospect of a mosquito invasion from the coastal marshes.
And another, even worse invasion is possible: that of poisonous snakes, which are also plentiful in the region.
Comments will be moderated. Keep comments relevant to the article. Remarks containing abusive and obscene language, personal attacks of any kind or promotion will be removed and the user banned. Final decision will be at the discretion of the Taipei Times.