Go nuclear to save the UK
If Britain really wants to meet its goal of cutting down on CO2 emissions, then the only choice may be for it to build new nuclear plants
The use of nuclear power, one of the most emotive issues in Western European societies for decades, is back on the political agenda in Britain.
With the general election out of the way, the re-elected Labour government has made it clear that it sees the extension of nuclear energy production as the only way to fight climate change.
David King, the government's chief scientific adviser and professor of chemistry at Cambridge University, said that Britain needed "one more generation" of nuclear power stations.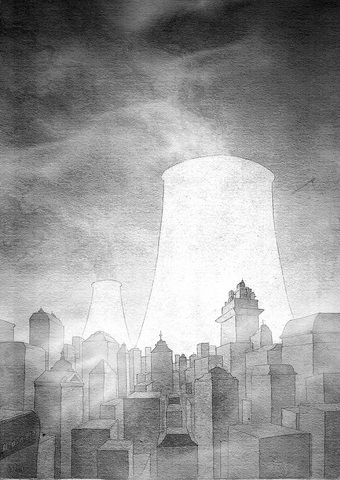 ILLUSTRATION: YUSHA
King, who has described climate change as a "worse threat than terrorism", said nuclear plants may be needed to keep Britain's faltering plans to reduce greenhouse gas emissions on course.
His comments, in an interview with the Independent newspaper Thursday, are the clearest on-the-record indication yet of high-level thinking about what will be an immensely controversial decision.
"It is likely to split the Cabinet, enrage the green movement and deeply concern many of the public, frightened about nuclear waste, nuclear accidents and potential nuclear terrorism," the paper said.
The professor believes that "in years to come" renewable energy systems such as wind, wave and solar power, together with increased energy efficiency and the possible development of fusion power, will be sufficient to cut back the emissions of carbon dioxide (CO2).
In the short term, however, there may be no alternative to building new nuclear facilities -- "one generation only," King said.
The government has already admitted that it will miss, by a wide margin, its target of cutting CO2 emissions by a fifth by 2010.
"Climate change and its impact -- the most serious problem we're faced with globally this century -- was so important that the nuclear option had to be re-examined," King said.
The debate about the "energy gap" comes against the background of dwindling gas supplies from Britain's North Sea reserves, forecast to dry up as soon as 2011, according to some experts.
At present gas is the main source of energy generation in Britain, supplying 39 percent of the market, compared with 22 percent for nuclear power and 35 percent for coal.
The prospect of future large natural gas imports, including from countries considered to be potentially "unstable" -- such as Russia and Algeria -- has concentrated political minds in Britain.
However, apart from the key question of what to do with nuclear waste, Britain also has a particularly dismal safety record on nuclear energy, demonstrated again recently by a major uranium and plutonium leak at the notorious Sellafield complex.
Of the 16 nuclear power stations operating in Britain at present -- some more than 40 years old -- at least half are scheduled to be decommissioned by 2010. The rest will be retired by 2023.
Alternative energy resources, while being promoted, would simply not fill the "gap" quickly enough, the government argues.
Currently, wind energy produces 0.8 percent of electricity needs in the UK -- a third of the total power from so-called renewables.
The government's target is to provide 20 percent of electricity from non-fossil-fuel sources by 2020.
Greenpeace campaigner Jean McSorley said Thursday her group had been "tracking" the nuclear debate, which had been "manipulated so that not more would come out before the election."
While predicting large-scale opposition to an extension of nuclear power, Greenpeace was "not panicking," McSorley said.
She predicted that the government would have "great technical and financial problems" with updating Britain's nuclear power stations -- most of which were run by advanced gas-cooled reactors.
Newly-built reactors would not go on stream before 10 to 15 years.
Her organization would base its anti-nuclear campaign on statistics which showed that at present, the use of atomic power "offset only 8 percent" of CO2 emissions.
"Nuclear power is not the answer for tackling the energy gap," McSorley said. The government first had to seek a drastic reduction in harmful emissions from aviation and transport.
"We have a broad responsibility in how we deal with nuclear power in Britain and in Europe," McSorley said, pointing to the "massive proliferation risk."
Even small reactors could give countries nuclear status, she stressed, warning of the "serious environmental and military implications" of a new lease of life for nuclear power.
Comments will be moderated. Keep comments relevant to the article. Remarks containing abusive and obscene language, personal attacks of any kind or promotion will be removed and the user banned. Final decision will be at the discretion of the Taipei Times.