An anchorman's fall from grace
Once touted as `the voice of God,' CBS news anchor Dan Rather was brought down a year before retirement by a questionable report on US President George W. Bush's military service and harsh criticism from his predecessor, Walter Cronkite
During the headier days of his 24-years as CBS news anchor, Dan Rather was called the "voice of God" of American prime time television. But when he made his final send-off on March 9, his exit was rather less exalted.
His departure, a year before his original retirement date, was the result of a flawed report last September on President George W. Bush's service in the Texas Air National Guard that solidified the anchor's reputation as a favorite target for conservative media critics.
After four decades as a reporter and anchor, and a career which spanned the Kennedy assassination, Watergate, Tiananmen Square and the Iraq war, that one mistake could now define Rather's tenure at CBS.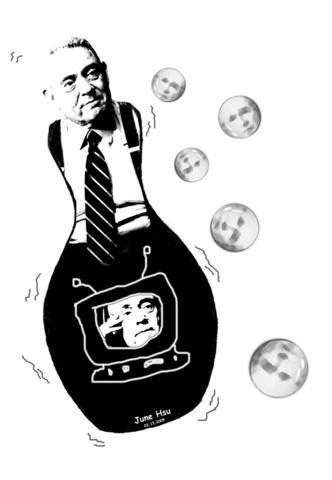 ILLUSTRATION: JUNE HSU
His leaving was given an additional dose of bitterness on Monday when Walter Cronkite, 86, who was dubbed the most trusted man in the US until Rather replaced him at the helm of CBS in 1981, said the anchor should have been replaced years ago.
"It surprised quite a few people at CBS and elsewhere that, without being able to pull up the ratings beyond third in a three-man field, that they tolerated his being there for so long," Cronkite told CNN.
Cronkite's shellacking came just days after he attacked Rather, 73, in the latest issue of the New Yorker, saying Rather always appears to be playing a newsman on the evening newscasts while his counterparts at ABC and NBC appeared to actually be that.
Other colleagues were also quick to criticize. In another New Yorker article last week, Mike Wallace, co-editor of the 60 Minutes investigation program, called Rather's on-air persona "uptight" and "contrived."
Even so, Rather's exit from the nightly news has been greeted in the US media as the end of an era.
The tributes have been accompanied by debate on the diminishing influence of CBS -- and Rather's role in its decline -- and of the big three networks overall because of the rise of cable.
There has also been scrutiny of Rather's occasionally testy on-air exchanges with Republican presidents, which made him a prime target of conservative critics of the so-called "liberal" media.
Rather rejects the charge. "I am independent and fiercely independent. It's the role of movements and partisan political organizations to apply the pressure and to try and intimidate.
"It is the job of the journalist in a free society to say `no,'" he told the Boston Globe in a farewell interview. "I haven't stopped trying."
Most of all, however, the passing of this American icon will be viewed in relation to the controversy that erupted last autumn when the network's 60 Minutes investigative program aired a report about President Bush's military service.
Although the network scored a small scoop by persuading a former Texas lieutenant governor, Ben Barnes, to admit on camera that he had used influence to get Bush into the Texas Air National Guard, it also relied on forged documents.
Those documents put forward an even more damaging charge: that Bush, once guaranteed an out from the Vietnam war, did not fulfill his duties in the national guard.
Fuelled by right-wing blogs, the story became a controversy almost overnight. CBS, and Rather himself, defended the report for 12 days, before reversing course and ordering an investigation.
The report, when it emerged last January, was scathing about news judgments at CBS, and gave a mixed verdict on Rather, saying he was too busy chasing hurricane stories in Florida to review sources.
Officially, Rather has returned to work as a full-time reporter, and has seven reports recorded for 60 Minutes as he seizes a last chance to repair his legacy.
Comments will be moderated. Keep comments relevant to the article. Remarks containing abusive and obscene language, personal attacks of any kind or promotion will be removed and the user banned. Final decision will be at the discretion of the Taipei Times.