New rules for the old pain game
Human rights groups and experts say that the US is using `torture lite' in the war on terror, a form of coercion borrowed from the Israelis
Rock music at full blast and the smothering darkness of a hood are sometimes enough to break a will already frayed by lack of sleep. If not, the subject can be slapped and shaken senseless, just short of permanent injury.
Honed against Arab suspects in Israel and decried widely as "torture lite," such interrogation methods are now a prevalent part of the US-led war on terror, human rights groups say.
Yet many experts defend them as a last resort in a race to stop suicide attacks by al-Qaeda, whose diffuse ranks have been notoriously hard for Western intelligence agencies to penetrate.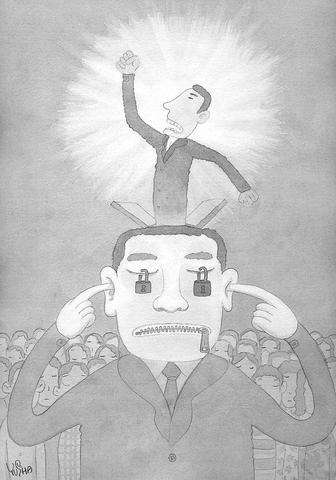 ILLUSTRATION: YU SHA
"Faced with terrorism, every democracy will resort to torture if it thinks this will prevent attacks against its civilians. The issue is whether such methods are used with deniability or accountability," said Alan Dershowitz, a Harvard University law professor.
Washington denies its forces use torture, despite increasing Amnesty International and Human Rights Watch reports of abuse in US military stockades in Afghanistan, Iraq and Guantanamo Bay.
British troops in the Gulf have been similarly accused.
The most recurrent complaints include deprivation of sleep or food, and being forced to sit for hours shackled and hooded in a contorted position. Many suspects also say their captors beat and shook them, enough to jar and bruise but not to maim.
These methods -- which US officials describe as "stress and duress" rather than torture -- recall the "moderate physical pressure" Israel's Shin Bet security service uses on detainees believed to be withholding information about impending attacks.
According to Israeli security sources, the Shin Bet has shared interrogation expertise with US counterparts since the mid-1990s amid fears of new Islamist violence on US soil.
"The Americans were not equipped for cracking this brand of fanaticism," a senior Israeli source said. "We helped."
Security officials do not give details of interrogations in the war on terror, making it impossible to gauge their efficacy.
Dershowitz, who has written extensively on legal challenges facing counter-terrorism agencies, said judicial scrutiny of US methods is hobbled by the foreign location of many interrogation centers.
For even greater discretion, he said, US forces transfer some detainees to Third World client states where "torture heavy" is the norm. Amnesty has also reported such "outsourcing" of interrogations.
Coercion clearly played a part in at least one US coup: the capture of Saddam Hussein last December after the deposed Iraqi dictator's whereabouts were extracted from an informant.
"This guy was in interrogation. He wasn't willingly giving stuff up," one US officer told the Washington Post.
A source who oversaw Shin Bet interrogations for four years said that out of dozens of suspects subjected then to "moderate physical pressure," only one did not divulge details that led directly to the prevention of a suicide bombing or gun attack.
"He was either innocent or too tough," the source said.
According to one Arab affairs expert, such state-sanctioned tactics risk deepening the enmity they purport to tackle.
"They [US forces and their allies] are only making more and more people disbelieve in democracy and the so-called international standards of human rights," said Azzam al-Tamimi of the Institute of Islamic Political Thought in London.
Anti-torture campaigners further insist that use of force is as likely to yield false information as anything truly useful.
"There is an assumption that torture is an effective way of interrogation, but torture is not always an effective technique. People being tortured will say anything to stop the pain," said Amnesty International secretary-general Irene Khan.
With the war on terror in its third year, Osama bin Laden still at large and alerts over attacks by his al-Qaeda network unabated, security experts are increasingly circumspect about the US-led campaign -- and employment of torture in any form.
"We are fighting for our existence ... against Islamists that could be armed with weapons of mass destruction. But even in those circumstances, I think that we would find that we were both not being effective and undermining the things that we really stand for by using torture with prisoners," said James Woolsey, a former director of the CIA.
"Any unorthodox (interrogation) methods should be ruses, not abuses," he said.
Former Shin Bet chief Ami Ayalon agreed that even "moderate physical pressure" should come after psychological manipulation has been tried first. "A good interrogator knows how to play with a terrorist's mind so he ends up cooperating," Ayalon said.
According to security sources, "truth serums" -- drugs that reduce the subject's inhibitions -- are self-defeating, as separating fact from fantasy in the ensuing wash of information can be impossible. Doping ruled out, duping remains an option.
One retired Shin Bet interrogator, Michael Koubi, recounted in an interview with Atlantic Monthly last year how he terrified suspects into talking by simply staging beatings within earshot.
"People are afraid of the unknown. They are afraid of being tortured, of being held for a long time," he said.
Another trick was to mention a secret about the suspect and tell him it was obtained from one of his jailed comrades. With the stigma of collaboration eroded, the suspect would usually be keen to cooperate himself and end the interrogation, Koubi said.
But Koubi said it was most important to impose a sense of intimacy with the subject through common language.
"I try to create the impression that I use his mother tongue even better than he does," he said. "This embarrasses him very much."
In high-level Washington hearings on the Sept. 11 attacks, US officials linked the lack of forewarning to intelligence shortfalls -- including too few agents with knowledge of Arabic and Afghan dialects.
While this gap is bridged, US interrogators may have to make do with physical coercion, Dershowitz said.
"The United States has had to use more blunderbuss methods, as it lacks, for now, the sophistication Israel has in dealing with the cultural challenges posed by terrorist suspects," he said.
Comments will be moderated. Keep comments relevant to the article. Remarks containing abusive and obscene language, personal attacks of any kind or promotion will be removed and the user banned. Final decision will be at the discretion of the Taipei Times.