Last chance for six-way talks?
As North Korea prepares to sit down for nuclear talks, the future of the hermit kingdom hangs in the balance
The much-awaited second round of six-party talks on the North Korean nuclear issue is finally scheduled to take place on Wednesday. There is much hope that the meeting could result in the beginning of a solution to the 16-month impasse. However, there are also worries that no agreement will be reached, leaving Pyongyang and Washington with few options left. \nThere are signs that some give-and-take may take place at the upcoming meeting. Since the first round of six-party talks, which ended in little progress -- the North Korean delegation even questioned the very utility of such meetings in future -- various parties have made painstaking efforts to keep the process alive, with Beijing actively serving as an intermediary and Seoul, Tokyo and Washington striving to come up with potential proposals they can all agree to. Apparently, these efforts are now bearing fruit and have paved the way for a second round of talks. \nThere have been major developments over the last few months that in a way influence the process -- if not the substance -- of the six-party talks. Iran has finally signed the International Atomic Energy Agency (IAEA) additional protocol for verification in an effort to clear itself of suspicion by the international community, the US in particular, of its covert nuclear weapons program. That Washington played no small part in making sure that such a step was taken by Tehran demonstrates the Bush administration's resolve to counter proliferation. \nAnother major development was Libya's announcement that it would forsake its ongoing WMD programs under international supervision. Should Tripoli fulfill its pledges, it could be welcomed back to the international community, with the UN and major western powers lifting economic sanctions. This would demonstrate that compliance with international norms and rules can have major payoffs. While the Bush administration has never given up its demands that Pyongyang must completely, verifiably and irreversibly dismantle its nuclear weapons program, it has shown signs of flexibility, including consideration of some form of written security assurance. \nDespite its rhetoric, which is part of Pyongyang's diplomatic repertoire these days, North Korea also has incentives to reach a deal. Its economic plight could not be redressed without outside assistance, including that from international financial institutions, which is currently blocked by the US. Meanwhile, aid from South Korea and Japan will remain focused on addressing humanitarian needs in the North rather than granting the hermit communist country huge sums of money in the form of investment and financial assistance. \nChina, a major ally of North Korea that provides large amounts of food and energy supplies, is increasingly showing its frustration with Pyongyang's inflexible intransigence. The frequent visits by high-ranking Chinese officials, including the second-ranking Wu Bangguo (吳邦國) last October, highlighted Beijing's interest in defusing and eventually resolving the nuclear crisis. Clearly, Pyongyang can ill afford alienating its major ally and ignoring its serious concerns. \nThese developments have prompted North Korea to take a number of steps. Official statements suggested that it is willing to discuss its nuclear and missile programs if it could secure a non-aggression pledge from Washington. Early in January it invited a five-member US group to visit its Yongbyon nuclear facility to demonstrate its ability to reprocess spent fuel but at the same time to signal its readiness to negotiate. Indeed, over the last several months it has repeated the proposed package deal, phased solution that trade US concessions to its refraining from continuing nuclear weapons and missile development. \nInternational responses to the announced meeting on Wednesday and Thursday are cautious optimism. What can be expected from the talks? (Some, with obvious reservations, even raise the question as to whether the meeting can actually take place as announced.) Clearly, resolving the nuclear issue will be a long, drawn-out process as the positions between Pyongyang and Washington remain wide apart. Modest yet substantive progress is still possible but the stakes are also high. \nA positive outcome from the meeting would sustain the process. This may include North Korea's formal pledges, with verifiable mechanisms, to freeze its current nuclear weapons program. This could involve the return of IAEA inspectors, or the set up of monitoring groups composed of third-country inspectors. The US could resume the supplies of heavy fuel oil to enable provision of heating and electricity. At the same time, some form of security assurance, either as a unilateral written pledge, or as a multi-national arrangement, could be offered as gesture of good will. As compliance with the nuclear freeze and dismantling is verified and proceeds irreversibly toward complete disarmament, Washington needs to lift economic sanctions against the North, remove the country from the terrorist list and moves forward with diplomatic recognition and establishment of normal economic ties. \nWhether and how these could transpire may depend in no small measure on the sequencing and the perception of who makes the first and most concessions. There are two crucial factors that can strongly influence the outcome. One is Pyongyang's threat perception. If the key motivation for states to go nuclear is security, then the North's giving up of its nuclear weapons program -- its only card as the weaker party -- would be affected by its confidence or lack of, in the security it will get from the arrangement. \nFrom the US side, the key issue is whether to trust Pyongyang to carry out any deal. Past experiences raise strong suspicions. Putting into place intrusive verification mechanisms are the goals American negotiators would be expected to pursue. Clearly, mutual distrust is strong and overcoming such distrust is by no means easy. Against the high hopes are potential pitfalls should either side over play its cards or get stuck in a rigid position. But these are not insurmountable obstacles, especially when one thinks about the high stakes involved in outright failure. Such failure would reinforce mutual distrust and suspicions and strengthen the hard-line positions in both capitals. That could spell the end of the six-party process. This is a development that all sides must strive to avert. \nYuan Jing-dong (袁勁東) is director of research for East Asia Nonproliferation Program at the Center for Nonproliferation Studies, Monterey Institute of International Studies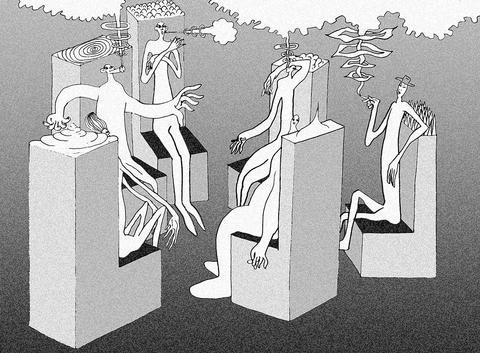 ILLUSTRATION MOUNTAIN PEOPLE
Comments will be moderated. Keep comments relevant to the article. Remarks containing abusive and obscene language, personal attacks of any kind or promotion will be removed and the user banned. Final decision will be at the discretion of the Taipei Times.