Politics no longer belongs to the young
In the 1990s, the consensus of spin doctors was that only the young should run,but the political fortunes of John Kerry and Michael Howard suggest that may no longer be the case
Though the British and US political systems are very different, they have always had a tendency to throw up twins. It's a curious historical detail that both nations were being led by unelected leaders in 1976 (Jerry Ford and James Callaghan), while Margaret Thatcher and Ronald Reagan were a notorious ideological romance and Bill Clinton and Tony Blair bonded as young, slick, spinny lawyers.
Blair and Bush, Labour and Republican, moulded and fired in the very different kilns of Islington and Texas, always seemed an odd couple, united only by religion. Perhaps that is why the alliance shows every sign of ending in tears. But another strange political coincidence between here and there is taking shape.
The likely leaders of the opposition in the next UK and US general elections are men past their 60th birthdays who have been passed over as head of their party on several previous occasions. Though each has yet to scale a cliff of "ifs," there is a possibility that a transatlantic summit in 2006 could involve president John Kerry and prime minister Michael Howard.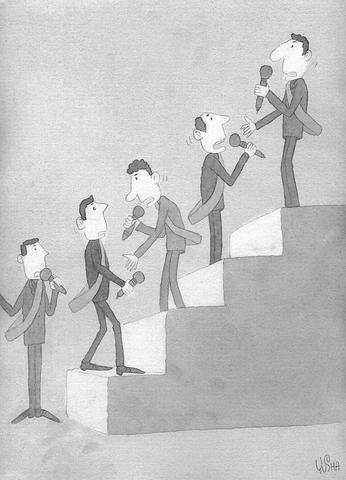 YUSHA
shift in perception
At the moment, it would be a fool who pledged Paddy Power any money on this prospect. But the mere fact that Howard has gained the Tory leadership at the same time as Kerry has become the Democratic frontrunner in the primaries demonstrates a shift in the perception of saleable qualities in politics.
Howard and Kerry are first notable for their years on the clock. The consensus of spin-doctors in the 1990s was that only the young should run. Blair and Clinton, selected by electorates at 44 and 46, were by far the freshest men to run their country in recent times. They were seen to have replaced an earlier generation of leaders -- typified by Thatcher and George Bush, Sr -- who were not taken seriously until their 50s and who led their countries as pensioners.
This electoral preference for later birth-dates was mainly attributed to television and the then impending millennium: 24-hour news coverage, with its basic lighting and snatched angles, makes contributors look older than they are and, at such a significant switch-over between eras, there was a feeling (possibly subconscious, as Lord Hutton would say) that new leaders were needed for the future.
The Tory choice of William Hague, a politician even younger than Blair, to fight the 2001 election entirely accepted the wisdom that politics belonged to the nippers now. And George W. Bush, even if he serves two full terms, would still leave the Oval Office at a much younger age than his father entered it.
So the simultaneous decision of the Conservatives and the Democrats to sexagenarian-up their leadership defiantly waves a stick at modern presentational beliefs. The main reason for this is that youth, which a decade ago represented energy and vision, has now become associated with slickness and immaturity.
experienced drivers
The same revealing phrase has been employed by the supporters of both Kerry and Howard: "He's a grown-up politician." Though this could cruelly be seen merely as a euphemism for being extremely old, the clear implication is that Blair and Bush, during the war against Iraq, were like teenagers taking the car of state for a spin before they had received sufficient driving instruction.
It is the war that has most driven the recent political age shift. Though the dream of former US president John Kennedy guides voters towards young candidates at times of national renewal, a folk-memory of former prime minister Winston Churchill leads them towards seniors in a period of international crisis.
Kerry may have fought in an unpopular war, but he at least served heroically in Vietnam while Bush was (embarrassing documents increasingly reveal) safe in the US, perhaps with help from daddy. Howard is no more of a soldier than Blair but, in having lived through the second world war and coming from an immigrant family, may be able to suggest to an electorate a deeper grasp of history than the younger incumbent.
What's most remarkable about these two 60-something comebacks is that, four years ago, both Howard and Kerry were considered un-electable, their legislative careers winding down.
Both were seen to have the same weaknesses: peculiarity of manner, quickness to anger and a tendency to look a bit odd on the box. Howard famously radiated something of the night; Kerry seemed to carry in his being something of the nightmare he had seen in Vietnam.
So the fact that both the White House and Downing Street incumbents are now being challenged by older men so recently written off underlines the extent to which the public has turned against the era of presentational politics. Young is dumb, grey is good. Although the paradox is that politics has not become about ideas again; merely a different kind of appearance.
Comments will be moderated. Keep comments relevant to the article. Remarks containing abusive and obscene language, personal attacks of any kind or promotion will be removed and the user banned. Final decision will be at the discretion of the Taipei Times.