Is North Korea's economy seeing shoots of reform or choking weeds?
It is not only that reliable figures are scarce but also that even among experts there is no agreement on what they mean
Where some discern fresh green shoots of reform amid the thickets of North Korea's economic crisis, others see little but choking weeds and pernicious pests.
Monitoring the economy of a secretive communist state and would-be nuclear power is a fascinating and at times frustrating job that draws on think-tanks, aid agencies, anecdotal evidence, North Korean data and media -- and South Korean spies.
"All of them are useful," said Alexander Vorontsov, head of Korean studies at Russia's elite Academy of Sciences. "But one shouldn't overestimate them, rather use them to compare."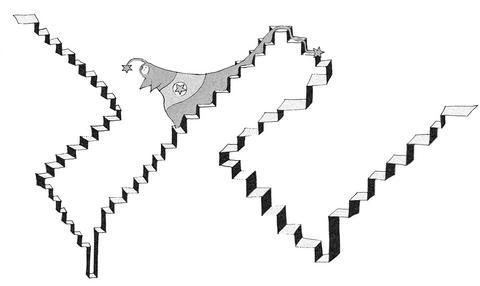 ILLUSTRATION: MOUNTAIN PEOPLE
Last week, credit ratings agency Standard and Poor's said it was only a matter of time before North Korea collapsed because its economic model was not sustainable.
That assessment caused a stir among North Korea experts around the world, notably outside financial research houses.
It also underscored the range of opinion on analysing the North's economic state, a subject that sounds arcane but has ramifications for South Korea's economy -- the fourth largest in Asia -- and regional powers China and Japan.
"I don't think the DPRK is likely to collapse imminently," said Marcus Noland, author of "Avoiding the Apocalypse", a book on scenarios for reform and collapse in the North and coping in the South. DPRK are the initials of the North's official name, the Democratic People's Republic of Korea.
Bradley Babson, a Washington-based expert on the North's economy, agreed, noting an informal market economy had emerged from the illegal shadows.
"System change is inevitable, but 'economic apocalypse' is by no means a foregone conclusion," he said. "I believe grass-roots change is well under way and that the condition of the population is greatly different today than it was in the mid-1990s."
Few would deny most of North Korea's 23 million people remain gripped by a crisis that was exacerbated in the 1990s by floods, famine and the evaporation of aid from post-communist Moscow. Charities and UN aid agencies say malnutrition is still high.
But views differ on what the future holds.
"Some people say this economy may collapse tomorrow or some people say this economy may collapse in decades," said Park Suhk-sam, senior economist in the North Korean Economic Studies Section at the Bank of Korea (BOK), the South's central bank.
"From our viewpoint, the North Korean economy seems to have revived since last year," he said.
The BOK publishes an annual analysis of the North Korean economy with data on anything from electricity to fertilizer.
The bank calculates a nominal figure for the North's gross domestic product, the broadest measure of a country's economic health. It is just a fraction of the South's -- Dominique Dwor-Frecaut of Barclays Capital puts it at three percent.
"I think this set of statistics is the most comprehensive one you can find in the world," Park said of the BOK's work, explaining data came from the National Intelligence Service.
The trail cools when one asks the spy agency for details.
"Sorry, we cannot comment on your request," said a spokesman.
Park gave open -- non-secret -- figures to make the case for saying North Korea's economy was improving. He said reforms introduced on July 1 last year had freed prices but also raised wages. He had expected inflation but found instead an average worker could buy four times more rice than before the reforms.
He said the BOK used North-South trade figures and also scoured North Korean newspapers and academic journals for data and trends as well as reading foreign financial research.
"We try to get a balance," he said.
Babson said South Korean statistics were prepared more carefully than any other reporting on the North's economy. South Koreans also had increasing and unparalleled access.
Anecdotal evidence from aid agencies, refugees, diplomats, academics and business travellers add to the picture, say analysts such as Kim Young-yoon of the Korea Institute for National Unification think-tank.
Kathi Zellweger of the Catholic aid organization Caritas, for example, recently spent four weeks in North Korea.
She said in a presentation power cuts were fewer, apartments were being renovated and small firms were at work repairing bicycles and bartering goods. But the health system remains in deep crisis and food is so short fields are guarded.
Michael Hay, a British consultant on North Korea, and Russia's Vorontsov said they had noticed improvements in Pyongyang such as street lighting, vendors and markets. But, as ever, that can be only part of the story.
"I see only my tip of my part of the elephant's trunk," said Hay. "That's the problem and blessing I repeat to all."
Comments will be moderated. Keep comments relevant to the article. Remarks containing abusive and obscene language, personal attacks of any kind or promotion will be removed and the user banned. Final decision will be at the discretion of the Taipei Times.