The pink posse takes on America
Gay is the word in living rooms, churches and political chambers across the US this season
To their critics they are the thin end of a wedge of perverted values. To their defenders they are heroes breaking down prejudice. But to millions of Americans they are simply the Fab Five. Meet Ted, Kyan, Thom, Carson and Jai: the flamboyant stars of Queer Eye for the Straight Guy, the hottest show on US television and the surprise hit of summer schedules normally given over to endless repeats. \nIn a matter of weeks Queer Eye, a makeover show with five gay men as its presenters, has been catapulted from an obscure cable station to a primetime slot on major network channel NBC and its stars have been the subject of countless interviews and magazine covers. But many commentators say its roaring success is no surprise as it crests a wave of gay issues dominating politics, religion and the media in what is being dubbed "America's Gay Summer." \nFrom the appointment of a gay bishop to moves to legalize gay marriages to the creation this autumn of a specifically gay public secondary school in New York, homosexuality is the issue of the day. \n"It has been a truly amazing summer for gay rights," said Matt Coles, a campaigner at the American Civil Liberties Union. \nAgainst this backdrop, Queer Eye has caught the nation's imagination. The format is simple: a straight but slobbish member of the public is nominated, usually by an exasperated girlfriend, for a full fashion and lifestyle makeover by those ultimate arbiters of good taste: gay men. Each of the Fab Five has a speciality, such as hairstyle or diet. By the end of the show the beer cans, unwashed hair and poor dress sense have been banished and the slobs transformed into manicured, stylish new men more likely to appreciate an art gallery than a baseball game. \nSome moments, particularly the opening scenes where the five ruthlessly inspect their subject and his apartment, can be brutal. \n"There's certainly some tough love... but we try never to be mean-spirited. It's never, like, `Wow you're a big fat loser and you look awful!'" said Carson Kressley, the camp fashion expert whose withering putdowns have been a staple of the show's run so far. \nGay rights campaigners have applauded Queer Eye for bringing gay and straight people together. "We're just six guys hanging out, and in the end we wind up being friends. Stereotypes fall by the wayside," said Kressley. \nThe show's stars won the ultimate accolade in American television last week: an appearance on Jay Leno's Tonight Show. In fact, they appeared two nights running. "It is beyond a success -- it is a phenomenon," said Scott Seomin, entertainment media director with the Gay and Lesbian Alliance Against Defamation. But the show has outraged the powerful US conservative lobby, which sees any mainstream representation of homosexuality as an affront to family values. Several conservative groups have launched campaigns against advertisers who have booked slots during the show. They write letters and e-mails and threaten product boycotts. "The homosexual lobby is doing a good job of mainstreaming its lifestyle but we want to make our voices heard as consumers. That's the American way," said Tim Wildmon, vice-president of the American Families Association. \nSome local NBC television stations in South Carolina and Georgia refused to broadcast the show during primetime, relegating it instead to the early morning hours. One television controller was said to have taken the decision after being outraged at a scene where the Fab Five sort through the underwear drawer of their straight subject. No one from Queer Eye will comment publicly on the furore, saying the show is not political. But privately they condemned the move. "In this day and age, that sort of behavior is pretty bizarre," one show executive said. The TV stations have since been bombarded with calls and letters from gay rights activists. \nDespite the show's success, gay rights is still a hugely divisive issue in America. It taps into debates over tolerance and traditional values and reflects a split between America's multi-ethnic, multicultural cities and rural areas, especially in the deep South, where prejudice against homosexuality still runs strong. \nNo area has been more controversial than the church. The appointment earlier this month of an openly gay bishop in the Episcopalian Church, the US branch of Anglicanism, has riven US society. The decision by a convention of the church to approve the appointment of Bishop Gene Robinson in New Hampshire was marked by passionate protests. Some people wore ashes on their foreheads as a sign of penance and mourning. A few wore black armbands. In a church a few blocks from where the bishops were meeting, some worshippers wept in the aisles. \n"The Episcopalians will be a dead church in 10 years. They are going to die out over this," said Wildmon. \nBut when Bishop Robinson was introduced to those assembled at the convention, many of the 800 people assembled broke into spontaneous applause. \nBishop Leo Frade of the diocese of south-east Florida voted in favour of the appointment of the gay bishop only after several days of fasting and prayer, and was the only bishop in Florida to back the decision. He said: "We do not need to fear controversy or opposing views. Our Anglican heritage has been strengthened by diversity and dissent." \nThe Episcopal Church in America has long been divided on the subject, and gay members of the clergy are nothing new. In San Francisco, with its large and powerful homosexual population, gays and lesbians are ordained in the local church. Across the South, however, it is a different story. Wildmon's organization is based in Mississippi and he is in no doubt about local churches' position in his deeply conservative state. "It is a tragedy when a Christian denomination starts to give in to the political winds of a powerful gay lobby," he said. \nGay marriage will be the next battlefield. A landmark Supreme Court decision in June threw out a Texan law forbidding gay sex and could now pave the way for same-sex marriages to be recognized in law. Comparisons have been made with the historic Supreme Court decision in 1954 that opened the way to desegregating southern schools and let black and white pupils attend the same institution. \nThe site of the battle has already been chosen. It is liberal Massachusetts where several gay couples have fought all the way to the state's Supreme Court to win the right to be legally married. Now that decision is due. In fact it is late. The court should already have handed down its decision, but it has been delayed for unspecified reasons. Campaigners speculate that it is to digest the implications of the Texas decision. "Everyone is holding their breath. This is the big one," said Seomin. \nThe decision will provoke a furious political battle that will go right to the top of American politics. President George W. Bush has already said he will consider legislation to prevent the institution of marriage being changed. \nConservatives are appalled and pull no punches. "It is not a mark of a civilized society. Marriage is between a man and a woman. What next? A marriage between three men and one woman? It is morally wrong," said Wildmon. \nBut gay campaigners are equally determined. They see the right to marriage as fundamental in winning equal status with straight people. \nGay couples hope to travel to Massachusetts from outside the state and get married. That will force a major showdown and lead to the launch of dozens of lawsuits to make other states recognize the Massachusetts unions, prising open the door to getting gay marriage legalized across the whole country. \nThis kind of fight can get ugly. When Vermont passed legislation in 2000 giving legal status to "same-sex unions" -- the only state in America to do so -- the backlash was so fierce that then Governor Howard Dean was forced to wear a bulletproof vest. And that was in the most liberal state in the country. The reaction in the South and Midwest is likely to be far more entrenched. \nBut conservatives may be fighting a losing battle. As the Massachusetts decision looms, the gay invasion of mainstream entertainment continues, bringing gay characters into the living rooms of every television-owning household in America. Will & Grace, the long-running gay man/straight woman comedy, is rivalling Friends in popularity, with stars including Madonna, Cher and Michael Douglas jostling for guest spots. In the wake of Queer Eye's success, a gay dating show called Boy Meets Boy is now on the air and NBC's rival ABC is planning to launch a sitcom called It's All Relative, based around a clash between two sets of prospective in-laws, one of which is a gay couple. \nIn television, the battle to win acceptance into the mainstream is one area where the struggle is almost won. The Fab Five have carried the day. Seomin points out: "The best thing about Queer Eye is that it isn't a hit show with gays. It is a hit show with everyone. People are talking about it in their homes, in their cars, at the hairdressers and in the bars. Everywhere."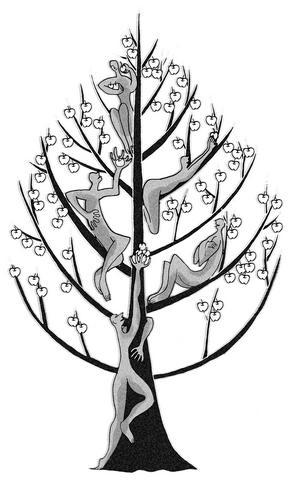 ILLUSTRATION: MOUNTAIN PEOPLE
Comments will be moderated. Keep comments relevant to the article. Remarks containing abusive and obscene language, personal attacks of any kind or promotion will be removed and the user banned. Final decision will be at the discretion of the Taipei Times.