Yang Chuan-kuang deserves better
Yang, who won a silver medal in the decathlon in the 1960 Rome Olympics and in doing so became the first to earn a medal in the Games for Taiwan, has returned home in ill health and to little fanfare
Approximately 20 years ago, a joke of the following sort spread through Taiwan's high society. Rumor has it that England's famous brand of Rolls Royce cars aren't sold to customers indiscriminately. Not just any rich guy can buy one. Eligibility also depends on whether or not you are listed in "Who's Who." Therefore a rich Taiwanese gentleman who wanted to buy a Rolls Royce made an inquiry. He discovered that only one Taiwanese person -- Yang Chuan-kuang -- met the qualification of being listed in "Who's Who." At first, the rich gentleman mistook the name for that of Taiwan's former president, C.K. Yen (嚴家淦, an interim president who held office during the transition of power from Chiang Kai-shek [蔣介石] to his son, Chiang Ching-kuo [蔣經國]), and only after further questioning did he realize that it was Yang Chuan-kuang (楊傳廣), or C.K. Yang, the silver medalist from the decathlon in the 1960 Rome Olympics. The rich gentleman felt despondent about the matter. Naturally he didn't want to concede that Yang was better qualified than himself to buy a Rolls Royce, but what made him even more upset was that Yang couldn't begin to afford a Rolls Royce.
It doesn't matter whether this joke is based in reality or not. It perfectly reflects the traditional disdain of Eastern society (especially Chinese society) for athletes.
I heard this story in the late 1980s, not long after I personally covered the "Yang Chuan-kuang incident" in 1986 as a correspondent for the Taiwanese media in Seoul, South Korea.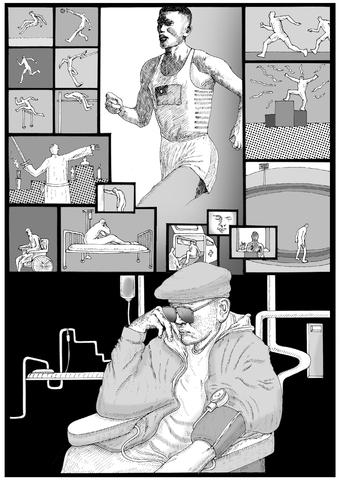 Illustration: Mountain People
Rumors spread
At that time, in addition to being a KMT legislator, Yang was also the head coach for the "Chinese-Taipei" delegation's track and field team at the Asian Games in Seoul. In September of that year, several days after following the delegation to Seoul, word suddenly spread that he had contacted a senior cadre from the mainland Chinese delegation and that he was about to flee to Communist China. This news not only terrified the Taiwanese delegation but also put tremendous pressure on the Taiwanese embassy in South Korea at the time. The KMT government in Taipei couldn't afford the loss of face that would accompany being, "deserted by a national treasure."
Reporters from home and abroad went in droves to the hotel where Yang was staying to interview him, and I was among them. Confronted with questions from all sides, he avoided from start to finish the issue of why rumors had spread that he intended to commit "treason." He neither admitted nor denied the allegations. Even though we reporters failed to get to the bottom of the matter with our questions, we could still sense from his expression that he was quite dissatisfied with the Taiwan government.
Yang keeps silent
At this point, the Taiwan side mobilized an emotional offensive hoping to persuade Yang to return to Taipei. But Yang was adamant in his refusal. He worried that under the intense anti-communist ideology of the time, after returning to Taipei, he wouldn't be able to go abroad again. Later, the ambassador to South Korea personally guaranteed that after making a trip back to explain matters, he could immediately return to Seoul and continue to observe the Asian games.
In the end, Yang flew like a trapeze artist, making the round trip from Seoul to Taipei and back in a single day. After his return to Seoul, Yang fell silent. Most of the time, if he wasn't together with the athletes giving them last-minute guidance before the competition, he was sitting alone on the bleachers quietly observing the form of contestants from each country.
Many questions were left behind for reporters from home and abroad to puzzle over in vain. What was behind the rumors about defection? What guarantees did he receive from the government of Taiwan?
At that time we could only make a reasonable conjecture that Yang's three-year term as a legislator was coming to an end, and the KMT had given signals that he would not be nominated again. This might have made Yang unhappy and someone helped him to fabricate the rumor about his defection to threaten the KMT authorities in power. As for what the KMT government used to pacify him and make him keep silent after returning to Seoul, that we have no way of knowing.
Later, as expected, Yang was not nominated by the KMT to run for another term in office. He had no choice but to leave the political stage dejectedly and return to the Tsuoying athletic training center in Kaohsiung where he quietly trained track and field champions who were preparing for the Olympics. In August of 1988, before proceeding to Seoul to cover the Olympics, I once visited Tsuoying to watch the athletes in their final collective training. Yang already appeared quite down on his luck. Having lived alone in a small dormitory room for many years, he looked like a drifter.
At that time, Yang was like a political tool of the KMT that no longer had propaganda value after being thoroughly used, and he was maliciously cast aside. Anyone could imagine the resentment in the heart of Taiwan's first athletic hero. Actually, after the Seoul Asian Games, Yang had already completely vanished from people's memories.
Cast aside
An even greater shock came at the end of 1989, when Yang announced that he had entered the DPP, which at the time was considered "quite radical." He wanted to run for the office of commissioner from his hometown of Taitung County. Of course, most people knew that running as a candidate from the opposition party, especially in socially conservative Taitung, his chances of being elected were extremely remote. Everyone simply regarded his candidacy as a farce. And everyone knew that honest and straightforward Yang was being intentionally used by someone again. Once more he had become the political tool of other people. The only difference was that this time it was a different political party using him.
One of the political scoundrels using him this time came up with a lousy idea. He suggested publicly auctioning off the silver medal Yang had won in the Rome Olympics as a way to raise funds for the campaign. Even though there are numerous past examples in the Western world of people selling off their prize medals in order to make a living, Taiwanese values really can't accept that our heroes would fall to this level and depend on such a method to get by or to finance a campaign. For Taiwanese people, this is like good-for-nothing descendants selling off their ancestral estate only to squander the proceeds.
In the face of noisy condemnation from popular opinion, Yang abandoned his idea of auctioning off the silver medal. In the election, of course, he suffered a disastrous defeat as expected. The political scoundrels who were using him slipped away, and the DPP threw him away like an old shoe. Nobody paid any attention to him, and they seemed unwilling to admit that he was a party member. From this point on, C.K. really disappeared from Taiwanese society.
Iron man needs help
Prior to the Olympics in Sydney last year, Taiwan's younger generation had no idea that 40 years ago Taiwan had an Olympic hero known as the "Iron Man of Asia." When senior sports journalists thought of lonely Yang and went to interview him, the Yang who appeared on television was a medium performing religious rituals in front of a temple in Taitung. Those who know him could only sigh once more.
How could a national treasure be reduced to this?
The Iron Man of Asia has come to mind again because of an e-mail his son wrote to this paper requesting help. He became seriously ill in the US and had to return to Taiwan as soon as possible for medical treatment. We have done nothing more than extend a helping hand to this hero out of humanitarian consideration and at little trouble to ourselves. However, since his return to Taiwan, as most people watch the developments excitedly, I feel regret in my heart as I look upon this sports star and cannot help but think, "People of Taiwan, we have failed this hero who brought glory to our country!"
As for those petty politicians and political parties that used him and then maliciously cast him aside, where are they hiding now? The party in power and the opposition used him in turn, degrading him and turning the Iron Man into a spirit medium. The KMT can't escape responsibility, and the DPP currently in power can hardly absolve itself from blame. Our Iron Man has really rusted. Let us all return to him the dignity and honor that are rightfully his!
Rick Chu is editor in chief of the Taipei Times.
Translated by Ethan Harkness
Comments will be moderated. Keep comments relevant to the article. Remarks containing abusive and obscene language, personal attacks of any kind or promotion will be removed and the user banned. Final decision will be at the discretion of the Taipei Times.