Markets don't mean democracy
The relationship between free markets and democracy is not a given -- and US businesses and officials who argue that better business ties with China will bring about political liberalization shouldn't hold their breath waiting for change
The critical step in Taiwan's democratization, reflected in the election results of March 18th, has heightened the attention paid by western analysts to democratization in China.
The inevitability of this "evolution" has been robotically repeated for over 10 years by everyone from Bill Clinton to CNN. Market economics in China, the mantra tells us, will increase the prosperity enjoyed by China's citizens and decrease their reliance on the state. The resulting "breathing room" between state and citizen will expand to demands for political freedoms. China will join the international community as a more cooperative, stable partner, and eight years of America's placa-ting China will be vindicated.
Despite the fact that this unscrutinized theory is little more than sophistry is largely ignored in western political and business circles, it remains the basis of US China policy. But as China's economic liberalization parallels its deteriorating human rights conditions, its aggression towards Taiwan and its intolerance of all who dare disagree with Beijing, some reflection is warranted on the assumptions Washington holds so dear.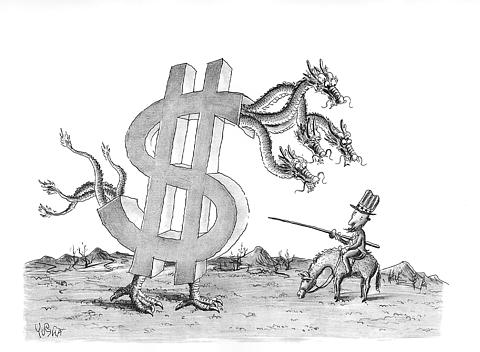 The causal relationship between free markets and democracy is based on several false assumptions. One is America's conviction that the opportunity afforded to Chinese citizens to work in foreign companies, mostly factories, will give them a taste of the rights and equality US workers enjoy.
However, working conditions in foreign-owned factories in China are almost Dickensian and are some of the worst in all of Asia. Unscrupulous managers, often in cooperation with local authorities, cheat workers out of earned money and force them to work in unhealthy and dangerous conditions. Legal protection of their rights and safety is non-existent. Even if the central authorities in Beijing implemented measures to improve their lot, foreign owners would simply move their operations to other countries in Asia that care even less for worker's rights than Beijing.
While conditions in US-owned firms are relatively better, they represent a minority of foreign-owned factories in China. The majority are Taiwanese, Japanese and Korean-owned. Even if the American presence doubled, the argument that it could have a measurable effect on democratizing a country of one billion people is ludicrous.
The second and even more questionable assumption argues that the decreased reliance on the state resulting from market liberalization will translate to increased demands for matching political freedoms. The 1989 Tiananmen Square massacre is usually cited as evidence of this connection and the often-aired pictures of the student's Goddess of Liberty would seem to lend weight to the argument.
However, the real conditions behind the emotional images of 1989 are largely misunderstood. The students demanding democracy represented a tiny percentage of those in the square and were seen as dangerously radical by the majority of the protesters. Most were not advocating democracy or the overthrow of the Communist Party. The grievances ranged from corruption to poor food in university dining halls, not political revolution.
In its eternal quest for viewer ratings and bumper sticker slogans, however, CNN could not resist the dramatic imagery of a Chinese Statue of Liberty and dedicated its coverage to a group that had largely alienated itself from the majority of the protesters. And thus, the legend was born.
A wide range of respected studies have found that support for democracy in China is tepid at best, despite our western desire to view events in China through a Jeffersonian lens.
Even if such "pressure" on the state resulting from liberalization was pro-democratic in nature, its success depends on a receptive government response to such demands. However, even Washington's most optimistic advocates of China concede that Jiang Zemin (江澤民) and his cronies have no intentions of humoring such pressure for political freedom.
As we also learned from the events of 1989, popular aspirations in China that question the authority of the CCP are still addressed with the barrel of a gun.
China experts studying the Middle Kingdom are divided over the prospects of democracy taking root in China. Even the proponents, however, concede that free markets are only one of the many complex factors that could democratize China.
This nuance is of course lost on government and business advocates of "engagement," who find in the theory a politically brilliant, if cynical, rationalization of their true motivations. Many people I interviewed on Capitol Hill acknowledged that the merits of the argument are of secondary importance. Trade with China brings the prospect of jobs in congressional districts as well as campaign donations from Boeing and Motorola to White House aspirants.
The business community launched the most intensive lobbying effort in history in 1992 before Clinton was even elected. As a candidate opposing trade with the "butchers of Beijing," Clinton could have the best of both worlds as president in the theory that trade fosters democratic development. Not only does everyone make money, but the effort amounts to an altruistic fight for democracy at the same time. This preempted criticism of Clinton's stated intention to put "economics at the heart of foreign policy."
Noted experts like Henry Kissinger chimed in to confirm the merits of the theory in press appearances and congressional hearings. Little mentioned was the fact that Kissinger, like many other former policymakers, now make millions in consulting fees by using their connections and influence to connect American corporate interests with opportunities to do business in China. Nevertheless, their "objective" testimony continues to give credibility to America's policy of "engagement."
The fallacy of the market-democracy connection takes on added urgency with the deterioration of Sino-American relations in recent years. While the theory provided valuable spin to a policy based on politically unpalatable motivations, it also carries in it the seeds of that policy's destruction. The US can only confirm the theory's merit with a more democratic China, making the success of the policy largely dependent on Beijing's cooperation. As that becomes increasingly unlikely even with China's entry to the WTO, whoever wins in November may find himself not only in search of a policy, but a theory as well.
Brian Shea (謝博恩) is a freelance writer based in Taipei.
Comments will be moderated. Keep comments relevant to the article. Remarks containing abusive and obscene language, personal attacks of any kind or promotion will be removed and the user banned. Final decision will be at the discretion of the Taipei Times.