Motorola takes on challenge to recapture market
Sanjay Jha's honeymoon as co-chief executive at Motorola lasted just a few minutes into his first meeting with employees last year.
"Why should we trust you?" one employee blurted.
The frustration was understandable. Motorola, which pioneered cellphones and built such consumer favorites as the StarTac and the Razr, had not had a hit phone in years, and a succession of leaders could not find one.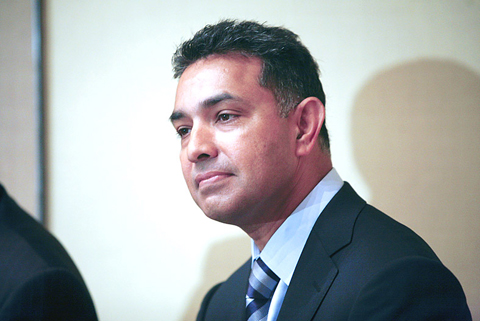 Motorola co-chief executive Sanjay Jha listens during a news conference in New York on Wednesday.
PHOTO: BLOOMBERG
Jha, 46, an engineer who worked his way up at Qualcomm from a chip designer to the No. 3 executive, answered the challenge, saying employees should not take him on faith but watch what he did.
Jha recalled in a recent interview that he had hoped, at a minimum, that his talk "gave the team general comfort I wasn't a huckster."
He knew he had to act fast to slash costs and prune dozens of phones that were based on dead-end technology that simply were not profitable. That made the last few months of 2008 a financial disaster — losses doubled as sales fell by a third.
Jha also knew he had only a year to deliver new handsets that could go head to head with Apple's iPhone if he had any hope of retaining the trust of Motorola's employees, investors and customers — not to mention its board, which had lured him with an enormous grant of stock and options.
"If I didn't have smartphones in the market for Christmas of [20]09, this business wouldn't have a runway," he said.
Jha does not have Motorola flying again, but he at least has it poised for a takeoff. On Wednesday, Verizon Wireless introduced Motorola's new Droid smartphone, which is nearly as thin as an iPhone but with a bigger screen and a slide-out keyboard. T-Mobile has started selling another Motorola smartphone called the Cliq.
"Motorola is a different place than it was a year ago," said Paul Cole, T-Mobile's vice president for product development. "Sanjay has done a spectacular job."
Looking back, Jha said that Motorola was in worse shape than he knew when he took the job, largely because of a dysfunctional management culture that missed the shift in consumer preferences from phones designed primarily for talking to those that do nearly everything a computer can do. The company's engineering talent, which had once developed great phones, remained intact, he said.
As luck would have it, one of those engineers, Rick Osterloh, grabbed Jha just as he stepped off the stage at that first town meeting in August last year. Jha had mentioned Google's Android operating system for smartphones. Osterloh rushed the stage to tell him he was working on an Android phone in Motorola's Silicon Valley outpost that would bring together text messages, e-mail and social-network updates.
By the end of that week, Osterloh was sitting on the corporate jet, flying with Jha back to California and explaining the Android concept in detail. A few days later, the top dozen members of Osterloh's group assembled in a conference in Motorola's office in Sunnyvale, California, to review the work done so far. The four-hour meeting was scheduled for 6pm, a shock for Motorola's 9-to-5 culture. And Jha had not only asked for the PowerPoint of the presentation in advance, he had read all 100 slides and asked such detailed questions that the presenters had had to produce 20 more slides.
"He was able to understand what we were doing at such a detailed level. I was very impressed," Osterloh said.
Jha was just as impressed with Osterloh's unit.
"Very quickly, I figured out they knew how to write software," Jha said. "It felt like a team that would execute."
In the weeks after, as Jha scrutinized Motorola's other product groups, he often had the opposite reaction. At another meeting that ran late into the night, he discovered that the group making phones with Nokia's Symbian operating system was staffed almost entirely by outside contractors. The entire project appeared to lack coordination and it was constantly months late in delivering phones.
Jha soon decided to axe the entire Symbian product line as well as phones using several other operating systems. He wanted to simplify product development to standardize on one or two core systems. It came down to a Microsoft Windows mobile operating system and Android. When Microsoft said that a crucial release of its mobile operating system would be delayed, Jha gave Microsoft the stiff arm and bet on Android.
Last fall, Jha received an e-mail from Verizon, asking for ideas for a "long ball play for the fourth quarter" of this year, Jha said. That meant a smartphone that could take on the iPhone. He flew to the carrier's headquarters in Basking Ridge, New Jersey, bringing with him models of several of the company's latest designs. Verizon executives seemed partial to one thin, angular handset that had been designed in London. Even without a firm order, Jha immediately assigned Iqbal Arshad, who had been the project manager for the Verizon version of the Razr, to transform the mockup into a smartphone Verizon could sell a year later.
"Sanjay said, 'Burn the ships and focus on Android,'" Arshad recalled.
That meant rearranging the existing, tightly packed interior to accommodate the larger chips needed to connect to Verizon's network. Meanwhile the phone's overall design needed to be exciting enough to go head-to-head with the iPhone.
They found a way to fit a slide-out keyboard into a phone that was only 1.5mm thicker than the iPhone. And they used a 3.7-inch touchscreen, noticeably bigger than the 3.5-inch screen on the iPhone. To take advantage of the higher resolution of that screen, Motorola, working with Google, developed new software that would support high-definition video and 3-D graphics.
Analysts at the launch on Wednesday said that the Droid, which will be backed by the biggest ad campaign by Verizon Wireless and sell for US$199 this week, is a crucial milestone in Motorola's recovery.
"To be able to come out with a sexy flagship device that is getting so much promotion from Verizon and really shows off their hardware skills — it looks like their bet on Android is going to pay off," said Avi Greengart, research director for consumer devices at Current Analysis. "If they hadn't delivered something like this, they'd be out of business."
Comments will be moderated. Keep comments relevant to the article. Remarks containing abusive and obscene language, personal attacks of any kind or promotion will be removed and the user banned. Final decision will be at the discretion of the Taipei Times.