And now, an exhibition from our sponsor
Banks have collected art for years to enhance the aura of their offices. Now these collections are appearing in museums stung by the economic downturn
People admiring Thomas Moran's tranquil View of Fairmont Waterworks, Philadelphia (from about 1860) or Childe Hassam's bucolic Old House and Garden, East Hampton (1917) in the show on American Impressionism at the Millennium Gate Museum in Atlanta this summer might be surprised to learn the identity of the curator: Bank of America.
Since the 1960s, when Chase Manhattan Bank assembled one of the first major corporate art collections under the guidance of its president, David Rockefeller, banks and other large companies have been acquiring fine art as a way to give their offices a cultured, dignified aura. Over time many companies have expanded these collections — with in-house curators to oversee them — and lent works to museums and other exhibition spaces, mostly for marketing reasons.
But a few corporations, including JPMorgan Chase, Deutsche Bank and UBS, have occasionally gone a step further, lending out complete shows. And Bank of America has lately gone further still, creating a roster of ready-made shows that it provides to museums at a nominal cost to them — essentially turnkey exhibitions.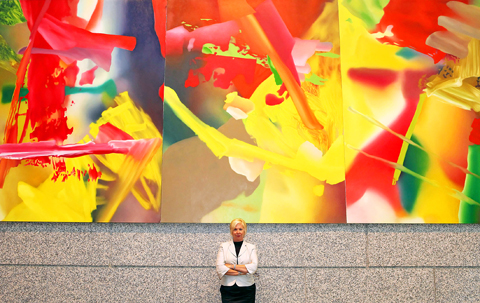 Deutsche Bank curator Liz Christensen stands below a painting by Gerhard Richter in the lobby of Deutsche Bank's New York headquarters on Aug. 4. Deutsche Bank's collection includes more than 50,000 works by Richter, Warhol and other prominent artists, and an executive says the company has made art a major part of the bank's identity.
PHOTO: NY TIMES NEWS SERVICE
Traditionally museums have been loath to allow the sponsors of an exhibition a significant role in curatorial decision-making — particularly when the sponsor is a corporation, given the potential taint of commercialization and artistic compromise. Major museums still draw the line there.
"What is crucial is curatorial independence," said Glenn Lowry, the director of the Museum of Modern Art, "the ability of a curator to make his or her own decisions about what would constitute an exhibition."
Lowry said his museum would show a corporate collection only if the majority of what was on show was donated, as was the case with the museum's UBS show in 2005.
"That's our safeguard," he said. "We've had real input because it's a gift to the museum. What's going to be displayed is not going back on the market."
Rodney Cook, president of the National Monuments Foundation, which owns the Millennium Gate, said he was unconcerned about the potential commercial implications of mounting a Bank of America show.
"Is there a problem with enhancing the value of a great collection?" he said. "The quality of this collection I would say enhances the museum more than the museum enhances the collection. It's some of the greatest pictures in America history. If our new museum can improve on the value of the bank's collection, God bless America."
Given the economic downturn, which has forced the cancelation, postponement or prolonging of exhibitions across the country, more small and midsize art institutions may be increasingly open to ready-made shows.
"It relieves the pressure of having to always initiate shows," said Holly Block, executive director of the Bronx Museum of the Arts, which recently mounted "Collected Visions: Modern and Contemporary Works from the JPMorgan Chase Art Collection," featuring about 70 works by some 60 artists, to commemorate the bank's 50 years of collecting. "It's very costly, and there's not a lot of money out there right now for exhibitions. Last year was very, very hard for us to raise money. So anywhere we can create partnerships and consortiums, it's a win-win situation."
Block said the show also allowed the Bronx Museum to fill two galleries that otherwise would have been closed during the show's two-month duration because of budget constraints, and to exhibit work it would not have otherwise been able to obtain.
"This was an incredible opportunity," she said. "It's the first time we had Andy Warhol at the Bronx Museum."
Started two years ago, the Bank of America program placed 12 shows last year and has placed 10 so far this year, with 10 more scheduled for next year and 6 for 2011. And there is a waiting list.
"At first we were calling museums," said Rena DeSisto, the bank's global arts marketing and philanthropy executive. "Now the calls are coming in to us."
DeSisto said the bank had initially hoped to place its shows in big museums, to build credibility, but has come to realize that its collection could instead play an important role in serving institutions with fewer resources.
"Smaller community museums with more need began to ask for our program," she said. "They just don't have the deep pockets, and they don't have the luxury of saying, `We don't do corporate collections,' nor do they frankly have the snobbery about it."
Given the current state of the economy and the considerable expense of maintaining and storing art, corporations might be expected to want to sell all or part of their collections, and many smaller companies are doing some divesting. But Bank of America determined that there were other marketing benefits to be gained from their collection.
"We have determined that a sale would result in an overall loss or a break-even, and that it is better used as a community support and marketing tool," she said.
Bank of America said its cost per exhibition can range from US$5,000 to US$25,000, depending on how far the artwork needs to travel. DeSisto said the expenditure — which she declined to quantify — has paid off.
"The income we have generated through increased business is superior to any income we could generate from selling the collection," she said. "Attracting even one individual client can cover the entire cost of lending a turnkey exhibition."
Other banks too have recognized the potential for such intangible dividends. "
"It's not about collecting as an investment strategy," said Gary Hattem, president of the Deutsche Bank Americas Foundation in New York, which administers the bank's philanthropic activities in the US, Latin America and Canada. "It's really about being fully engaged in the communities in which we do business."
Deutsche Bank, with a collection of about 56,000 pieces, has made art "a major part of our identity as a bank," said Liz Christensen, the company's curator for the Americas.
Comments will be moderated. Keep comments relevant to the article. Remarks containing abusive and obscene language, personal attacks of any kind or promotion will be removed and the user banned. Final decision will be at the discretion of the Taipei Times.