Analysis: New company set to impact markets
INVESTMENT GIANT China's new State Foreign Exchange Investment Co is expected to be managing US$210 billion, more than the US' largest mutual fund
China will send ripples through the financial world when it unleashes an investment company with more money under management than any mutual fund in existence, analysts said.
The State Foreign Exchange Investment Co (國家外匯儲備投資公司), which could be formed within just months, is expected to be in charge of US$210 billion, or one- fifth of the nation's enormous foreign exchange reserves, they said.
"A company like that will definitely have an impact on global markets," said Zhang Ming (張明), an economist with the Chinese Academy of Social Sciences.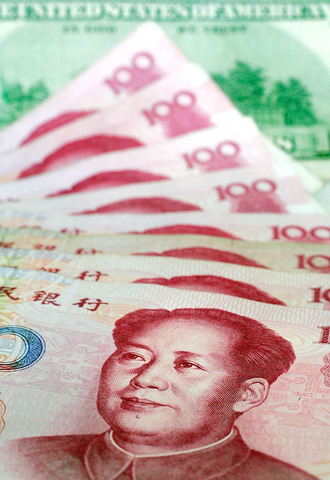 Chinese currency 100 yuan notes, in contrast with a US$100 bank note in Beijing on May 15 last year. China is planning to create a new investment company to handle its huge foreign exchange reserves.
PHOTO: AFP
"Other investors will be following it closely and try and guess its next move. They'll buy assets that the company is likely to buy, and withdraw from markets if that's what they believe the company will do," he said.
The State Foreign Exchange Investment Co is expected to spend its money on a wide array of investment targets at home and abroad, from oil and gas to financial assets and entire companies, analysts said.
It will get its huge bag of money as part of a plan to divide China's US$1.07 trillion of reserves into three portions, the Southern Weekly paper said recently.
Another US$100 billion from the reserves will be allocated to Central Huijin Investment Co (中央匯金), a government investment arm, while US$700 billion will stay under management by the State Administration of Foreign Exchange, the paper said.
That arrangement will put the State Foreign Exchange Investment Co in charge of more money than the approximately US$160 billion of assets controlled by the Growth Fund of America, the world's largest mutual fund.
"In the long term, the company should become a national reserve asset management company, which should be able to earn returns higher than those from US Treasury bonds," said Zhou Jiangong, a Shanghai-based economic analyst.
In finance, the ideal portfolio offers high yields combined with low risk, but the problem is China's forex portfolio increasingly looks like the exact opposite.
"The government is concerned about the prospect of a steep depreciation of the US dollar," said Wang Qing (王慶), the Hong Kong-based chief economist with Bank of America.
"Most of China's forex reserves are in US-dollar assets, and it's possible that the government wishes to diversify towards more assets in other currencies to reduce the potential loss from a falling dollar," he said.
Some observers argue China has already been quietly trying to extricate itself from this risk.
They cite estimates that the share of US-dollar Treasury bonds is now 60 percent of China's forex reserves, down from 70 percent five years ago.
But for a more radical approach to the problem, the fresh perspective that a whole new company can offer is a good idea, analysts said.
But a cautious attitude is called for, due to the sheer weight China now possesses in global finance because of its huge reserves.
It is an amount of money that could rattle global financial markets if allowed to flow out of China in a reckless manner.
"The outflow will be carefully managed since a stable asset market is in the interest of China," Zhou said.
Comments will be moderated. Keep comments relevant to the article. Remarks containing abusive and obscene language, personal attacks of any kind or promotion will be removed and the user banned. Final decision will be at the discretion of the Taipei Times.