Hold onto your urban sprawl, here comes Ho Chi Minh City
Meet the world's next great metropolis, a once-gracious city bursting from the confines of its history, wide-eyed with the wonders of traffic jams and tall buildings, and thinking very, very big.
Held back by a half-century of war and privation, it is charging forward with gigantic plans for urban expansion and development, determined to seize what it is certain is its rightful place as a world leader.
"We are in a good position and determined to build a whole new Ho Chi Minh City," said Nguyen Trong Hoa, director of planning and architecture for the city once known as Saigon.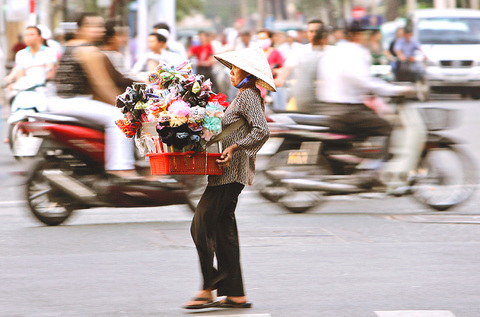 Traffic swirls around a Vietnamese woman selling flowers and other goods in Ho Chi Minh City yesterday.
PHOTO: AP
"We want to become the biggest city in Vietnam and be the center of ASEAN," he said, "and be the center of Asia and the center of the world as well."
His words might apply to the nation at large, which this weekend is throwing open its doors at a meeting in Hanoi of presidents and prime ministers that has acquired the all-but-official title of Vietnam's coming-out party.
Leaders of 21 nations, including US President George W. Bush, are gathering for an APEC meeting that will also celebrate Vietnam's induction next month into the WTO.
That step, after years of negotiations, has boosted ambitions here in the country's economic center to draw a new wave of investors from around the world.
Ho Chi Minh City, which already produces more than one-fourth of Vietnam's GDP and which pays nearly one-third of its taxes, "will become a hub of industry, services, science and technology in Southeast Asia," according to its official Web site.
Many Vietnamese are certain that this would have happened long ago if, like the bustling Asian tigers that surround it, Vietnam's economy had not been dragged down by war, economic sanctions and the hobbles of a command economy.
Now the country is in a hurry to catch up and overtake its neighbors, and Ho Chi Minh City intends to lead the way.
Over the next two decades, this hyperkinetic city of 7 million people is planning to expand its population by as much as 50 percent, spreading its borders into the surrounding swampland.
An entire sub-city called Saigon South is emerging on reclaimed land along the southern edge of town, and a vast new downtown is planned on undeveloped land across the Saigon River to the east.
With plans for a new port and a new airport, for bridges, highways, a subway system and high-rise buildings, Ho Chi Minh City has embarked on one of the most ambitious programs of urban renewal anywhere.
Sewage and garbage collection services are being revamped at a projected cost of hundreds of millions of dollars. A tunnel is being dug beneath the Saigon River. A latticework of bus and tram routes has been mapped out.
"With the changes they are talking about, we can expect that in the next 10 years we will be seeing a completely different city," said Ayumi Konishi, the Vietnam country director for the Asian Development Bank.
But like the quieter capital in the north, Hanoi, it is trying to resist the helter-skelter development that has robbed Asian cities like Bangkok, Jakarta and Manila of much of their character.
It has not yet decided, though, which way it wants to go, how much to weigh old-world charm against 21st-century aggressiveness. For people who feel they have been left behind by a fast-changing world, the big, the bold and the brassy can feel like hallmarks of class.
"The city is not yet sure of its own identity," said Nguyen Van Tat, an architect who is deputy editor of the magazine Beautiful Home.
"For some developers, modernity is the next step in the city's development. For them, the Singapore model is very attractive, very clear, very obvious, easy to understand," he said. "For me, it would be very hard to accept that that is the final fate of Saigon."
In the 1860s, French colonists laid out grids and began to build the shady city that came to be known as the Pearl of the Orient. City officials are now redefining it for the next century or more, and the question is how much of the old Saigon will remain.
"A city is like a human being," Tat said. "It needs to have a past. There is a saying in Vietnam that even if the pages are frayed, a book must still have its spine."
The pages are already fraying. As Vietnam's economy opened fitfully over the past decade and a half, developers seized their moment to coarsen some of the city center's elegance with faceless office buildings. The skyline was fouled with undistinguished structures including two dozen skyscrapers.
But projects like this are now at least debated, most recently a proposed 53-story tower that would devour a park and overshadow the central market, a city landmark.
Comments will be moderated. Keep comments relevant to the article. Remarks containing abusive and obscene language, personal attacks of any kind or promotion will be removed and the user banned. Final decision will be at the discretion of the Taipei Times.