The `dark horse' of comics lives up to its marque
The founder of Dark Horse Comics places product before profit, and his comic books are the preferred reading of serious fans
You may not know a little publishing company called Dark Horse Comics, but if you are a fan of Concrete (whose brain was transplanted by aliens into a stone body), Hellboy (with the sawed-off red horns, satanic red tail and gargantuan red fist) or Sin City (the violent, edge-of-desperation town where people and principles are routinely bought and sold), then you certainly know its characters and its comic books.
And if you are a Dark Horse aficionado with an insatiable appetite, the company has more in store for next year. A new comic book series about Buffy the Vampire Slayer is on its way, written by Joss Whedon, who wrote and helped produce the popular television series of the same name. Dark Horse will also release Star Wars: Legacy Vol. 1, chronicling the distant future of the Jedi, as well as 300: The Art of the Film, an account of the movie adaptation of Frank Miller's comic book mini-series about an ancient, epic battle between Spartan and Persian soldiers.
By nurturing and backing a quirky, brooding and inventive stable of writers and artists, Dark Horse has spent the last 20 years carving out and maintaining its place as a scrappy comic book franchise in an industry dominated by Marvel Entertainment and DC Comics.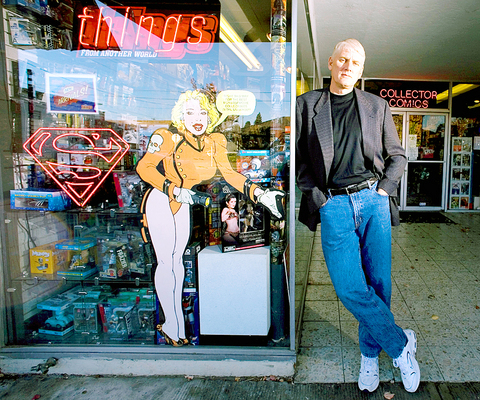 Mike Richardson, outside his Milwaukie store ``Things,'' is the founder of Dark Horse Comics, which is celebrating its 20th year of doing business.
PHOTO: NY TIMES NEWS SERVICE
Dark Horse, which is privately held, has endured in an industry where many small publishers last less than a year. It has thrived, its owners say, by sharing financial success with its artists and taking its role as an independent publisher very, very seriously.
"Every comic we do, whether we ask to share the film or toy rights or not, we publish because we think it's a great comic," said Mike Richardson, who founded Dark Horse 20 years ago and is the company's president. "We want to survive far into the future, but we also want to leave a legacy."
The Dark Horse approach calls for protecting the creative and financial rights of its contributors -- including giving them a cut of the profits -- and publishing comics that are well out of the mainstream (meaning fewer capes and cowls).
Based in Milwaukie, Wisconsin, Dark Horse entered the game thanks to the birth of the direct sales market in the 1980s, which moved comics beyond newsstands and into specialty stores. Teenage Mutant Ninja Turtles, a small-press, black-and-white comic, became a hit in 1984 and started a boom that Dark Horse also enjoyed. But quick-hit comics publishers introduced a glut of badly conceived characters and the market died, taking many companies down with it. Dark Horse, however, avoided the debacle.
At the time, Richardson was a member of a community of artists and writers aspiring to make their marks in comics. Some of them created the stories in Dark Horse Presents No. 1, the company's first comic book.
"Later, I created a list of artists and writers that we thought were the best in comics and started calling them," Richardson said.
His sales pitch included promises of competitive pay and ownership of the work. The pitch worked, giving Dark Horse access to some of the most original and creative minds in the comics business.
Dark Horse later branched out to produce licensed comics devoted to the Star Wars, Aliens and Terminator films. It was also among a small group of pioneers that began importing Japanese manga comics.
Delving into everything from romance and adventure stories to science fiction and horror, manga have developed a large following in the US and are commonly sold in bookstores. One of Dark Horse's biggest manga successes has been the 28-volume Lone Wolf and Cub, about a wandering samurai and a young boy. The most violent and gory manga titles that Dark Horse reprints are shrink-wrapped.
"We're reprinting them as they were published in Japan," said Neil Hankerson, Dark Horse's executive vice president. "We publish as is or we don't publish it at all."
Dark Horse is the third-largest publisher, behind the much larger Marvel and DC, in the direct market, which includes the specialty shops that cater to comic book fans. That market produced more than US$500 million in sales last year, according to ICv2, an online trade publication
Comments will be moderated. Keep comments relevant to the article. Remarks containing abusive and obscene language, personal attacks of any kind or promotion will be removed and the user banned. Final decision will be at the discretion of the Taipei Times.