See you later, CDs
Forget vinyl: Now CD stores are suffering from a generation gap, and they're closing down in increasing numbers
So this is an evening rush?
On a recent Monday, six people -- soon enough four, then two -- were browsing the bins of compact discs at Norman's Sound & Vision, a music store on Cooper Square in Manhattan's East Village, around 6pm, a time that once constituted the daily rush hour. A decade ago, the number of shoppers might have been 20 or 30, said Norman Isaacs, the owner. Six people? He would have had that many working in the store.
"I used to make more in a day than I probably make in a week now," said the shaven-headed Isaacs, 59, whose largely empty aisles brimming with punk, jazz, Latin music and lots and lots of classic rock have left him, many afternoons, looking like a rock 'n' roll version of the Maytag repairman.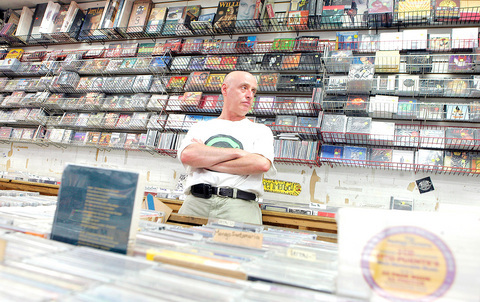 Norman Isaacs of Norman's Sound and Vision, pictured in his store in New York on June 28, remembers jam-packed aisles, but he has moved with the times. He sells used CDs on the Web.
PHOTO: NY TIMES NEWS SERVICE
Just as troubling to Isaacs is the age of his clientele.
"It's much grayer," he said mournfully.
The neighborhood record store was once a clubhouse for teenagers, a place to escape parents, burn allowances and absorb the latest trends in fashion as well as music.
But these days the store is fast becoming a temple of nostalgia for shoppers old enough to remember Frampton Comes Alive!
In the era of iTunes and MySpace, the customer base that still thinks of recorded music as a physical commodity (that is, a CD), as opposed to a digital file to be downloaded, is shrinking and aging, further imperiling record stores already under pressure from mass-market discounters like Best Buy and Wal-Mart.
The bite that downloading has taken out of CD sales is well known -- the compact disc market fell about 25 percent between 1999 and last year, according to the Recording Industry Association of America, a trade organization.
What that precipitous drop indicated by the figures doesn't reveal is that this trend is turning many record stores into haunts for the gray-ponytail set. This is especially true of big-city stores that stock a wider range of music than the blockbuster acts.
"We don't see the kids anymore," said Thom Spennato, who owns Sound Track, a cozy store on busy Seventh Avenue in Park Slope, Brooklyn.
"That 12-to-15-year-old market, that's what's missing the last couple of years," he said.
Without that generation of buyers, the future looks bleak.
"My landlord asked me if I wanted another 10-year lease, and I said no," Spennato said. "I have four years left, then I'm out."
Since late 2003, about 900 independent record stores have closed nationwide, leaving about 2,700, according to the Almighty Institute of Music Retail, a marketing research company in Studio City, California. In 2004, Tower Records, one of the nation's largest chains, filed for bankruptcy protection.
Greta Perr, an owner of Future Legends, a new and used CD store on Ninth Avenue in Hell's Kitchen on Manhattan's West Side, said that young people never really came back to her store after the Napster file-sharing upheaval of the late 1990s.
She has responded to this by filling her windows with artists like Neil Young and Bruce Springsteen.
"People come in and say: `I remember when I was 20, Steve Miller's second record came out. Can I get that?'" she said.
Industry statistics bear out the graying of the CD-buying public. Purchases by shoppers between ages 15 and 19 represented 12 percent of recorded music last year, a decline from about 17 percent in 1996, according to the Recording Industry Association. Purchases by those 20 to 24 represented less than 13 percent last year, down from about 15 percent.
Over the same period, the share of recorded music bought by adults over 45 rose to 25.5 percent from 15 percent (the figures include CDs and downloaded songs, with CDs last year still an overwhelming share of the market in recorded music -- 87 percent).
The dominance of older buyers is especially evident at smaller independent stores in metropolitan areas, where younger consumers tend to be more technology-oriented and older music fans tend to be more esoteric in their tastes, said Russ Crupnick, an analyst with the NPD Group, a market research firm.
At Norman's, which is 15 years old and just around the corner from New York's epicenter of punk, St. Marks Place, shoppers with nose rings and dewy cheeks are not unknown. But they may only be looking to make use of the automatic teller machine.
A pair of teenagers -- he with ink-black dyed hair, and she in ragged camouflage shorts -- wandered in one evening recently and promptly froze in the doorway, stopped in their tracks by an Isaac Hayes cut from the 1970s. They had the confused looks of would-be congregants who had stumbled into a church of the wrong denomination; they quickly shuffled off.
Most of Norman's other customers were old enough to remember eight-track tapes.
Steven Russo, 53, for example, was looking for jazz CDs. Russo, a high school teacher in Valley Stream, New York, said that he values the store for its sense of camaraderie among cognoscenti as much as its selection of music.
"It's the ability of people to talk to people about the music, to talk to personnel who are knowledgeable," he said.
Richard Antone, a freelance writer from Newark, New Jersey, whose hair was flecked with silver curls, said his weekly trip to the store is a visual experience as well as an auditory one.
"I remember how people admired the artwork on an album like Electric Ladyland or Sgt. Pepper as much as the music," he said.
The lost generation of young shoppers -- for whom a CD is a silvery disc on which you burn your own songs and then label with a black marker -- will probably spell doom for Norman's within the next five years, said Isaacs, the owner. Several of his downtown competitors have already disappeared, he said.
Some independent owners are resisting the demographic challenges. Eric Levin, 36, who owns three Criminal Records stores in Atlanta and oversees a trade group called the Alliance of Independent Media Stores representing 30 shops nationally, said that businesses losing young customers are "dinosaurs" that have done nothing to cater to the new generation.
Around the country, he said, shops like Grimey's in Nashville, Shake It Records in Cincinnati and Other Music in New York are hanging on to young customers by evolving into one-stop hipster emporiums.
Besides selling obscure CDs and even vinyl records, many have diversified into comic books, Japanese robot toys and clothing. Some have opened adjoining nightclubs or, in Levin's case, coffee shops.
"Kids don't have to go to the record store like earlier generations," Levin said. "You have to make them want to. You have to make it an event."
Comments will be moderated. Keep comments relevant to the article. Remarks containing abusive and obscene language, personal attacks of any kind or promotion will be removed and the user banned. Final decision will be at the discretion of the Taipei Times.