You want wheels? We got wheels
It may not amount to a full income, but there's regular work in renting out vintage cars to Hollywood
Every couple of months, depending on his mood and the financial incentive, Nick Pagani shuts down Ace Auto, a gloriously cluttered and greasy repair shop that his grandfather opened in 1920, to resume his movie career.
Or, to be precise, the careers of about 70 old cars that Pagani, a mechanic whose shop is in New Rochelle, New York, rents to movie studios. The same studios often pay Pagani to drive those cars on camera.
That is when the true "acteur" in him comes out.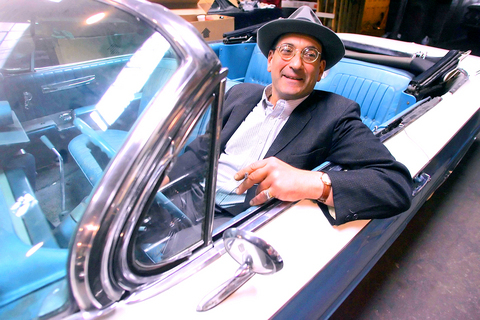 Nick Pagani sits in a 1961 Buick Electra 225 at the Ace Auto Repair shop in New Rochelle, New York, this month. Pagani rents cars from his fleet to movie studios. Some collectors manage to get their old cars immortalized on film, and occasionally their owners make cameo appearances too.
PHOTO: NY TIMES NEWS SERVICE
"You'll see an arm hanging out of the window with a cigarette," Pagani said recently, just before lighting another unfiltered Lucky Strike. "It's my signature look."
Pagani and his cars have appeared in at least 30 films by his count, including a 1952 Cadillac DeVille in A Beautiful Mind from 2001, and a 1960 Mercury Park Lane in Riding in Cars with Boys in 1986. Pagani played the driver for Roy Cohn, played by Al Pacino, in HBO's Angels in America from 2003. And he played a dead mobster in last year's Carlito's Way: Rise to Power.
"The menu comes up," he said proudly, referring to the DVD version of that film, "and it's my face."
Pagani, 47, has driven in so many films that he has a Screen Actors Guild card. He said he did not make a fortune either renting his cars to studios or appearing in the movies, but supplemented his income. More important, he has fun.
"The food is incredible," Pagani said. "It's like going to a wedding."
The business of renting old cars to studios -- or, in some cases, selling them to be burned or wrecked -- has become a minor industry. Pagani's roles are arranged through Jerry Immersi, whose business, Cars for Films, operates from a somewhat tidier garage in Newark.
Immersi's father-in-law, Sonny Abagnale, started the business in 1979. Immersi has a vast collection of his own, including police cars, taxicabs, limousines and a dry-cleaner's truck he drove in last year's The Producers.
"This business burns you out -- it's literally seven days a week," Immersi, 50, said at his shop. "Every time I ride in a car, I'm looking up and down driveways to see what's in them."
Immersi said he had hundreds of car collectors on call in the New York area.
Pagani is one of his top suppliers, mostly because the cars in his collection predate highly popular models like the Ford Mustang and the Chevrolet Camaro.
The jumbo-size Detroit classics in Pagani's shop clearly demonstrate his tastes: "The bigger it is, the more I like it."
While his high school buddies in Pelham Manor, New York, were driving newer cars in the 1970s, Pagani bought a gold 1960 Cadillac Eldorado. The car, which he drove to classes at Pace College in Westchester County, New York, is in Ace Auto's wood-frame garage.
Pagani began buying old cars, many for less than US$100, at a time when gasoline prices were rising to nearly US$1 a gallon -- an alarming event at the time. Many of those cars have since appeared in movies, he said.
"The reason you could buy them," he said, "was because nobody could put gas in them."
Before he had a contact like Immersi to line up roles for his cars, Pagani made connections at car shows, where movie studios would hand out fliers in search of four-wheel props. That is how Pagani landed his first film, Seize the Day, which starred Robin Williams and was released in 1986. Pagani supplied seven cars for the film, which was about a man in the 1950s having a midlife crisis.
"It was fun and it was nice, but there are long days, and you're basically doing nothing," Pagani said.
Supplying cars for a movie requires a considerable capacity for managing details. Besides ensuring the old cars are running well, the vehicles often have to be moved to the set for filming and then driven away at the end of the day -- a workday that often lasts 12 hours. Pagani said that directors were sometimes finicky and that the cars they had asked for were not always used.
It's not a job for everyone. Bruno Salerno, 75, an ex-marine from Bloomfield, New Jersey, said he was paid nearly US$12 an hour for the use of one of his old cars. But Salerno quit the business recently, saying: "It started to interfere with my family life."
Immersi said supplying cars to Hollywood can be a good way to make money, but agreed the business was extremely demanding. He said he sometimes got calls from the prop master of a film or the set designer for a TV show looking for a particular car for a certain date -- needs and dates that often changed.
Immersi arranges for cars for movies by contacting private collectors like Pagani; the two have worked together since 1999. Pagani has about 10 drivers for films when he is unavailable.
When that happens, Ken Bratko, the chief mechanic at Ace Auto for the last 15 or so years, may fill in.
After the cars are hired, the prop masters take over. Even if the car is only passing through a scene, they attach period-correct details like license plates, taxi medallions and even inspection stickers to make the car as historically accurate as possible.
Immersi said that when studios occasionally asked to wreck a client's car, the filmmakers were told they would first have to buy the car. He said he would burn or batter cars upon request, after removing the engine and transmission.
Immersi and Pagani would not discuss what they charge the studios, but Pagani said he did not make enough money to allow him to close his repair business. Immersi said his relationship with the studios was "pretty informal."
Drivers perform as background actors, and can qualify for membership in the actors' union by working a minimum of three days for any company that has agreed to employ workers with union cards.
Pagani stashes cars wherever he can; he has a Packard limousine in his own driveway and a 1948 Plymouth at his mother's on Long Island.
"The trick is to remember where I put all of them," Pagani said.
About 20 cars are kept at Ace Auto, including his most recent acquisition, a green 1961 Chrysler Windsor station wagon that he bought at an estate sale in Pennsylvania.
His garage, its cramped loft filled with parts, was the setting for a recent television movie, Intervention, set in 1965. The movie has not yet been broadcast.
"I have a toy box," Pagani said. "I put toys in it."
But when Hollywood beckons, he can take out one or more of those toys for a fanciful spin.
Publication Notes
Cars in a leading role
This month, Cars.com, a consumer research Web site, published a Top 10 list of its favorite movie cars. Its eight-member editorial staff asked employees to submit their Top 10 lists. Rankings were determined from more than 200 responses, and were based in large part on the number of votes each car received.
1981 DeLorean DMC-12, from ''Back to the Future.''
1961 Ferrari 250 GT, from ''Ferris Bueller's Day Off.''
1974 Dodge Monaco, from ''The Blues Brothers.''
1964 Aston Martin DB5, from ''Goldfinger.''
Batmobile Tumbler, from ''Batman Begins.''
1968 Ford Mustang GT 390, from ''Bullitt.''
1959 Cadillac ambulance, from ''Ghostbusters.''
1958 Plymouth Fury, from ''Christine.''
1973 Ford Falcon, from ''The Road Warrior.''
. 2003 Mini Cooper S, from ''The Italian Job.''
Source: NY TIMES NEWS SERVICE/CARS.COM
Comments will be moderated. Keep comments relevant to the article. Remarks containing abusive and obscene language, personal attacks of any kind or promotion will be removed and the user banned. Final decision will be at the discretion of the Taipei Times.