Deutsche Bank sees US inflation threat declining
Journalist-turned-economist Marshall Gittler, the Singapore-based chief Asian strategist for Deutsche Bank private wealth management, recently sat down with `Taipei Times' staff reporter Amber Chung and shared his insights into monetary policy trends and global investment strategy for Taiwanese investors
Taipei Times: The new US Federal Reserve (Fed) Chairman Ben Bernanke said in his first testimony before Congress earlier this month that US economic growth remained on track and hinted at further tightening-up on concern over an overheating economy that could inflame inflation. Where will the US benchmark interest rate go in the next 12 months from the current level of 4.5 percent?
Marshall Gittler: It has been in our view that the Fed would stop before half-percentage point hikes, as the inflation is coming down and so are oil prices. Despite some consensus forecasts that put the benchmark interest rates at 5 percent this year, we think the monetary authority would stop hikes earlier than the market has expected. We think the Fed will raise rates one more time but a level of 5 percent is unnecessary.
The inflation outlook is relatively benign, as producers have had a hard time in pushing pricing increases through pass-through, in part due to globalization and the increasing supply of labor around the world.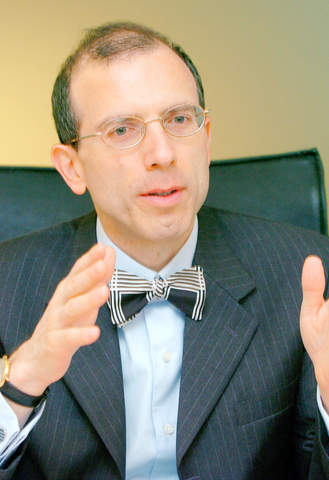 Marshall Gittler, chief Asian strategist for Deutsche Bank Private Wealth Management, says inflation is probably a bigger problem in Asia than in the US.
PHOTO: CHIEN JUNG-FONG, TAIPEI TIMES
Oil prices, that bear on inflation, are coming down with a forecast of average US$55 per barrel this year, which makes us less concerned about the oil prices. The demand for oil did not increase that much, while psychological factors in worries about insufficient supply boosted prices.
Another reason is the inverted yield curve. I don't think the Fed would want to push the yield curve into such inversion and keep it there. The inverted yield curve is the distortion of the market that causes long-term interest rates to be lower than they should have normally been.
[Editor's note: Inverted yield curve means an unusual situation in which long-term interest rates are lower than short-term ones, reflecting concerns about future economic uncertainty and suggesting an oncoming economic slowdown.]
TT: What course will Asian countries' monetary policy take in response this year?
Gittler: Inflation is probably a bigger problem in Asia than in the US, because of increasing money supply caused by intervention in the foreign exchange market. We have seen rising inflation in a number of Asian countries. Therefore monetary policy in Asian countries, like Thailand, Indonesia and Japan, is expected to be tightened up this year.
They would need to narrow the interest rate spread compared with the US so we expect interest rate hikes throughout the year. But, of course, if the US stops raising rates, it will be easier for Asian countries to stop hikes.
TT: How will Asian currencies move in the next 12 months?
Gittler: We think the US dollar has to fall further this year. It did not weaken last year because of the interest rate hikes. This year will finally be the year for the greenback to go down, given the US trade deficit issue. From historical experiences, the downtrend of the US dollar will not stop until the currency becomes 25 percent undervalued. Asian currencies will have to strengthen this year because they are where the US trade deficits come from.
We divided Asian currencies into three groups based on foreign exchange reserves accumulation as a percent of gross domestic production. Structurally undervalued currencies comprising the Chinese yuan and Malaysian ringgit; cheap but cyclically sensitive, including the NT dollar, the Korean won and the Singaporean dollar; and the less externally oriented, including the Thai baht and Indonesian rupiah.
For the first group, there is only one way to go -- going up, while the movement of the second group would depend on investors' risk appetite, exports and business cycles.
TT: The US has been strongly calling for the Chinese currency to appreciate. How will the Chinese yuan move in the future?
Gittler: The yuan has started showing more movements in recent days. Although the authority said there was no change in policy, it looks to me like this could be a signal for greater flexibility.
More advances in the Chinese yuan in the next couple of months are expected. The Chinese government will want to show more flexibility in exchange rates since the US Treasury Department is putting out a semi-annual report on China's currency manipulation.
We think China will continue its measured pace in foreign exchange relaxation and, as a matter of fact, they have to. They cannot make a large-scale revaluation of the yuan because they would need to keep people's expectations for a further appreciation so as to keep money from flowing out, given their weak banking system.
Deutsche Bank expects a 4-percent appreciation of the Chinese currency to 7.70 yuan against one US dollar by the year end.
TT: Will Taiwan tighten up its monetary policy as its Asian neighbors are expected to do?
Gittler: We are forecasting further rate hikes as the central bank is seeking to narrow the gap and restore parity with the US in interest rates. There will be gradual hikes of 125 basis points each time this year, possibly bringing the benchmark interest rate to a level of 2.5 percent. As the US could stop rates rise before long, I do not expect to see too many hikes here in Taiwan.
Meanwhile, the strong economic growth and rising interest rates tend to support a strengthening NT dollar this year. We expect to see upward movement for Taiwan's currency.
[Editor's note: Deutsche Bank predicts the NT dollar will appreciate to NT$31.4 by the end of this year. This compares to the Friday closing level of NT$32.492 on the Taipei foreign exchange market.]
TT: What are your investment suggestions for local investors under such tightening monetary policy?
Gittler: Taiwan's market is one of our top picks and favorite stock markets in the world because it is massively undervalued. The problem is that domestic investors are not confident about the political situations. Yet the economic fundamentals and industry outlook for Taiwan are very good, and the stock market should be rocketing ahead, especially the semiconductor sector.
A semiconductor business boom can be expected, due to the new operating system from Microsoft that is going to drive another round of personal computer demand this year and the increasing popularity of consumer electronics gadgets, which is beneficial to Taiwan.
In general, we are bullish about the Taiwan market, that has been undervalued too much and for too long.
TT: Any overseas investment suggestions for Taiwanese investors who want to invest offshore?
Gittler: Since local investors may already have a bunch of Asian equities and high-tech stocks in their portfolios, they may consider something different, like the Brazil market.
The Brazil market is very cheap with a relatively low price-earnings ratio while enjoying strong growth. The central bank is expected to cut interest rates by 400 basis points this year, in light of the extraordinary high interest rate of some 17 percent against a low inflation rate at 5.6 percent. The rate cuts will largely boost personal consumption and in turn economic growth. The start of oil exports this year will increase Brazil's huge and rising trade surplus in its current account. Brazil is a good story for stocks and bonds.
We are bullish about the Japan market on its recovering economy that should underpin the stock market rally. Japanese companies have been improving profitability to satisfy the capital markets that are becoming major financing sources. The market's dramatic underweight and the return of local investors should boost a re-rating of the stock market.
Comments will be moderated. Keep comments relevant to the article. Remarks containing abusive and obscene language, personal attacks of any kind or promotion will be removed and the user banned. Final decision will be at the discretion of the Taipei Times.