One man's success tale in mortgage banking
A touch of resentment -- based on income, education, social class -- motivates countless ambitious people, though few will admit to it once they become successful.
An exception is Angelo Mozilo, a founder and chief executive of the Countrywide Financial Corp, a company that has soared from obscurity to become the nation's No.1 mortgage lender -- and, in the process, produced a personal fortune for Mozilo of about half a billion dollars. This year alone, his compensation is expected to reach US$100 million.
Modest origins -- a butcher's son from the Bronx who worked his way through Fordham University -- drove Mozilo to push Countrywide past the mortgage businesses of far larger companies, including Citigroup, Wells Fargo and Washington Mutual. He readily admits to having a chip on his shoulder, a source of motivation that he has studied, channeled and sought in others, building a company that, too, is an overachiever.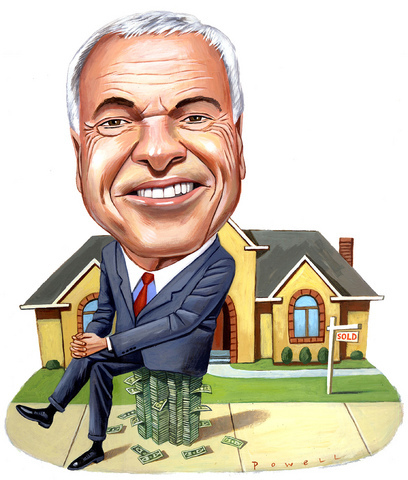 Angelo Mozilo created Countrywide Financial and built it into the biggest mortgage bank in the country. This year alone, his compensation is expected to reach US$100 million, making him a good candidate for the person most richly rewarded by the boom in residential real estate.
PHOTO: NY TIMES NEWS SERVICE
The chip also contributes to Mozilo's feeling that he is entitled to his hefty pay package.
"Nobody called me when I was making nothing for years and years and said, `Can I help?"' Mozilo said in an interview at a Countrywide loan processing campus that sprawls over a hillside in this Los Angeles exurb, across the road from a garbage dump. His pay, he added, "is based on my performance."
That performance has been impressive, particularly during the recent housing boom. Countrywide's loan volume quintupled over the last five years, and its profit grew even faster, to US$2.2 billion last year.
But the history of the mortgage industry is full of nasty surprises that sank or slowed once-strong companies -- interest rate swings and frenetic refinancing make the business volatile and risky. That weighs on Countrywide's stock, which trades at a discount to other financial firms. On the topic of being underappreciated, Mozilo doesn't require much encouragement.
"I run into these guys on Wall Street all the time who think they're something special because they went to Ivy League schools," he said.
For companies like his, "We're always underestimated. And we still are. I am. I must say, it bothered me when I was younger -- their snobbery and their looking down on us."
A lithe, little guy with a jutting jaw, Mozilo looks like he has faced off against his share of bullies. Today, he dresses elaborately, as if to remind them of who came out on top. A perfectly folded hankie peeks out from the breast pocket of his blue suit; underneath is a crisp banker's shirt in blue with a white collar, and weighty cufflinks with the Countrywide logo. All is set off against a deep tan.
In an interview, he didn't wait for a question, sallying forth on his own.
"Who I am: I was a messenger boy for a mortgage company in Manhattan," he began. "I was a 14-year-old boy. The people in this company know I did what they're doing. Getting kicked out of real estate offices -- the 40th mortgage guy to walk through the door -- that's the business. It has been a source of strength to me as a leader. Fifty-two years I've been doing this."
Mozilo is 66 and expects to retire at 68. He has recruited others with chips on their own shoulders to carry on at Countrywide after he leaves, and has set them loose on the staid banking industry with something to prove. His top two lieutenants graduated from California State University, Northridge, a decidedly un-Ivy League institution not far from here. Another comes from California State University, Long Beach. All told, the company now employs more than 50,000 people.
In truth, of course, graduates of less-than-elite colleges are well represented at many large financial institutions. At Wells Fargo, the big San Francisco-based bank, for instance, Richard Kovacevich, chief executive and a Stanford man, in August named as his No.2 and apparent successor John Stumpf, who has an accounting degree from St. Cloud State University in Minnesota.
What sets Countrywide apart is the us-versus-them feeling that Mozilo draws from his life story and his ability to tap into the same feelings in others. Indeed, many of his employees are drawn to what he sells as a free-wheeling meritocracy, and they bring the chips on their shoulders with them.
"I did," said Brian Hale, who left Wells Fargo four years ago. A Countrywide managing director in charge of retail loan production, he is a graduate of the State University of New York at Plattsburgh.
"In many organizations I compete with, that would disqualify me for the job I have at Countrywide," Hale said of his schooling. True or not, it motivates him.
"The key people I depend upon -- that chip is so ingrained," Mozilo said. "They're sort of my apostles in that regard."
The success of Countrywide might cause most executives to let up a bit. The stock has been among the best performers over the last 20 years. Profits exceed US$2 billion a year. And, pulling further away from competitors, Countrywide expects to originate between US$390 billion and US$480 billion in mortgages this year, 14 to 15 percent of the nation's total. Its costs are among the lowest in the industry.
Countrywide lends directly to consumers and also buys loans from other lenders and from loan brokers. It packages most of the loans up and resells them at a profit.
Because it is primarily a mortgage lender, however, Countrywide's profits and stock price are vulnerable to interest rate swings, and thus its shares trade for about nine times its per-share earnings, a relatively low multiple. Its nearest competitor in the mortgage business, Wells Fargo, is a diversified bank that is less vulnerable to shifting rates. Its stock trades at about 14 times its earnings.
Mozilo bought a bank in 1991 -- its assets doubled over the last year, to US$91 billion -- and Countrywide is hanging onto more mortgages, producing a stream of income to smooth the ups and downs of the refinancing market "so we can get a better multiple for the shareholders," Mozilo said. "Will we? I don't know. To this day, we are perceived as a proxy on interest rates."
While he is sanguine about the stock price, Mozilo remains volatile about much else. Particularly irksome are calls by Alan Greenspan, the Federal Reserve chairman, to shrink Fannie Mae and Freddie Mac, the quasi-government institutions that buy huge numbers of mortgages from financial institutions, notably from Countrywide.
Mozilo, after pocketing about US$70 million last year from salary, bonus and gains on exercising stock options, will probably hit US$100 million in pay for 2005. He has already exercised more than 3 million options, selling the shares, this year. His cash bonus, US$17.3 million last year, was the biggest among chief executives of all companies in the Standard & Poor's 500-stock index, according to Paul Hodgson of the Corporate Library, a corporate governance organization.
Comments will be moderated. Keep comments relevant to the article. Remarks containing abusive and obscene language, personal attacks of any kind or promotion will be removed and the user banned. Final decision will be at the discretion of the Taipei Times.