Behind the rush in China, a more complex picture looms
Chinese companies are increasingly being squeezed between rising raw materials prices and the inflexibility of big retail customers
A throng of foreign buyers trampled security barriers and pushed guards aside in their haste to enter the Canton Trade Fair as it opened here Friday, another sign of how companies all over the world are still rushing to do business in China. \nBut the downside of this torrent of money pouring into China was also apparent at the trade fair: It has fed inflation here in recent months on a scale not seen since the early 1990s, especially inflation in commodity prices. \nBusinesspeople from a wide range of industries all over China said in interviews at the fair that rising raw material prices in particular had been seriously crimping their profit margins. They painted a complex picture of commodities demand in particular, saying that their country's economy was still running very briskly, but that buyers were becoming resistant to paying steeply rising prices for some products and were deferring purchases. \nEmerging signs that Chinese companies are balking at high commodities prices prompted near panic in the metals markets this week. On Wednesday, copper and nickel prices suffered their biggest one-day drop in London trading in more than a decade. \nDavid Chen, the export department manager of Ningbo Jiekelong Valves Manufacturing near Shanghai, a large producer of copper valves and tubing, said that long order backlogs had disappeared in recent months. Some orders have been canceled, others have been filled and few new orders are coming in. \n"The price is very high, so they're not buying, they're waiting," he said. \nAn executive at a manufacturer of rubber timing belts for car engines said that the price she paid for specially processed rubber had risen by nearly half in the last year, while she has not been able to raise belt prices by more than 10 percent. The executive, Fen Chen, general manager of the Fuwei Rubber Belt Manufacturing Co. in southeastern Zhejiang province, said that the company planned very little expansion in the months ahead and was turning down some belt orders because they simply were not profitable. \nBut not all commodities appear to be affected equally, nor is there even a consensus that copper and rubber demand are moderating. Tao Dong, a Credit Suisse First Boston economist in Hong Kong, said this week's slump in metals prices mostly appeared to reflect selling by speculators. \nThe overall Chinese economy is recovering from Beijing's efforts last spring to control overheating, and is now growing so robustly that the government is increasingly likely to hit the brakes again later this year, he said. \n"We still have another two or three months to go for commodities before things get ugly," he added. \nAn executive of a battery company here said that even with high prices, crucial materials like zinc and dioxide manganese remained in short supply, with more buyers than mines can satisfy. \n"Sometimes we cannot get these materials for a week or 10 days," said Chen Jia Cong, the sales manager of Shanghai Light Industrial Products. "The production line has to be stopped." \nOne of the biggest problems Chinese companies encounter is the power of big US retailers to resist price increases, even for products that are becoming much more expensive to manufacture. \nThe Tianjin Jinmao Corp. in northeastern China has raised the prices that it charges for caulking guns, shovels and stepladders by 25 percent to 30 percent over the last year for small customers, passing along the rapid rises in steel prices. But customers like Wal-Mart, Kmart and Home Depot in the US and Obi in Europe have refused to accept any increases, said Sunny Yen, the company's vice president for sales, adding that Home Depot alone accounted for a fifth of Tianjin Jinmao's sales. \n"I like to say that Wal-Mart has every day a low price, Chinese steel every day has a new price," Yen said. "If I ask for a price increase, they will say, `Either you have to accept the current situation or we will take our business elsewhere.'" \nRising crude oil prices have become a preoccupation for many companies in China, which relies far more heavily on energy-intensive manufacturing than wealthy industrialized nations do. \n"That leads to everything increasing in price -- the gas and the plastics -- so that makes it hard for us to keep the prices the same," said Zhou Hui, a sales representative for a local mirror manufacturer that uses plastic frames for its mirrors. \nRising prices for rice in particular, up close to 30 percent in the last year although moderating lately because of a plentiful harvest, have made the lives of migrant workers more difficult in the cities. Wages have been rising in some cities, but not others. \nIn some cases, wages have kept up with consumer prices, which were 5.3 percent higher in August than a year earlier despite price controls on many consumer goods. Inflation has been rising almost twice as fast on goods purchased by corporations, as tracked by the Chinese central bank. \nChinese agencies are expected to release a flood of economic statistics next week for last month and for the third quarter, and these could show some slackening in inflation because of moderating increases in rice prices.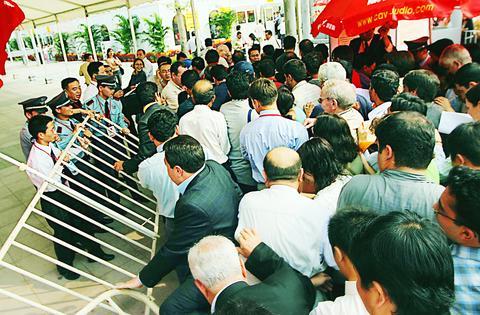 Buyers from around the world force their way through a small gate to enter the 96th session of the Chinese Export Commodities Fair in Guangzhou on Friday.
PHOTO: NY TIMES
Comments will be moderated. Keep comments relevant to the article. Remarks containing abusive and obscene language, personal attacks of any kind or promotion will be removed and the user banned. Final decision will be at the discretion of the Taipei Times.