The skinny on Kraft's fight against obesity
As waistlines continue to increase in girth throughout North America and Europe, Kraft goes on the offensive
Three weeks ago, Kraft Foods Inc, the nation's largest food company, said it was going to help fight a global epidemic -- obesity.
Now comes the hard part. How does the maker of Oreo cookies, Velveeta cheese, Tombstone Pizza and Oscar Mayer wieners actually help trim waistlines? And can a food giant profit from selling people on the idea of eating less?
Food industry experts are, well, skeptical.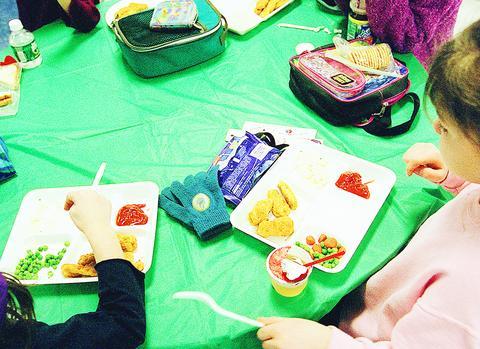 School-children eat lunch in the cafeteria at Lewisboro Elementary School in South Salem, New York. Kraft Foods Inc said earlier this month that it would rethink some of its product lines and introduce new steps to help fight the worldwide problem of obesity.
PHOTO: NY TIMES
"I think this is all about P.R.," said William Leach, a food analyst at Banc of America Securities.
Even Kraft officials -- who have vowed to reduce portion sizes and cut the fat and calories of some products -- are playing down some of their planned changes.
"We're not going to do anything radical," said Michael Mudd, a spokesman for Kraft. "This is about making small, incremental changes."
The problem, most experts say, is that while food companies have increasingly offered healthier alternatives, consumers continue to favor snacks and products packed with tasty fats and sugars, what some health experts call the "maximally seductive" products.
Kraft's research and development team is now looking to remove fat and sugar from some of the company's popular items, where possible, without compromising taste.
"It's very difficult," said Jean Spence, one of Kraft's top research and development executives. "The holy grail is to take the fat out and have the taste stay the same."
And Kraft has plenty of fat to trim. The company's biggest selling items are things like Kraft cheese and Oreo cookies, which have undergone a massive brand extension.
'Double Delight'
There are now, for instance, "Double delight" Oreos with peanut butter and chocolate creme, fudge-covered Oreos, miniature Oreos, Doublestuf Oreos (with double the cream filling), Oreo ice cream and even the "extreme creme taste" Oreo O's, a breakfast cereal with marshmallow bits.
Indeed, to bolster its share of the snack food market, Philip Morris, the majority owner of Kraft, paid US$14.9 billion in 2000 to acquire Nabisco, the maker of Oreos and Chips Ahoy, and merge the unit with Kraft.
"There really aren't that many things growing in the food industry that aren't snack-related," said John McMillin, a food analyst at Prudential Securities. "Snacks are growing 3 to 4 percent, where the rest of the food industry is growing by about 1 percent."
Kraft scientists have succeeded in eliminating trans fats from some products like Ritz Crackers. But the company has not yet "cracked the code" with cream-filled Oreos, executives said. There are 2.5 grams of trans fat in a three-cookie serving of Oreos.
Kraft has also created a healthier line of Lunchables, its popular ready-to-eat children's lunch packages. Health experts like to point out that Lunchables often come packed with unhealthy items like deep dish cheese pizza, nachos, hot dogs and soda.
Earlier this year, Kraft introduced a new line of Lunchables called Fun Fuel, which includes 100 percent fruit juice, yogurt and smaller servings of low-fat cheese and lean meat.
According to the company, the Fun Fuel Chicken Wraps have 440 calories, 13 grams of fat (including 5 grams of saturated fat) and 860 milligrams of sodium. By contrast, Kraft's top-selling old-style Lunchable -- the Pepperoni Pizza version -- has 467 calories, 17 grams of fat (8 grams of saturated fat) but has only 753 milligrams of sodium.
Front and center
Some observers believe the company is building a defense against those who would criticize Kraft if it did nothing. So while many big food companies continue to blame a lack of exercise for the nation's obesity problems, Kraft is putting itself front and center in the obesity debate.
"I guess they figured if the industry is going to have to change, why not be perceived as the one to lead the change," said Kelly Brownell, a Yale professor who heads the university's Center for Eating and Weight Disorders.
Kraft's bold announcement comes at a difficult time for the company.
Two high-level executives left the company a few weeks ago, worrying investors. Then the company forecast weaker profits for the second half of this year because of slumping sales of cheese, cold cuts and other products. Some stock analysts have responded by downgrading the stock, which has dropped 17 percent since the July 1 announcement.
With obesity rates climbing and health care costs soaring, food makers are worried that regulators, legislators and class-action lawyers could force major changes on the industry, or cost it dearly in the courtroom. Some research analysts see parallels to the tobacco litigation, parallels which Kraft's parent company, Altria (formerly Philip Morris), knows all too well.
Future litigation
In two remarkably bold reports, analysts at JP Morgan and Credit Suisse First Boston warned investors last fall that the big food companies were facing major financial risks.
Referring to the tobacco litigation, Arnaud Langlois, author of the JP Morgan report, said in a recent telephone interview, "We think a number of well-capitalized law firms are now going to look at the food industry as the next target."
According to Kraft, a food-industry database search found 25 news articles about obesity in the first quarter of 1999; in the most recent quarter, a similar search turned turned up 1,400.
"Little by little the importance became apparent to us," said Mudd, the Kraft spokesman.
Among the other changes under way at Kraft is the elimination of all in-school marketing. No more Kraft book covers. No more Oreo cookie lunch boxes. And no more advertising on Channel One, the in-school television network. The company said that it had spent a couple million dollars a year on in-school marketing.
Health experts applauded the in-school marketing ban, but they still chide Kraft for being among the most aggressive marketers to children and young adults.
"Their marketing aimed at kids is terrible," said Margo Wootan, a nutritionist at the Center for Science in the Public Interest. "There are all these cartoon characters on their packages of low-nutrition foods, on everything: crackers, cookies, a whole range of products."
Kraft also seems to be reaching out to its critics. The company is forming a global advisory council to help Kraft develop new policies, standards and measures in its effort to combat obesity.
"The only way to react to that is with action," Mudd said. "All I can say is stay tuned."
But Kraft's efforts have also come under fire from some of its peers. Executives at several big food companies said Kraft has conceded too much ground to those who like to blame big food makers for the obesity epidemic.
"It's good intentions, but where do good intentions get you?" said one food company executive who asked not to be named. "It's kind of like Gary Hart saying, `Follow me around.'"
Comments will be moderated. Keep comments relevant to the article. Remarks containing abusive and obscene language, personal attacks of any kind or promotion will be removed and the user banned. Final decision will be at the discretion of the Taipei Times.