Hollywood cashes in on movies
At the sprawling, soaring, deafening Vivendi Universal video game exhibit at the Electronic Entertainment Expo this week, dazed visitors would be forgiven for thinking they've stumbled into a Hollywood extravaganza.
There was horror producer John Carpenter being interviewed about his grisly The Thing movie, while nearby dinosaurs from the mega-film franchise Jurassic Park roared, almost drowning out dwarfs on a computer screen fighting evil monsters from The Lord of the Rings: The Fellowship of the Ring.
The video game industry loves crowing about how they have, over the years, eclipsed movie US box office revenues with their US$9.4 billion in annual revenues.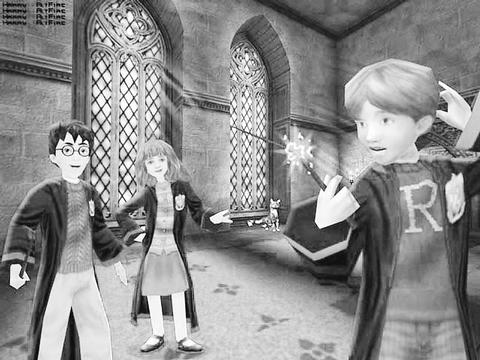 A scene from Harry Potter and the Chamber of Secrets. The game, produced by video-game publisher Electronic Arts, was unveiled last week at the Electronic Entertainment Expo in Los Angeles. The game will be in stores November and is based on the popular children's novel.
PHOTO: REUTERS
The movie industry claims sales of of DVDs and video, overseas licensing and others still puts them on top.
But at the Electronic Entertainment Expo, or E3, the world's leading computer gaming industry gathering, Hollywood and video games are actually in a warm embrace.
At the gathering, which drew an estimated 62,000 industry insiders from 420 companies, the most hyped titles were games involving Harry Potter, a quad of Star Wars games and a twin series of video games following the movie characters from the Lord of the Rings series.
There was also, of course, Spider-Man games and a video game from the Mummy Returns sequel The Scorpion King.
According to analysts, video gaming's tight integration with Hollywood is an effort to drive up numbers of software sales. Experts say the markets for gaming hardware, including Microsoft's Xbox, Sony's PlayStation 2 and Nintendo's GameCube consoles, have topped off among gaming enthusiasts.
Now these companies are trying to drive a more main-stream consumer to their machines, with software titles linked to popular movies.
"Getting people who are not into gaming with the promise of extending the movie experience is a major strategy now," contended Schelley Olhava, an analyst with IDC. "It's just a natural pairing at this point."
It's also a safe road to travel for leading video game publishers like Electronic Arts, Acclaim and others -- companies that were once nerdy start-ups but now are major, publicly traded concerns whose shareholders are less tolerant of failed experiments.
"These are major companies now," said Richard Ow, an analyst with NPD Funworld, which tracks the video gaming industry. "That creates pressures that suppresses creativity in lieu of tried-and-true characters and storylines."
This last point, seen as a winning strategy by the digital gaming industry, has some video gaming enthusiasts worried.
"It's not like Hollywood has anything totally thrilling anyone these days," said Brad Cutlip, who was trying out a Star Wars shoot-em-up game on the Los Angeles showroom floor. "We get enough formulas from television and movies. It would be a shame if video games followed that path."
Comments will be moderated. Keep comments relevant to the article. Remarks containing abusive and obscene language, personal attacks of any kind or promotion will be removed and the user banned. Final decision will be at the discretion of the Taipei Times.