Video-gamers be all they can be
VIRTUAL WAR In the US Army's combat simulation game, players work together to hunt down the enemy
Americans are winning the war on terror -- at least in the virtual world.
At the giant Electronic Entertainment Expo here Wednesday, special military assault teams rappelled down ropes over the heads of some of the 62,000 attendees, who were visiting the US Army's booth here promoting their America's Army computer combat game.
Engineered by the US Naval Postgraduate School's Modeling, Virtual Environments and Simulation Institute in Monterey, California, America's Army lets users team up to take on ersatz enemies.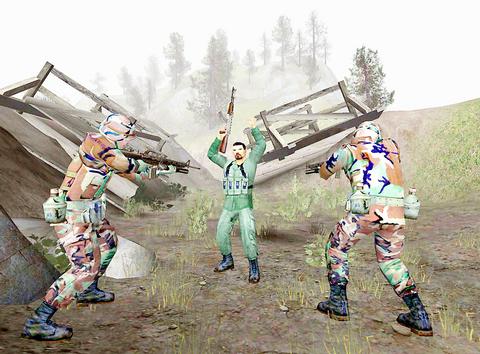 This scene from the US Army computer game America's Army shows soldiers capturing an enemy gumman.
PHOTO: AFP
Jesse McCree, a department of defense computer programmer who worked on which developed both games said the game's bad guys are "generic" enemies.
"But a player can get the point," said McCree, smiling.
That point, a theme carried over throughout this trade show for the multibillion dollar video and computer game industry, is that its a good bet gamers will want to spend their spare time hunting down post-Sept. 11 terrorists and other US enemies, scoring victories that have eluded the nation's leaders so far.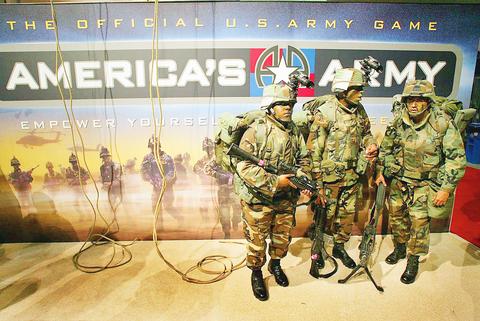 US Army soldiers stand next to an advertisement for the Army's computer game, America's Army, which was unveiled Wednesday at the Electronic Entertainment Expo in Los Angeles.
PHOTO: AFP
In booth after booth, games like SOCOM ("Special Operations Command") and Lethal Skies pit gamers against imaginary terrorists. Slack-jawed gamers furiously hit buttons dispatching US enemies in a flurry of shrapnel and fire.
"This is so friggin' cool," said one gamer, who couldn't be interrupted during his virtual killing frenzy at the Lethal Skies booth. "But where are the turbans?"
Though many of the 420 companies here are quick to link their offerings to the Sept. 11 attacks, they are just as quick to point out that there are no real identifiable nationalities singled out for assault.
"It's pretty much just plain vanilla opponents," said Dave Wagner, a spokesman at the Sammy game publisher's booth, which promotes Lethal Skies.
The game lets users pilot high performance combat aircraft, hunting down enemies over modern urban landscapes.
At the giant, deafening Sony Playstation exhibit, game developers talked about non-descript terrorists being hunted down by US Navy Seals in SOCOM.
SOCOM is a sophisticated next-generation online game, which lets users form teams of eight soldiers and eight terrorists via Internet connections from around the world.
Comments will be moderated. Keep comments relevant to the article. Remarks containing abusive and obscene language, personal attacks of any kind or promotion will be removed and the user banned. Final decision will be at the discretion of the Taipei Times.