What's the World Cup got to do with economics?
Quite a lot, according to some economists, as eight of the world's 10 biggest economies -- representing some 84 percent of global GDP -- will be competing
A single thought runs through one's head upon arrival in South Korea: Football! The place is awash in props, promotions and enthusiasm surrounding Asia's first-ever World Cup soccer tournament. \nYou could easily go a day in co-host Japan without noticing a major sporting event's about to start, but not in this city -- or elsewhere in this nation of 47 million. Giant soccer-ball sculptures, billboards hanging over the skylines, huge banners draped over buildings, human-sized cutouts of players, you name it. Everyone and everything, it seems, has a piece of the event. \nIt's not surprising, then, that analysts are wondering what the World Cup will mean for Korea's economy -- already one of the globe's most vibrant. It's already pumped additional life into the economy as stadiums and other infrastructure were built. And the 450,000 visitors expected here next month would boost consumption, and then some. \nBut what about the long run? Is there a connection between countries that host the World Cup and gross domestic product? Increasingly, yes, says Jim O'Neill, head of global economics at Goldman Sachs Group Inc. He argues that the "evidence is reasonably strong that the world economy and football are moving in the same direction." The biggest economies are getting better at the sport. \nOne of the more fascinating qualities of soccer is that many of the world's wealthiest nations aren't good at it. Within the Group of Seven industrialized nations, for example, neither the US nor Japan teams have much global influence within the sport. \nAt their last outing at the World Cup in France '98, Japan finished 31st out of 32 teams, scoring only one goal. The US came last. Within Europe, meanwhile, Switzerland is a relatively unsuccessful soccer nation in terms of its GDP. \nOf course, some of the most prosperous nations in Europe -- France, Germany, Italy and England -- are also highly successful soccer countries. Yet the World Cup is an event where even the poorest nation in Sub-Saharan Africa can defeat one whose per capita income is 25 times higher. That phenomenon gives the event what O'Neill calls "intriguing aspects." \nIn his book Fever Pitch, British author Nick Hornby wrote that, thanks to soccer, "Yorkshire men, Lancastrians, Scots, the Irish, blacks, the rich, the poor, even Americans and Australians have something they can sit in pubs and bars and weep about." An elitist sport, it's not. \nYet O'Neill's research suggests it's the wealthier nations that are becoming more competitive. This year's finals, for example, will include six of the G-7 nations -- all but Canada. With India excluded, that means eight of the world's 10 biggest economies -- representing some 84 percent of global GDP -- will be competing. \nO'Neill reckons that's a bigger proportion than ever before. \nMoreover, analysts at Goldman Sachs expect the coming decade would see rapid growth in Brazil, China, India and Russia relative to G-7 nations. Among them, Goldman Sachs says, Brazil and Russia are "serious footballing countries." If the folks at Goldman Sachs are right, and the global economy evolves as much, then the correlation between football and GDP would increase. \nIn the short-term, analysts speak of connections between nations that win the World Cup finals and GDP and stock market performance. A coincidence, perhaps, but the French economy grew at its fastest rate of the 1990s in 1998 -- the year its team won. Analysts at HSBC Securities find that the stock markets of developed countries that have won the World Cup since 1966 have outperformed global indexes by 9 percent. \nOf course, if didn't hurt that France, Germany and England won in years in which they were hosting. The construction of new stadiums and other preparations no doubt boosted each, if only temporarily. Still, the phenomenon intrigues economists around the world -- especially ones who are rabid football fans. \nBy that measure, bookmakers thinking Japan has a greater chance of winning the World Cup than Korea may be wrong. According to UK bookmakers William Hill, odds that Japan will win are 66 to 1. Though Korea's odds are far worse -- 150 to 1 -- its stock market is up 24 percent so far this year. Japan's is up just over 11 percent. Bottom line, if stocks are any guide, Korea may have a better World Cup than Japan. \nThe fact that the smart money is on Argentina flies in the face of the World Cup as an economic indicator. Still, investors may be putting dollars on them as 4-to-1 joint favorite to try to win back the billions lost on the devalued peso. \nIn fact, the World Cup may hurt Japan's economy more than help it. Economists' predictions for how much the event will boost GDP in the April-to-June quarter generally fall between 0.1 percent to 0.3 percent. That means GDP -- both in real and nominal terms -- will probably still be negative this year. \nA World Cup boost already has come from public works projects related to the event, O'Neill says. Seven new stadiums were built at a cost of roughly US$1.6 billion, much of it financed with debt. \nMany are sprawling multi-function sports complexes that cost far more than basic football arenas. After the World Cup, local authorities will find themselves heavily indebted and shackled with massive stadiums that may never be sold out again. \nHere in Korea, meanwhile, officials seem to have their eyes on the long-term payoff: Branding. Sure, the 1 percent boost to GDP estimated by the state-run Korea Development Institute will help. But it's the opportunity to showcase the new, vibrant Korea that interests the government. This is, after all, the nation's biggest sporting event since the 1988 Summer Olympics.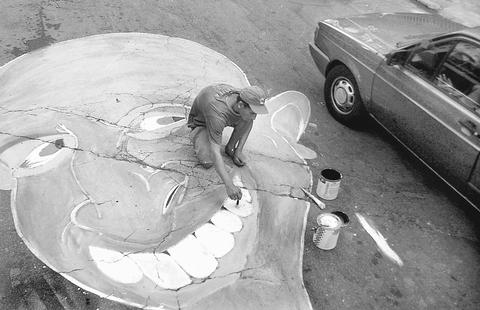 Carlos Magnus Fonseca, 33, paints a portrait of soccer player Roberto Carlos of Real Madrid on a street in Copacabana, a famous neighborhood in Rio de Janeiro, on Saturday. Many streets in Rio de Janeiro are being decorated by their residents in anticipation of the World Cup.
PHOTO: A P
Comments will be moderated. Keep comments relevant to the article. Remarks containing abusive and obscene language, personal attacks of any kind or promotion will be removed and the user banned. Final decision will be at the discretion of the Taipei Times.