Fiorina must boost H-P revenue, investors say
Hewlett-Packard Co Chief Executive Officer Carly Fiorina, who was scheduled yesterday to provide the computer maker's last quarterly earnings report without Compaq Computer Corp, has to prove the acquisition will boost sales, investors said. \n"She's got to hit the marks and everybody's going to be looking at them, because they've been in print enough times," said Bill Schaff, whose US$70 million Berger Information Technology Fund owns the stock. "I would not like to be in her shoes." \nAnalysts expect a rise in fiscal second-quarter profit to US$0.25 a share and a US$500 million decline in sales to US$11.1 billion, according to the average estimates in a Thomson First Call survey. Hewlett-Packard will have costs of as much as US$1.4 billion from the purchase, and the company won't say whether any of the expenses were taken in the past three months. \nChief Financial Officer Bob Wayman said in an interview last week he may give some "basic" targets for the combined company, with full forecasts coming next month. The stock has dropped 14 percent since the acquisition was announced Sept. 3 and has fallen 24 percent in the past year. \n"We know we have important execution challenges in front of us, but we are ready," Fiorina said at a press conference last week in Cupertino, California. \nFiorina closed the US$18.9 billion Compaq purchase May 3, after defeating an eight-month campaign against the transaction led by former director Walter Hewlett. \nPalo Alto, California-based Hewlett-Packard surpassed analyst forecasts in the past two quarters, after disappointing in 2000 and last year. Investors credit Fiorina with energizing workers to overcome the distracting acquisition struggle. \n"You've got to respect her willpower and her energy," said Bruce Garelick, an analyst with Loomis Sayles & Co, which manages US$60 billion and has been adding to its Hewlett-Packard stake. "They have some ammunition to get out of the blocks with a little bit of momentum." \nFiorina has said Compaq will help shore up sales of server computers and services and create a bigger rival to International Business Machines Corp (IBM). Net income in the year-ago quarter was US$0.16 a share on US$11.6 billion in sales. \nPersonal-computer sales fell for the first time in 15 years last year and then dropped 2.7 percent in the calendar first quarter, according to IDC. Sales of digital cameras and photo printers buoyed Hewlett-Packard's fiscal first-quarter results, and analysts said some of that strength continued in the recent period. \n"H-P's consumer business held up better than expected throughout much of the April quarter," Prudential Securities Inc analyst Kimberly Alexy wrote in a note to clients last week. \nSales of business PCs and servers that run Web sites and networks haven't been as strong. Server shipments worldwide rose just 0.6 percent in the calendar first quarter, with Hewlett-Packard's shipments dropping 13 percent, according to Dataquest. \n"These business segments could remain under pressure until we see signs of a sustainable recovery in corporate profits," Merrill Lynch analyst Steve Milunovich wrote last week. \nThat has raised concern that the economy won't rebound any time soon and that consumer spending will cave as the slump continues. There's no compelling reason for consumers to keep spending later this year, said David Webb, who helps manage US$2 billion at Shaker Investments Inc. \n"The cup being half empty is the more accurate assessment," said Webb, whose company doesn't Hewlett-Packard stock. \nIBM's first-quarter sales and profit trailed early forecasts and server sales sank 21 percent, and Fiorina has said her team is readying for the worst. Her targets for US$2.5 billion in cost savings and a 5 percent revenue loss after the Compaq purchase don't depend on an economic rebound. \n"The IT industry will never return to the heady days of 20 and 30 and 40 percent growth," Fiorina said last week. \nFiorina was paid US$1 million in salary and received no bonus in fiscal 2001, after getting a salary and bonus totaling US$2.77 million the previous year. She received stock options worth US$13.5 million. \nShe and her new No. 2, former Compaq CEO Michael Capellas, say the combination means rivals have to rethink their strategies. \nSales teams are handing customers three-year product outlines. Fiorina and Capellas have named the top three layers of management and are mapping out the fourth one now. They tout US$5.3 billion of new contracts signed in the 90 days before the close as proof that customer loyalty remains high. \nFiorina, who won Compaq as Walter Hewlett and other opponents threatened to replace her, may not be safe yet, investors said. \n"If the economy starts to recover and business picks up, all sins will be forgiven," Schaff said. "If we stay in this type of environment, she may not survive."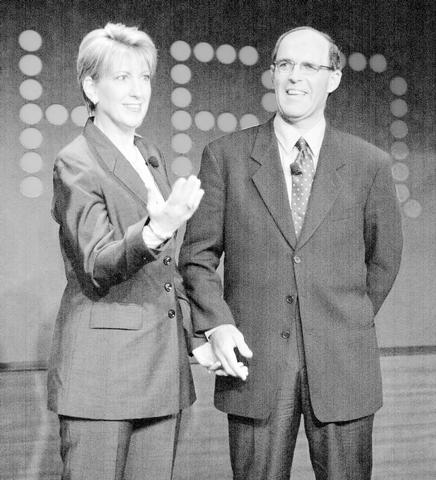 Hewlett-Packard chief executive Carly Fiorina, left, and new H-P president Michael Capellas hold hands at a news conference in Cupertino, California, last week.
PHOTO: AP
Comments will be moderated. Keep comments relevant to the article. Remarks containing abusive and obscene language, personal attacks of any kind or promotion will be removed and the user banned. Final decision will be at the discretion of the Taipei Times.