Elite school trains golf's next generation
With snow covering golf courses near his home in Calgary, Alberta, for more than eight months a year, James Love had a problem working on his game while preparing for college. \nInstead of hitting balls at an indoor driving range, he traveled 4,160km and enrolled in the International Junior Golf Academy, a US$40,000-a-year boarding school for teenage golfers in Hilton Head Island, South Carolina. \n"There's not much wrong with this place," Love said, under a clear blue sky during a recent round at the Colleton River Plantation in nearby Blufton, South Carolina. \nThe academy, which includes a private high school with fewer than 75 students, is where players like Love go to hone their skills. An 18-year-old with a driving average over 300 yards and a low round of 61, Love no longer has to worry about frozen fairways and six-hour rounds at his local municipal course. \nAccess to Colleton River's Pete Dye and Jack Nicklaus- designed courses, which have been ranked among the top 100 in the US by Golf Magazine, is one of the many perks that come with an education at the academy. \nIt was founded in 1995 by Ray Travaglione, a former Wall Street currency broker who spent most of his childhood at Brooklyn's Dyker Beach Golf Club. The public course, a few blocks from the 86th Street subway station and in the shadow of the Verrazano Narrows Bridge, didn't offer much access to young golfers. \n"Back then, there were no junior golf opportunities," he said. "We were just told to stay out of everybody's way." \nThings have changed, and Travaglione saw it coming. Led by the popularity of Tiger Woods, golf has become the sport of choice for more young athletes. Since 1997, the year Woods won his first of three Masters Tournament titles, participation of golfers from age 12 to 17 increased to 2.4 million from 1.8 million a year earlier, according to the National Golf Foundation. \n"When I used to carry my clubs through the high school hallways, I was a dork and a geek," said PGA Tour veteran Peter Jacobsen. "I still am, but Tiger has come along, and he's like a pied piper and has made golf cool in every walk of life." \nWhile more attention has been paid to creating golfing opportunities for underprivileged children in recent years, it remains primarily an exclusive, expensive sport. \nAnd there is no shortage of parents willing to send their child to the academy, which also established the International Junior Golf Tour in 1995, or similar programs like Florida's David Leadbetter Golf Academy and the Saddlebrook Preparatory School. \n"We have no trouble convincing people that can afford it," said Travaglione, whose last job in New York was in the North tower of the World Trade Center. "And you'd be surprised how many can afford it." \nLove, whose father, Rod, was a former adviser to Alberta Premier Ralph Klein, is part of a diverse student body. Forty percent of the students are from outside the US, including 10 Canadians. The school received 90 applications for about 60 spots this year, Travaglione said. \nAcademy General Manager Dick Schreiber said the school occasionally has to be more wary of parents than potential students. \n"Sometimes it's pretty hard to tell who wants to come here more," he said. \nThe sport's popularity has led to increased parental pressure once limited to football and basketball, said Orlando, Florida-based sports psychologist Patrick Cohn. \n"People see players winning US$1 million for one tournament and they say `wow, that would be a great opportunity for our children,'" said Cohn, whose clients include PGA Tour winners Joe Durant and Frank Lickliter. "If a child is being pushed into a situation by a parent, it's most likely not going to work out for the best." \nTravaglione said 90 percent of the academy's graduates have received a golf or academic scholarship, including Joel Hendry, a 2001 graduate of the University of New Mexico and Ricky Carillo of the University of South Florida. \nLove, who has won two of the five IJG Tour events he has entered since arriving in Hilton Head in January, will attempt to qualify for June's US Open later this month. He'll then attend the University of Denver on a golf scholarship beginning in the fall. \nEric Hoos, Denver's coach, said Love might vault his four-year-old program into the nation's top echelon. Denver ranks 81st out of the US' 290 Division I programs. \n"The kid hits it extremely long," Hoos said. "He just bombs it. As a coach, he's the type of player you need. He has all the tools." \nAlong with the school, daily lessons from some of the sport's top instructors, and participation in local tournaments, Love's family said the academy has been money well spent. \n"For his game to improve to the point where it is now, we consider it a bargain," Rod Love said. "The school didn't make up the rules. Golf's expensive, and that's just the way it is."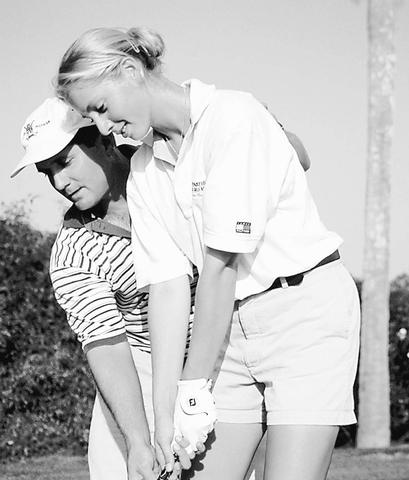 John Stanley, left, an instructor at the International Junior Golf Academy, assists a Scottish student with her swing.
PHOTO: BLOOMBERG
Comments will be moderated. Keep comments relevant to the article. Remarks containing abusive and obscene language, personal attacks of any kind or promotion will be removed and the user banned. Final decision will be at the discretion of the Taipei Times.