Phills family mourns loss of Hornets to New Orleans
No one in Charlotte will feel the loss of the Hornets more than Trey and Kerstie Phills, whose father was the team's captain when he was killed in a car crash two years ago. \nFive-year-old Trey and Kerstie, 3, have stayed close to the National Basketball Association team since Bobby Phills died on Jan. 12, 2000, while racing his car near Charlotte Coliseum. \nSome of the players and coaches have almost become surrogate fathers. But now the team is moving to New Orleans, and many stories about their father are going with them. \n"It's going to have a dramatic effect on my kids," Kendall Phills, Bobby's widow, said Thursday night before the Hornets' playoff game against New Jersey in Charlotte. "For Trey, it's like a part of his dad is going. And my daughter, she never got the chance to know her dad. The only thing she associated with him is the Charlotte Hornets." \nThe Hornets received final approval from the league Friday to move to New Orleans. The team's owners said they're losing too much money in Charlotte, where voters refused to fund a new arena. \nAlthough Kendall Phills didn't allow her son to attend Thursday's game because it was a school night, Trey is no stranger to the Hornets' locker room. He often attends games, and sometimes participates in on-court skits with the team's mascot, Hugo the Hornet. \nThe Phills family is closest with Hornets coach Paul Silas and guard David Wesley, who was there when police pulled his best friend's body from his crumpled Porsche. According to police, the teammates were racing when Phills lost control of his car. \n"It's been good for Trey to be around the guys," Silas said. "This is all he knows. He didn't really understand who Bobby was, but he knew he was a basketball player. It's too bad it has to end for him. It's going to hurt for a while, I'm sure." \nThe Hornets applied to move in January, though several NBA owners were skeptical whether New Orleans -- which will be the league's smallest market -- could support a franchise. Last month, however, when it became apparent the team was going to move, Kendall Phills said she broke the news to her son. \n"I think he's in denial," she said. "Trey told me that his classmates said they don't have enough money and they can't go." \nWesley has tried his best to help the Phills family cope with the tragedy. \nHe sometimes takes Trey to the park, where he'll answer any questions the boy might have about his father. Wesley also recently accompanied Trey to his grammar school, where the students were supposed to bring their grandparents. \nNot being able to pal around with the players won't be easy for Trey, Wesley said. \n"It's fun for him," he said. ``It's a tie to his dad." Kendall Phills also said it's important for her son to interact with the players. Even though she can tell stories about her husband, there's a part of him that even she never knew. \n"Now they can know the locker-room Bobby," she said. \n"Bobby joked all the time, but it's a different type of humor with the guys." \nThe team's move to New Orleans, where Kendall and Bobby Phills grew up, won't end the family's association with the Hornets. Kendall Phills said she and her children will visit Louisiana and the Hornets players after training camp opens in October. \n"The team, like Bobby, is gone but won't be forgotten," she said.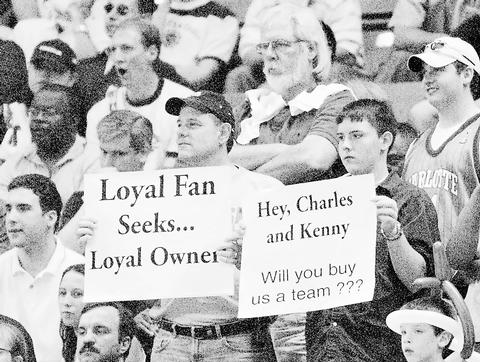 Charlotte Hornets' fans show their displeasure with the move of the team to New Orleans.
PHOTO: AFP
Comments will be moderated. Keep comments relevant to the article. Remarks containing abusive and obscene language, personal attacks of any kind or promotion will be removed and the user banned. Final decision will be at the discretion of the Taipei Times.