Argument over onus for twin towers escalating
The effort to sort out who will pay and who will profit involves fragile alliances, conflicting interests, and charges and counter-charges of hypocrisy as Larry Silverstein, the developer who holds the lease of the World Trade Center, tries to limit his liability while maximizing the obligations of insurers
The battle over who will bear the costs of the destruction of the World Trade Center and who will control the reconstruction of Lower Manhattan -- already a full-blown brawl involving legions of lawyers and lobbyists -- is continuing to escalate.
On Thursday, lobbyists for Larry Silverstein, the developer who holds the lease of the World Trade Center, and for the Port Authority of New York and New Jersey, which owns the property, helped ensure that a bill passed by the House of Representatives on airplane security included broad language protecting them from claims by victims of the Sept. 11 attacks and their families.
That came as a group of investors led by Silverstein prepared to answer a lawsuit that Swiss Reinsurance Co filed against them last week in US District Court in Manhattan. In the suit, the insurer, known as Swiss Re, seeks to limit how much it will have to pay to cover the destruction of the twin towers. Lawyers representing the various parties involved agree that more lawsuits are likely to follow.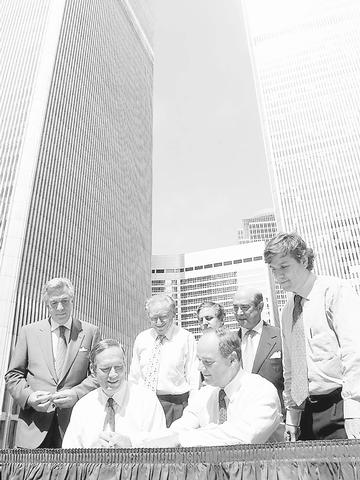 The World Trade Center was valued at US$1.2 billion when the Port Authority leased it to a group led by Larry Silverstein, third from left above, in July this year.
PHOTO: NY TIMES
The issues are clear: No one wants to be left facing a mountain of claims from victims and their families; no insurer wants to be part of what could be a US$7.2 billion payment to cover the loss of the buildings; and no lender, investor or developer wants to miss out on a piece of what may be one of the biggest insurance payouts ever.
Resolving those issues is anything but clear. The effort to sort out who will pay and who will profit involves fragile alliances, conflicting interests, and charges and counter-charges of hypocrisy as Silverstein tries to limit his liability while maximizing the obligations of insurers, at least one of which -- Swiss Re -- is already fighting back.
Time is short. Silverstein paid about US$6 million on his mortgage last month; the next payment is due next week, according to GMAC Commercial Mortgage, the General Motors subsidiary that loaned him US$564 million. For now, he can cover that and other expenses -- including US$10 million a month in ground rent to the Port Authority -- out of a pool of lease payments and security deposits paid in advance by trade center tenants. But even with the fund he can probably afford to hold out for no more than four months without receiving insurance payments, others close to the matter said.
To plead his case in Washington, Silverstein -- who has the least to lose financially and the most to gain -- retained Jack Quinn, the former White House counsel who last January engineered an inauguration-day pardon issued by Bill Clinton for Marc Rich. He lobbied Congress and the Bush administration to limit how much money victims can obtain from Silverstein's real estate companies, which drew criticism from another powerful lobbying group, trial lawyers.
"This guy is trying to get US$7.2 billion in insurance and he wants to limit his liability to US$1 billion," said Carlton Carl, director of media relations for the Association of Trial Lawyers of America. "Why? If you start limiting everybody's liability, then nobody is accountable to anyone. It subverts our entire legal system, which calls for personal and corporate responsibility for harms that one causes."
Relying on law firm
In New York, Silverstein is relying on Herbert Wachtell and his partners at the law firm of Wachtell, Lipton, Rosen & Katz to force insurers to pay US$7.2 billion, twice the amount they contend they are obligated to pay for the destruction of the trade center. Silverstein says he is entitled to the larger sum, and needs all of it to finance reconstruction.
The dispute turns on the question of whether the crash of two hijacked airliners into the twin towers of the World Trade Center were a single insurable event, entitling Silverstein's group to US$3.6 billion in coverage, or two distinct events for which the group can file separate claims of US$3.6 billion apiece. Wachtell's team is up against Simpson Thacher & Bartlett, the law firm that represents Swiss Re.
For his public relations, Silverstein has turned to Howard Rubinstein, who in the past has represented Rupert Murdoch, George Steinbrenner and the Empire State Building. Rubinstein will try to make the case that Silverstein should be a central player in rebuilding a version of the World Trade Center. A battery of architects, engineers and cultural experts is being consulted to draw up plans and blunt efforts by rivals to control reconstruction.
At the same time, Silverstein is trying to hold together a coalition that includes the Port Authority, which owns the site, and his lenders and co-investors in the buildings that have been destroyed. It is a tenuous alliance, one which is certain to fracture should some members begin to sense that they will not be repaid by Silverstein or come to believe that he cannot get all the money he claims that the insurers owe him and cannot cap his liability.
For its part, the Port Authority, a political body that owns the real estate Silverstein leased, has moved cautiously to sort out its plans and interests. So far, said Lewis Eisenberg, its chairman, the agency is focused on two short-term goals: Rebuilding the transportation hub that was under the trade center and trying to limit the authority's liability.
The suit by Swiss Re, the insurer with the most at stake in the Trade Center disaster, is a clear effort to put pressure on the alliance and possibly prompt some of the investors or lenders to pressure Silverstein to walk away from a rebuilding effort, experts say.
Like many developers, Silverstein was highly leveraged. By some estimates, he put up only about US$12 million of his group's US$3.2 billion bid for a 99-year lease of the trade center earlier this year. Other less-visible lenders and investors have considerably more at stake.
Nevertheless, Silverstein, who lost four employees in the attack, speaks of rebuilding Lower Manhattan with almost religious zeal. "There's no way I could not go forward and build this thing," he said in an interview on Wednesday. "What these terrorists have tried to do is destroy the symbol of New York, destroy the symbol of our economic progress, our strength, our way of life, and I can't handle that."
He dismissed criticism of his effort to limit his group's liability to the US$1 billion covered by insurance, saying he just wants to put a quick end to what could become decades of litigation that would enrich lawyers at the expense of their clients.
"Look at what's happened from the 1993 incident," he said, referring to the earlier bombing of one of the trade center towers. "Hundreds of millions of dollars in claims are still outstanding. This is designed to avoid what's happened there."
Silverstein has pledged to continue to pay his mortgage and ground rent, a promise that is crucial to maintaining the coalition of lenders and investors who financed his bid for the complex.
Uncertainties
But Silverstein's position is beset by uncertainties. Chief among them is the fact that there was no final insurance policy in place when the trade center was attacked. The policies were still under negotiation, and the coverage included the disputed terms of the so-called "binders," or promises by insurance carriers to provide coverage. A policy was formally issued by Travelers on Sept. 14, after a flurry of e-mails and phone calls among the lawyers negotiating the terms of the policy, but other carriers are keeping quiet about whether they will agree to be bound by those terms or by others.
Swiss Re executives say that the case turns on a tightly scrawled note on one of the binders that strikes some language and replaces it with the phrase "subject to wording to be agreed." In its complaint, the insurance company asserts that the crashes are a single event under the language in effect on Sept. 11.
Silverstein's lawyers maintain that New York state law, which governs the case, makes clear that each crash and collapse was a separate insurable event. In 1959, they note, the New York Court of Appeals found that the collapse of two walls in adjoining buildings owned by one person, 50 minutes apart, were distinct events.
Swiss Re contends that the developers underinsured the buildings, but several lawyers said that US$3.6 billion was seen as more than enough to cover what before Sept. 11 was judged to be any likely disaster. "It was considered by many people who looked at it as far in excess of what should be bought," said one person with knowledge of the insurance negotiations. "No one ever, ever considered you could have an event as horrific as what happened."
Besides, the lawyers added, the US$3.6 billion worth of insurance was about as much as insurers were willing to underwrite; any more than that would have been prohibitively expensive. As it was, to get so much coverage required policies written by 22 carriers.
When the Port Authority ran the trade center, it had US$1.5 billion of insurance coverage. The Silverstein group of investors initially sought US$2.3 billion in coverage, about US$700,000 more than the Port Authority required, but lenders wanted more. So Silverstein's partnership raised the coverage to US$3.25 billion and then, about a week after the closing, to US$3.6 billion.
If Silverstein's insurers pay him only US$3.6 billion, his desire to rebuild could be frustrated.
The value of Silverstein's group's remaining lease payments to the Port Authority is about US$2.6 billion. The developer also owes about US$30 million annually to the city in lieu of real estate taxes, and several hundred million dollars more to lenders.
At least one lender, though, transferred much of its risk elsewhere. GMAC sold most of its US$564 million mortgage to other investors, and currently stands to lose just US$80 million if it is not repaid. Wells Fargo, the trustee for holders of bonds backed by the mortgage, would not provide a list of investors.
Westfield America Inc, a real estate investment trust controlled by a major Australian developer that owns several shopping malls in the US, invested US$120 million along with Silverstein; US$100 million of that was borrowed from UBS Warburg.
Unlikely to default
It is unlikely that a large company like Westfield would default on the loan, say people familiar with the financing of the lease.
Even if Silverstein ultimately wins the money he wants, any effort to rebuild inevitably comes back to the Port Authority and the governments of the states of New York and New Jersey and of New York City.
They may not be interested supporting Silverstein's ambitious desire to replace all of the trade center's 3,000,000m2 of office space and 150,000m2 of retail space just now because of the slowing economy and potential tenants' concern about further terrorist attacks. If he duplicated the twin towers' size -- whether in two 110-story towers or a combination of shorter buildings -- many people involved in ongoing negotiations worry privately that no one would rent the space. Such decisions are still a way off. Swiss Re's lawsuit would have to be resolved long before any rebuilding can begin.
For now, the fate of the case rests with US District Court Judge Denny Chin, who was randomly assigned to the case when it was filed last month. Chin, a 1994 Clinton appointee, is both soft-spoken and demanding, and lawyers who have been before him said he is willing to defy powerful interests in reaching his decisions.
But the case could be settled before it is decided by Chin, and it would not be surprising if the parties reached a deal requiring the insurers to pay a figure between US$3.6 billion and US$7.2 billion. The prospect of such a settlement does not seem to deter Silverstein from fulfilling his latest ambition.
"I have my health, my life, my family, my people less the four who died, and the ability to say, `Let's regroup and show these terrorists what we'll do, what we need to do,'" Silverstein said. "Life is for the living."
Comments will be moderated. Keep comments relevant to the article. Remarks containing abusive and obscene language, personal attacks of any kind or promotion will be removed and the user banned. Final decision will be at the discretion of the Taipei Times.