Taiwan says hello to tomorrow
With a range of projects in the pipeline, PC home Online has moved successfully from the cradle of its publishing parent into the brave new world of e-business
When PC home Online and The Journalist Magazine teamed up to launch the world's first online Chinese language newspaper, The Tomorrow Times (明日報), people thought they were crazy.
They planned to build the entire Web site, hire 200 journalists from existing Taipei news services, and set up an office for the paper all in a short 5 months.
According to PC home Online's publisher and CEO, Jan Hung-tze (詹宏志), the project came together through sheer enthusiasm.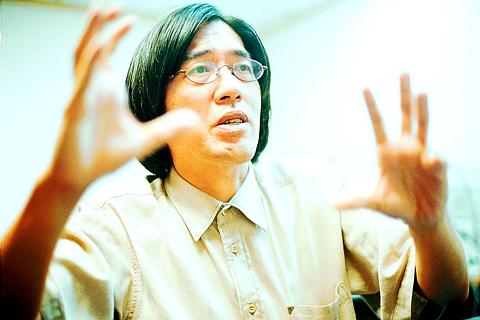 Jan Hung-tze, PC home Online publisher and chief executive says that the world first's online Chinese-language newspaper came about through sheer enthusiasm.
PHOTO: CHEN CHENG-CHANG, TAIPEI TIMES
Reporters flocked to the Tomorrow Times, he said, because they wanted to join the Internet world. Although the new online paper had hoped to hire 50 experienced journalists and 150 rookies, Taipei journalists were so eager to join the online venture that Jan ended up with 200 veterans.
"The reporters came because they all believed Internet papers are the future, so they wanted to try it," said Jan.
This glut of experienced reporters has contributed much to the paper's success.
With updates every hour, the paper relies on these professionals to keep contact with sources and get the best news, fast.
Jan said Taiwan's presidential election gave his team its first chance to shine.
"The presidential election really propelled us [Tomorrow Times] into people's daily lives," says Jan. "They may have been reluctant to try an online paper before that, but once they saw hourly updates, they stayed." People throughout Taiwan went to the Tomorrow Times' Web site for the hourly updates. Page views shot up to 1.8 million per day during the election period, and they haven't come down since. Jan predicts that at its current pace, the Tomorrow Times will reach five million page views per day within the next six months.
"If we surpass five million or more, I think this paper will be very valuable," he says. Like most new Internet ventures, the Tomorrow Times is a money-losing operation.
According to Jan, advertising revenues will bring in NT$90 million for the online paper this year, but that falls far short of covering expenses. He's not worried. He expected the paper to lose money for its first three years. Jan believes that by February 2003, Taiwan and even Hong Kong and China will all be logging on to ttimes.com.tw
Publishing heritage
The success of Tomorrow Times is just one of many triumphs in the history of PC home Online, a company born from the more traditional publishing industry.
Originally, PC home Online grew out of PC home Publications, a magazine publishing company with a range of computer-related titles. Today, however `Publications' and `Online' are separate businesses, in much the same way as American Online (AOL) and Time Warner are moving to split their operations.
In a recent announcement AOL Time Warner outline plans to have Time Warner continue its work in developing content such as movies, TV shows and magazines, while AOL would take care of online development.
PC home Publications, like Time Warner, develops content through its magazine business, and PC home Online develops Internet Web sites and solutions such as software.
Under that division, `Online' has moved aggressively into the Net since it separated from its parent company in 1998.
Jan says `Online' operates as "one horizontal and several verticals." The portal site, todo.com.tw, being the horizontal and thus the focal point, serves to attract Web-surfers, with all sites referring back to it.
The other sites and content channels, such as shoppingguide.com.tw, act as value-added verticals -- side businesses -- to keep users' attention. ePaper, for example, keeps users in tune with the site by putting e-mail newsletters into subscribers' boxes every day.
The web center
Jan says the business model of one horizontal and several verticals grew out of the rapid success of the portal site, todo.com.tw.
As PC home's Chinese-language portal site, todo.com.tw is the starting point for news services, personal Web pages and its Taiwan search engine.
According to Jan, the fast growth of todo.com.tw surprised the company. PC home Online launched todo in October 1998. Last September the site was getting three million page views per day, but eight months of solid growth has seen that figure shoot up to 17 million page views per day.
"This has been really unexpected," said Jan.
He credits the growth to two new products developed by Net Force, the company's software arm.
Leading the growth has been WebHD, an online hard disk service for site members. This online space enables users to store information online instead of in their PCs or on disks. "If you use a computer at work and at home, this is very convenient," said Jan. "With WebHD, you can store all of your files on the Web, so if you forget to bring your floppy disk home from work, you can pull up a document from the Web instead."
Stemming from this idea is Net Force's second innovation called todomark. Todomark allows a user's "bookmark" file to be shifted to the Web, so no matter which computer users work from, they can always access their favorite book-marked Internet addresses.
Made in Taiwan
These two Web site innovations are Taiwan made, according to the company, and they put PC home Online on the road to what some companies feel is the future of the Internet -- Web-based offices.
According to Texas Instruments vice president Richard Templeton, the growth of broadband and wireless connections will see computing functions move online.
Instead of buying Microsoft Word, he explained, consumers will rent it for pennies from an Internet site, and store all documents directly on the Web.
"In the Internet Age, a single user will have multiple devices," Templeton said. He explained that with the number of Internet devices increasing, people will place more reliance on information storage, and turn to software that is already on the Net.
As a result, notebook computers and other Net devices will no longer need hard disks or processing chips. Therefore, Templeton said, they will become smaller and more mobile. And the Internet will become a storage house and software rental outlet.
PC home Online claim they developed the Web's first online hard disk and bookmark space, powerful software for a Web firm to invent.
It was sales of software and solutions to other Web sites around the world that prompted the creation of Net Force, a separate company for its Web engineers and software designers.
It is this new team of technology solution providers that has been driving PC home Online into the Greater China market, says Jan.
"We already have four contracts to provide Web solutions to companies in China," he says.
Net Force software and other Web solutions have become a top source of income for PC home Online. Jan expects to bring in NT$85 million from the technology unit of the company this year alone.
These contracts, according to Jan, prompted PC home Online to plan offices for Hong Kong and China. By the end of the year, Jan hopes to have offices in both locations to use as promotional points for Net Force solutions, as well as provide places from which to research potential Internet investment opportunities.
He says PC home Online probably will not open Web sites in China due to regulations that stipulate what kind of "news" can be reported. China's censors put so much pressure on Internet firms, he says, that for now selling magazines to the "China market" is enough.
Wireless and broadband
PC home Online is also looking to future technology such as WAP (Wireless Application Protocol) and broadband. Jan says the company will announce a new WAP site next month, part of an initiative to use its cityguide.com.tw Web site with mobile technology. Cityguide.com.tw offers listings and information for over 30,000 restaurants in Taipei, and Jan thinks this kind of information suits the mobile WAP world.
"We want to build sites that make sense," says Jan. "For WAP, people may want to get convenient information about Taipei. If they're looking for a restaurant, they can find all the restaurants from our cityguide.com.tw site by using WAP and their mobile phone."
After finding the restaurant, a person can then make a quick reservation, all with the help of their mobile phone.
Jan is quick to point out that broadband has not been left behind either, with PC home Online already operating a browser that searches for broadband content.
Users who want to search for MP3 music files, pictures, or video, can already find that kind of broadband based information from PC home Online. The search engine, Jan says, is part of a move to keep PC home Online at the forefront, developing the newest aspects of the Web and bringing in the kind of broadband content people want.
Investment and IPO
According to Jan, PC home Online uses operating revenue from PC home Publications to keep the Web sites going until they become profitable on their own.
This is only one way the two businesses complement each other.
The Web sites also share content with the magazines and vice-versa. Articles written for one of the newsstand magazines may find their way onto a Web site. Web site articles may, in turn, be used in one of the magazines.
Jan says the Web sites also help to promote the magazines. Initially, it was feared that putting too much information on company Web sites might make people stop buying titles at the newsstands. Instead, the Web sites have only helped attract more readers.
"We've found that sharing content and advertising has pushed up sales for the magazines and drawn more users to the Web sites," says Jan.
Such fast growth of the Web sites, has put strain on company finances, he says.
To raise capital for further expansion, Jan plans to take PC home Online public. "We plan to IPO in September on Taiwan's TIGER stock exchange," he said, referring to Taiwan's new OTC second board. Depending on how that stock offering goes, Jan says, PC home Publications will be up next, with an IPO likely in the second quarter next year.
Comments will be moderated. Keep comments relevant to the article. Remarks containing abusive and obscene language, personal attacks of any kind or promotion will be removed and the user banned. Final decision will be at the discretion of the Taipei Times.