Jko Fintech aims to test Tuofu Bao in sandbox
Jko Fintech Co (街口金融科技) aims to apply for a financial technology (fintech) sandbox experiment for its Tuofu Bao service, which would allow users to buy a fund via Jkos Pay and earn a minimum return of 1.5 percent, Jko Fintech chairman Kevin Hu (胡亦嘉) said yesterday.
Hu's announcement came after the Financial Supervisory Commission (FSC) on Tuesday said that Jko Fintech could only conduct an experiment of its new service, because regulations prohibit the company from offering customers a guaranteed return.
Hu, who on Tuesday met with commission officials to discuss Tuofu Bao, yesterday said that the commission had not completely convinced him that such a promotional activity would be illegal.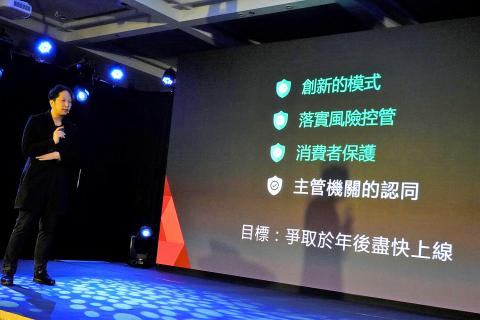 Jko Fintech Co chairman Kevin Hu speaks at a news conference yesterday in Taipei to promote the company's Tuofu Bao service.
Photo: Chen Ping-hung, Taipei Times
"Jko Fintech would guarantee customers a fixed return and put money in a trust account to guarantee the return, instead of Jko Asset Management Co (街口投信), which would issue and manage the fund," Hu told a news conference in Taipei.
"So, I think the promotional activity should be allowed, as Jko Fintech is at liberty to offer rewards to users to encourage them to buy the fund and use the electronic payment tool, which are both operated by company units," Hu said.
Jko Fintech owns a 25 percent stake in Jko Asset Management.
Despite disagreeing with the commission on the legality of the promotion, Hu said that he would continue negotiations with the commission and is considering an experiment in a regulatory sandbox.
He previously considered applying for a sandbox experiment, but dropped the idea after learning that exposure would be limited to NT$200 million (US$6.65 million), Hu said, adding that he wishes the limit would be raised to at least NT$10 billion.
"Jkos Pay already has more than 1 million users and if everyone invests NT$10,000 in the fund, the scale of fund would hit NT$10 billion," Hu said. "The current limit of NT$200 million is too low for us."
Jko Fintech aims to offer higher returns than a term deposit in a bank, Hu said.
A return of 1.5 percent is just a feasible goal, Hu said, adding that the fund would be operated by Jko Asset Management, which would invest in foreign bonds hedged against foreign-exchange fluctuations.
Jko Fintech plans initially to place NT$200 million in the trust account, with the amount not to dip lower than 0.5 percent of the scale of the fund after the service is launched, he said.
Originally scheduled for Monday next week, the Tuofu Bao launch has been moved to after the Lunar New Year holiday, Hu said, adding that the firm would not launch the service without the commission's approval.
Comments will be moderated. Keep comments relevant to the article. Remarks containing abusive and obscene language, personal attacks of any kind or promotion will be removed and the user banned. Final decision will be at the discretion of the Taipei Times.