Digital agility brings value to banking
Citi Asia consumer banking head Gonzalo Luchetti shared his perspective on Taiwan's role in the Asian banking industry, as well as his strategy for boosting the growth of industry and business in Asia in a recent interview with the 'Taipei Times'
Taipei Times (TT): How important is Taiwan to your business in Asia?
Gonzalo Luchetti: Taiwan is one of Citi's most important markets globally and for Citi's consumer business, it is in the top 10 by revenue and net income. It is a market that has strong dynamics, with a growing base of affluent clients who increasingly want to bank digitally.
That fits well with Citi's global strategy of driving growth in attractive markets like Taiwan, where our scale and investments position us to capture additional market share as we put digital and mobile at the core of a simpler, better client experience.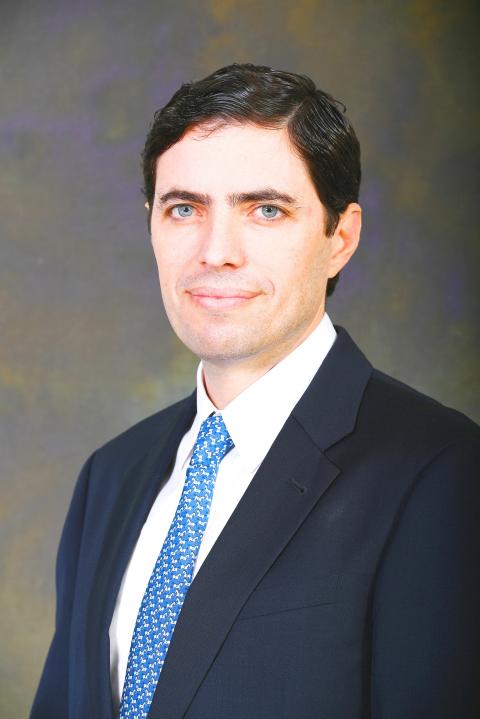 Citi Asia consumer banking head Gonzalo Luchetti is shown in an undated photograph.
Photo courtesy of Citibank Taiwan Ltd
In Taiwan, we serve consumers across the full spectrum of their financial needs. Whether a relationship starts with a card product or a deposit account, Citi's goal is to deepen that relationship to include all of a client's payments, insurance, borrowing, savings and investment activities.
This allows us to better serve clients by holistically matching their needs to our best-in-class suite of products.
In many ways, Taiwan is a model market for Citi, with strong leadership positions across retail, insurance, wealth management and cards — where we see opportunities for further growth and digital transformation.
The number of digital clients active for 90 days has risen to more than 40 percent since 2017, while the number of mobile clients active for 90 days has doubled since 2016.
The launch in Taiwan of digital wealth and investment tools — including Total Wealth Advisor, Portfolio 360, ebrokerage and eFX trading — has helped lead to a stronger wealth management value proposition in the market. Assets under management have increased by double-digit percentages over the past two years.
Citi invests in providing world-class advisory teams for our clients. We initiated a program managed by the University of Pennsylvania's Wharton School to enhance our relationship managers' professional knowledge and advisory capabilities.
In Taiwan, more than 30 relationship managers have participated in this training.
Taiwan is also using application programming interfaces (APIs) to further enhance the customer experience. We digitized the backend of our credit card application process. Automating all data entry allows customers to receive their card approval notification instantly, instead of waiting one to two days.
Voice biometrics was launched in 2017 in Taiwan. More than half of incoming calls are now authenticated via voice biometrics.
In March 2017, mobile e-chat was launched in Taiwan — and Taiwan was the first market in the the Asia-Pacific region to launch chat on our mobile app, signaling our strong commitment to increasing engagement with digitally active customers.
TT: How do you plan to grow your consumer business further here in Taiwan and what is your digital strategy here?
Luchetti: Citi has invested in Taiwan with an eye on sustain able growth, including launching new market-leading credit cards, refreshing our wealth management propositions and investing further in our digital capabilities.
These investments are made with the support of global management, who understand the importance of this market and the opportunities we see here.
We are investing in our digital platforms, using data and analytics to personalize customer offers and building strategic partnerships for digital scale and relevancy.
Citi has significantly accelerated our speed to market with new digital products, features and capabilities by deploying new technology and using an agile operating methodology that embraces the use of APIs.
As we invest in our own digital platforms, we are also making progress on our digital partnerships. We are open to engaging with customers in the digital ecosystems and platforms that they frequent as part of their day-to-day lives — such as the use of the Line messaging app in Taiwan.
Partnerships also include key digital aggregators. For example, we have a partnership with the digital aggregator money101.
We are also leveraging our partnerships to develop new and differentiated offerings.
Citi in May last year partnered with PChome Online Inc (網路家庭) to launch the new Citi PChome Prime cobrand card. In addition to offering online shoppers benefits and privileges, Citi also set up APIs with PChome to drive connectivity.
Through this collaboration, customers who obtain a PChome membership can apply for a Citi credit card without having to fill out their basic information, removing friction from the application process.
We are leveraging data to better anticipate clients' needs: to put the right offers in front of them at the right time, to remove points of friction, and ultimately to drive added value to clients so that our relationship is deepened.
Banking should be as easy as ordering a taxi or a pizza online — we match ourselves up to companies that offer a friction-free customer experience.
We aspire through the breadth of our products to meet all of our clients' needs digitally. We have expanded our services to Android and added more mobile and browser functionality, while also expanding our product set to include personal lending, flexible payment products, mortgages and investment options.
Digital is supporting Citi's growth in Taiwan — so far this year, we have increased the number of our wealth management clients by nearly 10 percent and we are seeing similar double-digit percentage growth in digital usage.
TT: How important is the Asia-Pacific region to the global consumer business?
Luchetti : The Asia-Pacific region is central to Citi's global consumer franchise — comprising 17 of the 19 markets in which we operate and, last year, accounting for about one-fifth of revenue and one-quarter of profit.
First-quarter revenue rose 3 percent quarter-on-quarter and net income rose 10 percent on the back of client-led growth and continued momentum across retail banking, wealth management and cards.
Net new money rose 8 percent year-on-year with the number of clients in our Citigold and Citigold Private Client programs expanding 10 percent year-on-year.
We have more than 16 million clients in Asia and the model we have built allows us to access customers' five core financial needs throughout their lives: borrow, pay, save, invest and protect.
Our model uses digital capability, data and technology to seamlessly link those five core needs and grow our business with those clients.
Over half of our clients are digitally active, while 71 percent of our digital customers use mobile banking. We are seeing double-digit percentage growth in our mobile rates as we continue to invest in our digital platforms.
Our priority is staying relevant in choosing which digital ecosystems to lead and building the right partnerships to grow our business.
Citi works with Line in Taiwan and with WeChat (微信) and Alipay (支付寶) in China, where mobile banking is an area of special focus for us. Citi customers can link their credit cards to the messaging apps.
Citi offers its own mini-app on WeChat's payment platform, WeChat Pay (微信支付). Through this service, customers can use WeChat for a number of banking transactions, including requesting a credit line increase and getting an instant loan.
Citi in May partnered with India's largest digital payment platform Paytm to launch the Paytm First Card, the country's first unlimited cashback credit card.
The move underscores Citi's commitment to partnering with leading brands and expanding into India's digital ecosystem, while providing Citi the opportunity to extend its services to a new, all-digital consumer base.
The partnership serves as another example of how traditional payment services, such as Citi, are moving to collaborate with fintech start-ups in light of exploding growth in mobile and online payments.
Citi is also pursuing innovative partnerships within other technology-driven sectors, such as ride-hailing services, to drive consumer engagement.
Citi in June announced that we were teaming up with Singapore-based ride-hailing company Grab to launch a cobranded credit card.
The launch was another instance of Citi moving to offer products within online and mobile ecosystems and of meeting customers where they are increasingly spending their time.
Businesses like Grab and Paytm know that we can provide them with access to our global network, our physical presence in nearly 100 countries and our more than 200-year-old trusted brand. We give them further scale.
I am confident that we can grow further this year and that Taiwan has a key role to play in supporting that growth.
Comments will be moderated. Keep comments relevant to the article. Remarks containing abusive and obscene language, personal attacks of any kind or promotion will be removed and the user banned. Final decision will be at the discretion of the Taipei Times.