UK posts slowest growth in six years as Brexit looms
The British economy last year grew at its slowest pace in six years, data showed on Monday, as Brexit uncertainty grips the country and fears grow that Britain could crash out of the EU without a deal.
The bleak official figures came as the British government seeks to win more time to secure EU concessions on Brexit that could pass the UK parliament and avert a chaotic split from the bloc on March 29.
Monday's figures followed data last week that showed Britain's dominant service sector almost ground to a halt last month.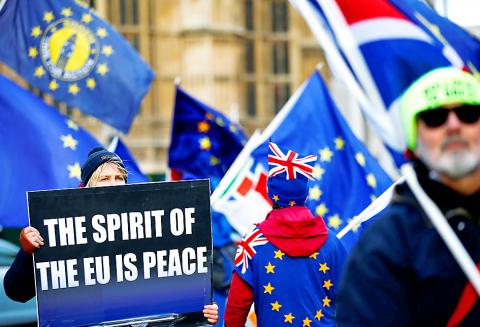 Anti-Brexit protesters stand outside the Houses of Parliament in London on Thursday last week.
Photo: Reuters
"The economy is clearly struggling in the first quarter of 2019 amid serious business and consumer caution resulting from heightened Brexit uncertainties, while weaker global growth is also impacting" the figures, said Howard Archer, chief economic adviser at the EY Item Club.
GDP growth last year stood at 1.4 percent, down from 1.8 percent in 2017, the British Office for National Statistics said.
Growth was only 0.2 percent in the final three months of last year, the office said in a statement.
"Construction, production and services output fell in the month [of December], the first time that there has been such a broad-based fall in monthly output since September 2012," it said.
Britain has been in a state of political turmoil for two months since the Brexit deal was agreed in December last year.
European Chief Negotiator for the UK Exiting the EU Michel Barnier has called for "clarity and movement" from Britain.
In an effort to break the impasse, Brexit Secretary Stephen Barclay hosted Barnier for a working dinner at the British ambassador's residence in Brussels on Monday, with concern growing on both sides of the English Channel.
Speaking after the dinner, Barnier said the talks had been "constructive."
"We are clear from our side that we are not going to reopen the withdrawal agreement, but we will continue our discussion in the coming days," he told journalists.
Earlier, Barnier said that British opposition leader Jeremy Corbyn's proposal for a permanent customs union with the EU was an "interesting" one.
The Bank of England last week decreased its forecast for UK growth this year to 1.2 percent from 1.7 percent, blaming the downgrade on a global economic slowdown and "the fog of Brexit."
The bank said that Britain's economic output was being dragged down with growth dampening in China, the US and the eurozone.
Comments will be moderated. Keep comments relevant to the article. Remarks containing abusive and obscene language, personal attacks of any kind or promotion will be removed and the user banned. Final decision will be at the discretion of the Taipei Times.