Brace for economic storm as growth undershoots: IMF
The IMF on Sunday warned governments to gear up for a possible economic storm as growth undershoots expectations.
"The bottom-line — we see an economy that is growing more slowly than we had anticipated," IMF managing director Christine Lagarde told the World Government Summit in Dubai.
Last month, the IMF lowered its global economic growth forecast for this year from 3.7 percent to 3.5 percent.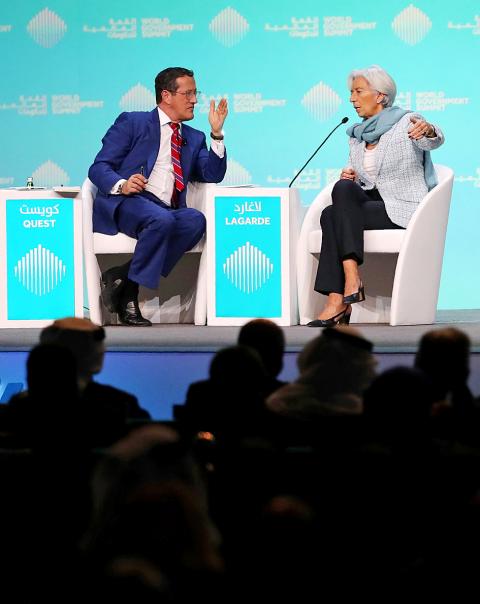 IMF managing director Christine Lagarde, right, speaks to journalist Richard Quest at the opening session of the World Government Summit in Dubai on Sunday.
Photo: AFP
Lagarde cited what she called "four clouds" as the main factors undermining the global economy and warned that a "storm" might strike.
The risks include "trade tensions and tariff escalations, financial tightening, uncertainty related to [the] Brexit outcome and spillover impact, and an accelerated slowdown of the Chinese economy," she said.
Lagarde said that trade tensions — mainly in the shape of a tariff spat between the US and China, the world's two biggest economies — are already having a global impact.
"We have no idea how it is going to pan out and what we know is that it is already beginning to have an effect on trade, on confidence and on markets," she said, warning governments to avoid protectionism.
Lagarde also pointed to the risks posed by rising borrowing costs within a context of "heavy debt" racked up by governments, firms and households.
"When there are too many clouds, it takes one lightning [bolt] to start the storm," she said.
US negotiators were in Beijing yesterday for a new round of high-stakes trade talks, hoping to reach a deal before the March 1 deadline set by US President Donald Trump.
The two sides have already slapped tariffs on more than US$360 billion in two-way trade, which has weighed on the two nations' manufacturing sectors and sent jitters through global markets.
Comments will be moderated. Keep comments relevant to the article. Remarks containing abusive and obscene language, personal attacks of any kind or promotion will be removed and the user banned. Final decision will be at the discretion of the Taipei Times.