Wall Street skids as tech, Internet companies drop
US stocks on Friday fell as a combination of weak economic data from China and disappointing earnings hurt technology and Internet companies, while crude oil prices fell for the 10th day in a row.
Auto sales in China last month fell for the fourth month in a row and were down 13 percent from a year earlier, the latest sign its economy is under pressure.
Concerns about China's economy and its trade dispute with the US contributed to the global stock market skid last moth. The stocks that fared the worst during that time included tech and Internet companies, as well as retailers, which all took sharp losses on Friday.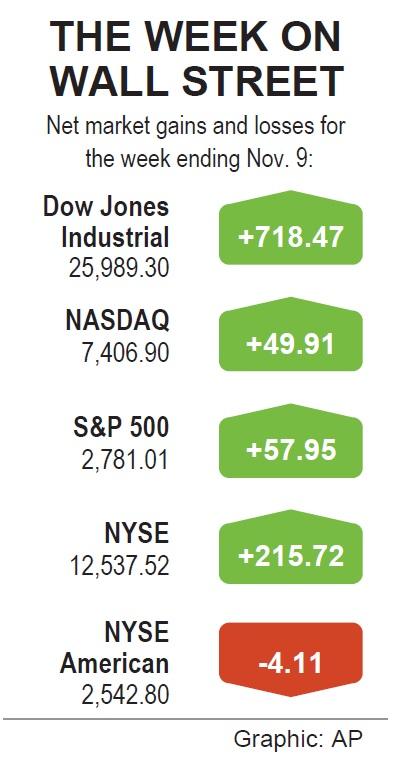 "China has played such a critical role in driving global growth," Invesco chief global market strategist Kristina Hooper said. "[Investors] are having concerns that these tariff wars are essentially going to kick China when it's down."
US crude oil slipped 0.8 percent to extend its losing streak. It has fallen for five weeks in a row and tumbled 21 percent since Oct. 3. Energy companies have suffered steep losses during that time.
Weak forecasts from firms such as video game company Activision Blizzard Inc and chipmaker Skyworks Solutions Inc also contributed to Friday's decline.
The S&P 500 on Friday dropped 25.82 points, or 0.9 percent, to 2,781.01, but rose 2.1 percent from a close of 2,723.06 on Nov. 2.
The Dow Jones Industrial Average on Friday fell 201.92 points, or 0.8 percent, to 25,989.30, but also rose 2.8 percent from 25,270.83 a week earlier.
The NASDAQ Composite on Friday sank 123.98 points, or 1.7 percent, to 7,406.90, gaining 0.7 percent from 7,356.99 on Nov. 2.
The Russell 2000 index of smaller companies on Friday gave up 28.72 points, or 1.8 percent, to 1,549.49, edging up 0.1 percent from a close of 1,547.98 a week earlier.
The US Department of Labor reported that wholesale prices in the US jumped, which Hooper said could be linked to the tariff dispute as well.
Wholesale prices last month rose by the most in six years as gas, food and chemical prices increased. The department's wholesale price index has climbed 2.9 percent over the past year.
Activision Blizzard tumbled after its forecast for the critical holiday season fell short of analysts' projections. The stock fell 12.4 percent to US$55.01, while Electronic Arts Inc lost 5.3 percent to US$88.89.
Major technology and Internet companies also turned lower. Apple Inc fell 1.9 percent to US$204.47 and Facebook Inc shed 2 percent to US$144.96, while Amazon.com Inc lost 2.4 percent to US$1,712.43.
US west coast utility companies tumbled as wildfires worsened in southern California, with tens of thousands of people forced to flee their homes.
Pacific Gas and Electric Co plunged 16.5 percent to US$39.92 and Edison International skidded 12.1 percent to US$61.
General Electric Co sank another 5.7 percent to US$8.58 after a JPMorgan Chase & Co analyst cut his price target on the stock from US$10 to US$6 per share.
Six of the firm's eight divisions might be unprofitable in 2020, Stephen Tusa said.
Walt Disney Co's net earnings were better than expected, as the entertainment giant raked in revenue from movies including Avengers: Infinity War, Incredibles 2 and Ant-Man and the Wasp. The stock gained 1.7 percent to US$118.
Online reviews company Yelp inc nosedived after it posted weak third-quarter revenue and its forecast for the fourth quarter also fell short of Wall Street's estimates.
Part of the problem is an advertising model that is intended to encourage advertisers to try the site without signing a long-term contract, which has made its results more sensitive to short-term problems, said Yelp, whose stock fell 26.6 percent to US$31.93.
Additional reporting by staff writer
Comments will be moderated. Keep comments relevant to the article. Remarks containing abusive and obscene language, personal attacks of any kind or promotion will be removed and the user banned. Final decision will be at the discretion of the Taipei Times.