Officials downplay market jitters
BEAR MARKET? Volatility in foreign markets, such as Wall Street's sharp fall, could easily affect the local bourse, local officials and market analysts said
Government officials yesterday downplayed recent declines in the TAIEX, saying market volatility is normal and the National Stabilization Fund is closely tracking the index's movements to intervene if necessary.
"Taiwan's stock market is pretty sensitive," Minister of Finance Su Jain-rong (蘇建榮) said at a meeting of the Legislative Yuan's Finance Committee, adding that volatility in foreign markets could easily affect the local bourse.
The National Stabilization Fund's management committee holds a meeting whenever necessary to decide if it should intervene in the stock market, while other state-run funds make their own decisions, he said.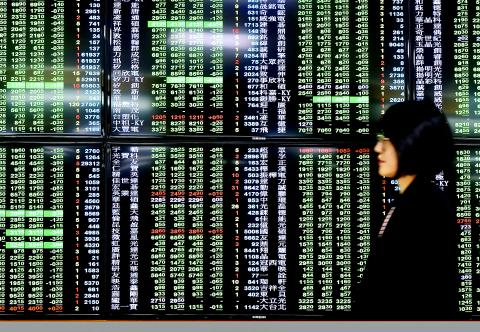 A woman walks past a display of stock prices in Taipei yesterday.
Photo: Chien Jung-fong, Taipei Times
With the TAIEX having fallen about 15 percent from its January peak, Chinese Nationalist Party (KMT) Legislator Lai Shyh-bao (賴士葆) asked if investors should be worried that it is entering a bear market.
Financial Supervisory Commission Chairman Wellington Koo (顧立雄) replied that short-term volatility is normal.
"Right now, we do not have enough information to determine that it has entered a bear market," Koo said.
The TAIEX yesterday sank to 9,622.95 points on opening, 136.45 points lower than the previous day's closing, and dropped below 9,500 points within 5 minutes.
The index recovered slightly to close at 9,520.79 points, the first time in 18 months that it fell below 9,700 points.
Turnover was NT$131.18 billion (US$4.23 billion), Taiwan Stock Exchange data showed.
Except for food, telecoms, oil and energy stocks, all sub-indices slipped, the data showed.
Foreign institutional investors sold a net NT$9.36 billion in local shares on the main bourse.
The plunge was led by Taiwan Semiconductor Manufacturing Co (台積電), the world's largest contract chipmaker, which closed 4.36 percent lower at NT$219.50, and smartphone camera lens maker Largan Precision Co (大立光), which dropped 2.81 percent to NT$3,290.
Following the Dow Jones Industrial Average's more than 600-point plunge on Wednesday, the local index dropped in tandem with the sell-offs across Asia, with South Korea's KOSPI slumping 1.63 percent, Japan's Nikkei 225 falling 3.72 percent and Hong Kong's Hang Seng Index closing down 1.01 percent.
However, the Shanghai Composite Index ended with a marginal gain, thanks to a late-afternoon rally, amid speculation that state-backed funds stepped in to prop up the market, which has lost a fifth of its value this year.
"The current market sentiment appears to be the likes of a bear market, but we do not have to be too pessimistic," Hua Nan Securities Investment Management Co (華南投顧) chairman David Chu (儲祥生) said.
While most Asian markets continued to tumble following the recent plunges on Wall Street, several Taiwanese listed companies still reported strong quarterly earnings because of solid fundamentals, Chu said.
Affected by US-China tensions, the slowdown in economic growth and other negative geopolitical concerns, investors generally do not expect equities to perform better next year, Xincheng International Investment Consultant (信誠環球投顧) analyst Chang Chih-cheng (張志誠) said.
In the worst-case scenario, if the sell-offs persist, the local bourse could fall into a bear market, he said.
Additional reporting by AFP
Comments will be moderated. Keep comments relevant to the article. Remarks containing abusive and obscene language, personal attacks of any kind or promotion will be removed and the user banned. Final decision will be at the discretion of the Taipei Times.