CPC unveils refund plan for substandard gasoline
CPC Corp, Taiwan (台灣中油) yesterday outlined provisions to compensate people affected by its substandard 95-octane unleaded gasoline containing unstable fuel additives.
The state-run refiner said motorists who had purchased the problematic fuel from gasoline stations operated by CPC or its franchisees from Oct. 1 to Saturday would be eligible for a full refund, adding that it would provide vouchers equivalent to the refund amount.
CPC chairman Tai Chein (戴謙) told lawmakers during a question-and-answer session at the Legislative Yuan's Economics Committee that the compensation period would be extended by six months.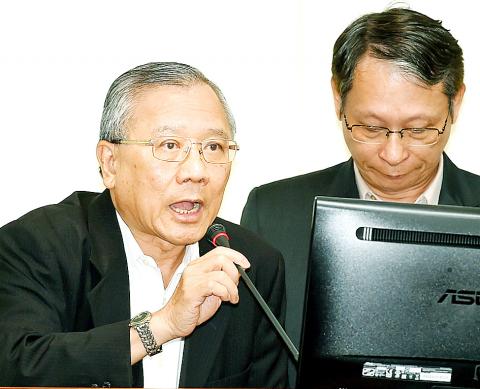 CPC Corp, Taiwan chairman Tai Chein answers questions from lawmakers yesterday at the Legislative Yuan's Economics Committee in Taipei.
Photo: Fang Pin-chao, Taipei Times
The measure is expected to cost CPC more than NT$400 million (US$12.94 million), CPC said, citing estimates based on the 13,000 kiloliter of substandard gasoline that must be dealt with and at the latest fuel price of NT$31.5 per liter.
However, the incident's total financial impact could be higher, as affected motorists are also eligible for reimbursements if the problematic gasoline had damaged their fuel tank sensors, although CPC said the problematic gasoline would not harm vehicle engines.
The refiner on Sunday said it would suspend sales of 95-octane unleaded gasoline at some of its stations in northern Taiwan, after gasoline supplied by its refinery in Taoyuan's Gueishan District (龜山) failed to pass quality tests.
CPC found the substandard fuel stemmed from problems with fuel additives produced at the No. 2 catalytic reforming unit in the refinery.
As of 7pm yesterday, among the 102 affected gasoline stations in northern Taiwan, 55 had their fuel tanks filled with problem-free gasoline, while 47 were still awaiting remedy, CPC said.
Deputy Minister of Economic Affairs Tseng Wen-sheng (曾文生) has asked the refiner to submit a report on the incident before the end of this week.
Minister of Economic Affairs Shen Jong-chin (沈榮津) said that penalties resulting from the incident should aim at tightening lax protocols.
Comments will be moderated. Keep comments relevant to the article. Remarks containing abusive and obscene language, personal attacks of any kind or promotion will be removed and the user banned. Final decision will be at the discretion of the Taipei Times.