Shanghai Bank rallies on market debut
VALUATION: With a net asset value of NT$30.35 per share and a solid NT$1.63 EPS in the first half, the 103-year-old bank saw its stock soar on its first day of trade
Shares of Shanghai Commercial and Savings Bank Ltd (SCSB, 上海商業儲蓄銀行) surged on their debut on the local bourse yesterday, boosting the bank's market value past some of its local peers.
While the TAIEX closed 0.35 percent lower at 9,919.26 points, shares of the 103-year-old bank advanced 14.24 percent and outpaced the financial subindex's gain of 0.13 percent.
SCSB shares opened at NT$35 and gradually climbed to close at NT$36.9, boosting its market capitalization to NT$151.36 billion (US$4.89 billion).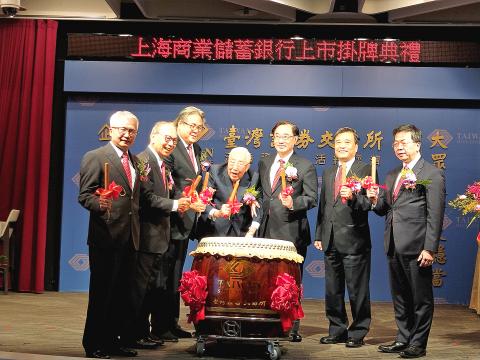 Shanghai Commercial and Savings Bank Ltd chairman Yung Hung-ching, center, Taiwan Stock Exchange Corp chairman Hsu Jan-yau, third right, and the bank's management team celebrate the company's listing on the Taiwan Stock Exchange yesterday.
Photo: Lee Chin-hui, Taipei Times
"The bank could rank among the top 50 listed firms in Taiwan thanks to its new market value," SCSB general manager John S.C. Chen (陳善忠) said.
As the share price of a number of financial holding companies have stayed at about NT$10, "a lot of people do not understand why our share price is higher than the others," Chen said.
Given a net asset value per share of NT$30.35 and the second-highest earnings per share (EPS) of NT$1.63 among local banks in the first half, it is reasonable for SCSB's share price to move higher than its peers, he said.
SCSB's market value has surpassed that of China Development Financial Holding Corp (中華開發金控), Shin King Financial Holding Co (新光金控) and SinoPac Financial Holdings Co (永豐金控), SCSB executive vice president Alex Lin (林志宏) said.
The bank reported an EPS of NT$3.04 for last year and distributed a cash dividend of NT$1.80 per share.
STEADY GROWTH
First-half net income increased 6.8 percent year-on-year to NT$6.65 billion, with EPS gaining 6.54 percent from NT$1.53 over the same period, company data showed.
The bank, which has 69 branches in Taiwan, plans to set up three branches in Taipei, New Taipei City and Hsinchu by June next year, Lin said.
The Financial Supervisory Commission has approved its application, he added.
SCSB last month said it would consider mergers and acquisitions (M&As) after its market debut to expand its business scale, but Lin said that the bank favors setting up new branches rather than relying on M&As.
Comments will be moderated. Keep comments relevant to the article. Remarks containing abusive and obscene language, personal attacks of any kind or promotion will be removed and the user banned. Final decision will be at the discretion of the Taipei Times.