Disasters drag Japanese tourism
The number of foreign tourists to Japan last month dropped for the first time in more than five years, as an earthquake and typhoon brought a temporary halt to travel in some of the nation's top destinations.
Tourist numbers fell 5.3 percent from a year earlier, the Japan National Tourism Organization said, the first year-on-year contraction since January 2013.
Visitor numbers from China, which accounts for the biggest portion of Japan's tourists, shrank 3.8 percent, while tourism from South Korea fell 14 percent.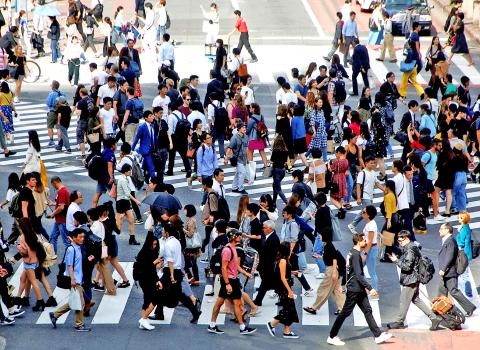 Pedestrians walk on the scramble crossing in Tokyo's Shibuya District on Wednesday last week.
Photo: Reuters
Typhoon Jebi, the strongest cyclone to strike Japan in 25 years, ripped through Osaka on Sept. 4, flooding the nation's third most-used airport and canceling inbound flights for weeks.
Just days later, a magnitude 6.7 earthquake struck Hokkaido, killing more than 40 people and knocking out power to the entire island.
The twin blows to peak tourist destinations were the latest in a string of natural disasters from floods to heatwaves that hit Japan this summer, which had already weighed on tourist growth.
Tourism has soared over the past five years as a weakening yen has brought a record influx of tourists from overseas. Fewer visitors from China might partly reflect that country's economic slowdown.
This matters, because China accounts for about one-third of overall tourism to Japan. The number of Chinese tourists coming to the country grew at a double-digit pace over much of the past year until August, when growth slowed to 4.9 percent.
Changes to Japan's minpaku, or home-sharing laws, have also made it harder for tourists to get Airbnb-style rooms.
Japan's tourism might be further dented by a crackdown by Chinese customs officials on travelers returning from places like Tokyo loaded with high-end merchandise.
Luxury-goods companies such as Japanese cosmetics maker Shiseido Co have tumbled this month on concerns that Chinese consumers would pull back on travel and spending plans.
Slower tourist growth is a concern for Japan's government, which has made tourism a centerpiece of its economic policy.
Japanese Prime Minister Shinzo Abe aims to attract 40 million foreign tourists a year by the Tokyo Olympics in 2020 in the hopes of spurring growth.
Last month's data could weigh on third-quarter GDP.
Comments will be moderated. Keep comments relevant to the article. Remarks containing abusive and obscene language, personal attacks of any kind or promotion will be removed and the user banned. Final decision will be at the discretion of the Taipei Times.