Toyota, Softbank unveil tie-up
MOBILITY SERVICES: The new company, Monet, is expected to roll out autonomous services by the second half of the next decade using Toyota's battery electric vehicles
Japanese automaker Toyota Motor Corp and conglomerate Softbank Group Corp yesterday announced they would create a joint venture to provide "new mobility services," including autonomous vehicles for services such as meal deliveries.
The new company is to be called "Monet" — short for "mobility network" — and is to be 50.25 percent owned by Softbank, with the remainder held by Toyota.
Monet Technologies Corp would be created by April next year and would have an initial capital injection of ¥2 billion (US$17.5 million), eventually rising to ¥10 billion, said Junichi Miyakawa, chief executive officer of the new company.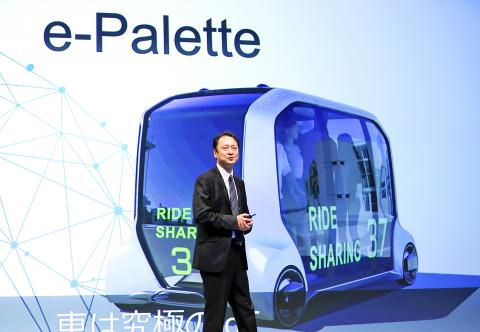 Softbank Corp vice president Junichi Miyakawa speaks about a joint venture with Toyota Motor Corp — Monet Technologies Corp — to develop mobility services in Tokyo yesterday.
Photo: EPA
By the second half of the next decade, the new firm is expected to be rolling out autonomous services using Toyota's battery electric vehicles.
"Possibilities include demand-focused just-in-time mobility services, such as meal delivery vehicles where food is prepared on the move, hospital shuttles where onboard medical examinations can be performed, mobile offices," the two firms said in a statement.
Toyota president Akio Toyoda has pledged to transform the auto behemoth "from a car manufacturer to a mobility company" to face what he described as a "once-in-a-century challenge" to an industry undergoing "profound change."
Major automakers, start-ups and tech firms are racing to develop truly autonomous vehicles, which the industries see as the next frontier in personal mobility.
Miyakawa acknowledged that rivals in the US, China and Europe were "further down the road," but added: "We're not giving up. We believe we can catch up."
The two companies' announcement came after Japanese automaker Honda Motor Co on Wednesday said it has joined forces with General Motors Co's tech start-up Cruise to develop autonomous vehicles as the race to market self-driving cars heats up.
The Japanese government hopes to showcase self-driving cars when Tokyo hosts the Summer Olympics in 2020.
With a US$2.75 billion commitment in equity and shared development costs over 12 years, Honda joins Japanese conglomerate Softbank in backing the General Motors venture to create a multi-purpose vehicle that can be manufactured in high volume for use worldwide, the US auto giant said on Wednesday.
"As is becoming increasingly apparent, this is an effort that requires very, very significant resources to pull off and we're thrilled to have Honda join forces with us," General Motors president Dan Ammann said during an investors' call.
Ammann said developers were working "as quickly as we can" to deploy the new technology, but did not say when this could occur.
"What we're giving you here is just an early glimpse of what we think the future looks like," he said.
The vehicles to be developed with Honda are to have no steering wheel or other manual controls when deployed, according to General Motors.
The company, in which General Motors now holds an 85 percent stake, says it is testing driverless cars on open roads in Arizona, California and Michigan, "navigating some of the most challenging and unpredictable driving environments."
The company has a research-and-development facility in San Francisco.
Comments will be moderated. Keep comments relevant to the article. Remarks containing abusive and obscene language, personal attacks of any kind or promotion will be removed and the user banned. Final decision will be at the discretion of the Taipei Times.