Trump clinches first free-trade deal with South Korea pact
US President Donald Trump and South Korean President Moon Jae-in on Monday signed a renegotiated free-trade agreement on the sidelines of the UN General Assembly, marking the first time Trump has finalized a major trade deal since entering office.
The deal is "tangible evidence of the strength of the relationship between our two countries," the leaders said in a joint statement in New York City.
The signing ceremony represents key progress for proponents of free trade between the partners, as Trump last year reportedly planned to withdraw from the pact, which came into effect in 2012.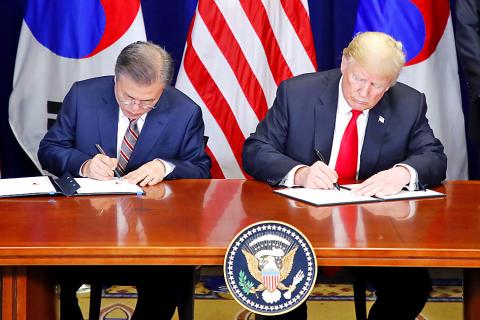 South Korean President Moon Jae-in, left, and US President Donald Trump sign a revised free-trade agreement between the two nations on Monday in New York City.
Photo: EPA
Trump during his election campaign called the original agreement a "jobs killer" and complained that its terms had contributed to the US' growing trade deficit.
As part of his push to rebalance global trade in the US' favor, Trump is also negotiating changes to the North American Free Trade Agreement (NAFTA) and is pressuring China to lower its barriers to US products.
NAFTA negotiations are ongoing, while there are few signs of progress with Beijing.
Trade analysts say that changes to the South Korea agreement were largely cosmetic, as Trump limited the scope of renegotiations by declining to invoke US trade law that would have required congressional approval of the final deal.
Terms of the new pact, which the White House unveiled in March, showed modifications to tariffs and automotive quotas.
Trump characterized the deal as "a brand new agreement" rather than an incremental change.
Moon, speaking through a translator, said that the two nations had made "improvements and modifications" to the deal.
"We are now going to start sending products to South Korea," Trump said. "These outcomes give the finest American-made automobiles, innovative medicines and agricultural crops much better access to Korean markets."
Under the new deal, South Korea is to double to 50,000 the number of cars each US automaker can sell in the nation without meeting local safety standards, but no US company sells much more than 10,000 cars a year in South Korea.
South Korea agreed to terms that allowed the US to keep its 25 percent import tariff on trucks in place until 2041 rather than 2021 as originally planned.
The deal also placed a quota on South Korean steel shipments to the US.
South Korean lawmakers, who must sign off on the deal, have said that they would not approve it if the US imposes tariffs on South Korean cars as part of Trump's threat to protect domestic automakers from global imports.
The Trump administration has since May been studying whether auto imports threaten national security and warrant tariffs or quotas.
South Korean officials have been pushing for an assurance that they will receive an exemption.
Comments will be moderated. Keep comments relevant to the article. Remarks containing abusive and obscene language, personal attacks of any kind or promotion will be removed and the user banned. Final decision will be at the discretion of the Taipei Times.