HK property market threatened
Surging interbank rates. A shock jump in the currency. Hong Kong's decade-long liquidity party suddenly appears to be ending and that can only be bad news for its expensive property market.
The one-month interbank rate known as HIBOR yesterday rose 28 basis points, the most since December 2008.
That followed the biggest jump in the Hong Kong dollar in 15 years at the end of last week.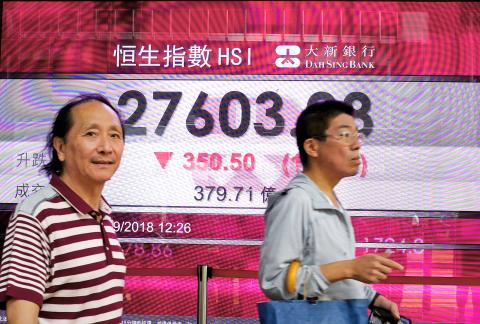 People walk past an electronic board showing the Hang Seng Index outside a bank in Hong Kong yesterday.
Photo: AP
The chance of local banks raising the so-called prime rate, which caps the cost of some mortgages, is "extremely high," Hong Kong Financial Secretary Paul Chan (陳茂波) said.
That has not happened since 2006.
A currency peg with the US, open financial borders and a booming economy meant Hong Kong property was one of the greatest beneficiaries of ultra-low lending costs in the wake of the global financial crisis.
Property prices rose more than 170 percent in the past decade making the territory the world's least affordable.
Citigroup Inc and CLSA Ltd are among those warning of a reversal on expectations that mortgage servicing costs would rise.
"The market has underestimated the pace of interest rate increases in Hong Kong," Daiwa Capital Markets Hong Kong Ltd chief economist for Asia ex-Japan Kevin Lai (賴志文) said. "[This] will bring pressure to the property market and leveraged home buyers."
After trading at the weak end of the band for months, prompting repeated interventions by the territory's de facto central bank, the Hong Kong dollar rocketed into the stronger half of the spectrum on Friday last week.
The currency rose as much as 0.17 percent yesterday before trading little changed at 7.8116 per US dollar at 2:03pm.
The one-month HIBOR rose to 2.16929 percent, its highest in almost a decade and almost four times the 0.55 percent level it was a year ago.
A vanishing spread with LIBOR is making a previously profitable trade of selling Hong Kong dollars to buy higher yielding US assets less appealing.
The currency's one-week forward points, an indicator of cash supply in the foreign exchange market, yesterday touched the highest level since October 2007 before paring gains.
One-year interest rate swaps, which reflect the market outlook for Hong Kong dollar funding costs, were near the highest level in nearly a decade.
"The short Hong Kong dollar carry trade has come to an end," Hong Kong-based Citi Private Bank investment strategist Ken Peng (彭墾) said. "Friday's move suggests borrowing costs in Hong Kong have tightened a lot and will tighten further."
The Hong Kong Monetary Authority said in e-mailed comments that while it did not want to comment on movement in the currency, "market participants generally view the elevated interbank interest rates as a contributing factor."
While residential prices in Hong Kong's secondary market have climbed 16 percent over the past 12 months, according to Centaline Property Agency, some developers are offloading apartments at discounts and others are not providing mortgages due to concern that rising borrowing costs might increase defaults.
Vanke Property Overseas Ltd (萬科) is selling apartments at a project in Tuen Mun for as little as HK$106,326 per square meter, the lowest price in the primary market in about two years.
A "dramatic" weakening in sentiment means prices are set to decline over the next three months and then stagnate, according to the Royal Institute of Chartered Surveyors.
Comments will be moderated. Keep comments relevant to the article. Remarks containing abusive and obscene language, personal attacks of any kind or promotion will be removed and the user banned. Final decision will be at the discretion of the Taipei Times.