EU probes Amazon on data collection
NEXT GOOGLE? The bloc is checking how the US firm gathers information on sales made by smaller rivals on its site and whether it uses the data to gain an edge
Amazon.com Inc risks following in the footsteps of Google after the EU's antitrust chief said regulators are asking how the online retailer is treating smaller rivals trading on its own Web site.
After fining Google billions of dollars, the EU is checking how Amazon gathers information on sales made by competitors on Amazon Marketplace and whether that gives it an edge when it sells to customers, EU Commissioner for Competition Margrethe Vestager told reporters at a press conference in Brussels.
She said the EU investigation of Amazon is at a very early stage and that her team is "trying to understand this issue in full."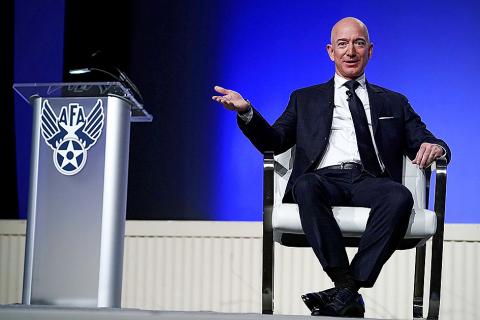 Amazon CEO Jeff Bezos participates in an event hosted by the US Air Force Association on Wednesday in National Harbor, Maryland.
Photo: AFP
"The question here is about the data" Amazon collects from smaller merchants on its site, Vestager said.
"Do you then also use this data to do your own calculations, as to what is the new big thing, what is it that people want, what kind of offers do they like to receive, what makes them buy things? That has made us start a preliminary" investigation, she said.
The power of online giants that provide a platform to other businesses has attracted fierce criticism on both sides of the Atlantic and prompted EU draft rules to ensure platforms behave fairly.
Google was ordered last year to offer equal treatment to smaller search rivals for ads it shows on top of its results.
"The trend is clear" that the EU is starting to see Internet platforms as an indispensable service that must treat others fairly, said Pablo Ibanez Colomo, a law professor at the London School of Economics.
"You are required to treat rival services on equal footing even though rivals are basically using your platform to get exposure," he said.
"It's a plausible claim" that Amazon is dominant, a legal finding that would force it to take care not to harm rivals, he said.
The EU has not yet opened a formal investigation or made any decision on whether Amazon is dominant.
Regulators have sent "quite a number of questionnaires" to companies to gather information on Amazon's "dual purpose" as a retailer and a host to others, Vestager said.
The data collection may be "completely legitimate" in helping Amazon improve its service to other sellers, she said.
Amazon declined to comment on Vestager's comments.
She already hinted at the preliminary probe last week, without naming the company.
The preliminary probe comes out of feedback retailers gave in a wider EU antitrust inquiry of online sales in the region, she said.
Amazon is a frequent target of US President Donald Trump, who spoke of a "very antitrust situation" with the retailer, Google and Facebook Inc last month.
He has also accused the company of crushing small businesses, dodging taxes and taking advantage of the US Postal Service.
The online retailer is not as strong in Europe, where just 55 percent of adults bought online in 2016, an EU study last year showed.
Amazon only runs sites that target customers in five EU nations — the UK, Germany, Italy, Spain and the Netherlands — although customers elsewhere can buy from those sites, sometimes with additional delivery fees.
The company was previously probed by the EU over its tax arrangements with Luxembourg.
It escaped fines in a 2016 EU settlement over e-books contracts with publishers.
The EU is separately pushing ahead with new legislation that aims to prevent Web firms from offering unfair terms to small businesses that sell or promote their services on the platforms.
Under the new rules, platforms would also have to provide more transparency about how they rank businesses in search results. A final draft has not yet been agreed.
Comments will be moderated. Keep comments relevant to the article. Remarks containing abusive and obscene language, personal attacks of any kind or promotion will be removed and the user banned. Final decision will be at the discretion of the Taipei Times.