Citibank Taiwan places fifth in 'Commonwealth' CSR awards
Citibank Taiwan yesterday was ranked fifth in the international company category of Commonwealth Magazine's 2018 Corporate Social Responsibility (CSR) Awards.
Citibank Taiwan chairman Paulus Mok (莫兆鴻) attended the award ceremony, and received the award from Financial Security Commission (FSC) Vice Chairman Chang Chuang-chang (張傳章).
Citibank is one of few companies that have been nominated every year, and it is the ninth consecutive year that the bank has been listed among the top five nominees in the international company category.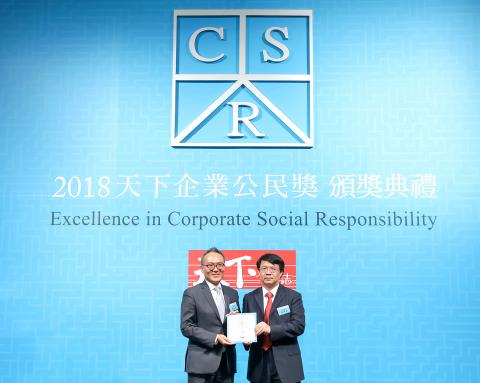 Financial Security Commission Vice Chairman Chang Chuang-chang, right, presents Citibank Taiwan chairman Paulus Mok with Commonwealth Magazine's 2018 award for excellence in corporate social responsibility at the award ceremony in Taipei on Wednesday.
Photo provided by Citibank Taiwan
Citibank has often played a supporting role and fostered talents to help in the development of many non-governmental agencies (NGOs), and it has also been a pioneer "blazing the trail for prudent financial management education" in Taiwan, Commonwealth Magazine said.
The results of such efforts nationwide have created expectations among the public regarding proper financial management, proving its positive impact, the magazine said.
Amid the great changes in international economic trends, the issue of youth employment has begun to surface, and Citibank, ever attentive to social needs, has been active in supporting efforts to encourage the vocational capabilities of young people, the magazine said.
"As stated under the United Nations' 17 sustainable development goals, Citibank Taiwan hopes to ensure sustainable development while complying with the government's adoption of a financial inclusion system and circular economy in order to connect Taiwan's economy to the global market," Mok said.
"At the same time, we hope to collaborate in efforts in society by small to medium social-welfare groups nationwide to foster talented young people," Mok said.
Citibank Taiwan's approach to corporate social responsibility emphasizes "More Than Philanthropy" and being a "Community Progress Maker."
Citibank has since 2004 invested more than NT$140 million under the FTC's financial inclusion policy, which benefited more than 600,000 people.
It organized the Citi Financial Education Carnival in 2004 that combined previous charitable achievements, online and offline, and gave the public a chance to witness the development of financial education in Taiwan.
Citibank has also led the business sector in responding to the government's "five plus two" innovative industries and circular economy policies with its programs, including a used toys to installation art initiative and assistance to energy cooperatives, to name a few.
The bank has said it wants to do its part for Taiwan's sustainable development.
Comments will be moderated. Keep comments relevant to the article. Remarks containing abusive and obscene language, personal attacks of any kind or promotion will be removed and the user banned. Final decision will be at the discretion of the Taipei Times.